Susan R. Strauss '64
Advocate for social change and social justice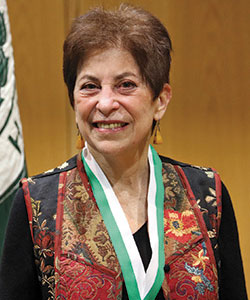 Graduating from William Smith in the midst of the Vietnam War, Susan R. Strauss '64 joined the American Friends Service Committee, serving as the Midwest Director of a summer project called "Vietnam Summer" that sent young people all over the country knocking on doors about the war and registering people to vote. She was subsequently invited to Washington to work out of the Institute for Policy Studies, a think tank founded by Paul Barnett and Marcus Ruskin, where she worked with Arthur Waskow, a fellow, and began reaching out to federal employees about the Vietnam War.
Later, Strauss worked for the U.S. Commission on Civil Rights, focusing on discrimination and institutional racism. At the same time, she helped found an organization called Federal Employees for Peace which called for employees to oppose the Vietnam War and take broader responsibility for their actions.
Strauss went on to teach for several years at Montgomery Community College in Rockville, Md., before enrolling in graduate school at SUNY Binghamton's sociology department. After completing three years of Ph.D. coursework and oral exams, she came to Boston, where she began a lifelong interest in learning about and researching women in the world of work, particularly in non-traditional occupations.
For part of her career, Strauss was a pioneer in what was then considered a job for men, employed as a skilled machinist making jet engines at General Electric in Lynn, Mass. She was active in the labor union movement as a steward and served on the legislative and women's committees, helping to bring about needed change for workers. During retirement, she has taught classes on the experiences of women in blue collar jobs, women rising to leadership roles in labor unions, and the historical fight for women's equality, all seen through the lenses of class, gender and protest.
Strauss has continued taking classes and teaching at the Lifelong Learning Institute affiliated with Salem State University and serves on the board of the Historic Derby Neighbor Association. She is currently participating in a task force called "Salem for all Ages," which fosters a supportive community for people of all ages, abilities and interests.
Strauss graduated from William Smith magna cum laude in English and Phi Beta Kappa. She was the managing editor of The Herald, a member of French Club, the Reconstructionist Study Group, the Northern Students Movement, and a natural science and mathematics tutor. She holds masters degrees from the University of Wisconsin and SUNY Binghamton. She applied her academic training and research background in the midst of her activism and throughout her professional career, publishing research in the Journal of Public Social Service and contributing to the 1970 US. Commission on Civil Rights report on students perceptions of the public education system. While at GE, she authored the chapter "Strategy for Failure: Affirmative Action in a Mass Production Context" for the book Union Voices: Labor's Responses to Crisis, edited by Glenn Adler and Doris Suarez.
A strong believer in the importance of helping future students attend HWS, Strauss established the Susan R. Strauss '64 Endowed Scholarship Fund.