Emily Kuempel Dalgarno '52
British literature teacher and Virginia Woolf scholar at Boston University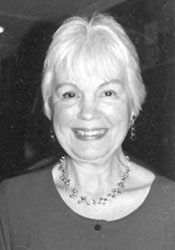 Emily Kuempel Dalgarno '51 graduated Phi Beta Kappa, summa cum laude in English in 1951 -- completing all of her requirements in three years. Since then she has achieved an international reputation as a teacher and a scholar. After graduating from William Smith she entered Brown University, and in 1962 completed her Ph.D. in English literature.
Her first teaching job was at Connecticut College. Since 1959 she has taught thousands of students, in a variety of courses in British literature at Boston University. She served as director of graduate studies, and was elected the chair of the Boston University Faculty Council. As a scholar she has published articles on Faulkner, Conrad, Hurston, and Woolf; recently her book "Virginia Woolf and the Visible World" was published by Cambridge University Press.

Dalgarno's academic achievements have resulted in a variety of awards and grants. She was an Alice Freeman Palmer Fellow of the American Association of University Women. She earned recognition with graduate fellowship research grants from Boston University, the American Philosophical Society, and an American Council of Learned Societies Grant-in-Aid.

She has served the academic community as a member of several professional organizations over her career. She has been a member of the editorial board of "Conradiana, Woolf Studies Annual."