Wendy Ettinger '78
Co-Founder and New York Program Director, Chicken and Egg Pictures; Co-Founder, Gamechanger Films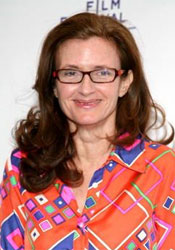 For her unwavering dedication to social justice through the arts, education and philanthropic endeavors, filmmaker Wendy Ettinger '78 was awarded the Alumna Achievement Award during the Colleges' 2013 Convocation ceremony.
An award-winning director, producer and casting director, Ettinger has been an integral part of numerous production teams for films, including the Academy Award nominated classic, "The War Room." In addition, she also has produced more than a dozen films that have premiered at Sundance, South by Southwest and The Tribeca Film Festival.
Currently, Ettinger serves as New York program director at Chicken & Egg Pictures, a hybrid film fund and non-profit production company she co-founded in 2005 with two other women who share her belief that women storytellers can help build and sustain local and global movements for justice, equity and health.
Through Chicken & Egg Pictures, Ettinger supports women filmmakers making films about social change and has given voice to a wide variety of issues. Chicken & Egg has supported the Academy Award winning film "Saving Face," as well as Academy Award nominated "The Barber of Birmingham," "Kings Point," and "Sun Come Up."
During her career, Ettinger has worked with numerous directors in film and theater including Ang Lee, Ken Loach, Hal Hartley, Nora Ephron and James Lapine. She also produced "Eye of God" and "Hotel Gramercy Park."
During the 2013 Convocation ceremony, Assistant Vice President of Alumnae Relations Kathy Killius Regan '82, P'13 presented Ettinger with the prestigious recognition for alumnae, sharing remarks about Ettinger's accomplishments.
"Wendy Ettinger has for decades worked to enable social justice through arts, education and philanthropy," Regan said. "She gives women filmmakers the tools, skills and funding to tell their own stories about social change."
Sally A. Webster '74, a member of the Alumna Achievement Award committee, says that Ettinger was the perfect candidate for the Alumna Achievement Award, meeting all of the criteria. "The trajectory of Wendy's career is impressive," she says. "With films nominated for Academy Awards to appearances at Sundance, her work really stands out, particularly her commitment to social justice."
Webster says the Alumna Achievement Award committee, which includes Kim Blacklock '79 and Kristin Ohms-McNamara '77, found that Ettinger demonstrated excellence in her personal efforts, including her focus on afterschool education and the revitalization of cities through the arts.
"Wendy has used the arts to help young people gain access to filmmaking and her philanthropy and related activities provide a bridge that links advocacy for young people and their exposure to the arts and resources for them to realize their dreams," Webster says.
In response to a dearth of women directors in the feature narrative world, Ettinger and three partners started GameChanger, an equity fund supporting women narrative directors. Ettinger also serves on the board of Working Films, the 52nd Street Project, Refuge Point, and The Educational Foundation of America.