Dr. Katherine T. Platoni '74, Col. (Ret.)
Expert on Post Traumatic Stress Disorder (PTSD); Army veteran; Author; Scholar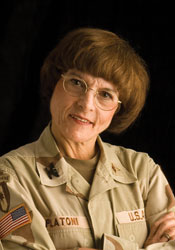 A national expert in treating Post Traumatic Stress Disorder (PTSD) and a Colonel who has served for more than 30 years in active and Army Reserve status, Platoni developed combat stress control, debriefings and crisis management programs now used throughout the U.S. Army.
Platoni has served two tours of duty in active combat zones and is a passionate advocate for more extensive treatment options for soldiers suffering from PTSD. As an author and scholar who is regularly cited in publications like The Washington Post, Newsweek, and U.S. News and World Report among others, she is our country's leading voice on issues of soldier reintegration and the psychological aftermath of war.
Platoni earned her bachelor's degree in psychology from William Smith in 1974 and went on to earn her master's in education at the University of Miami-Coral Gables.
After graduation, Platoni worked as a behavioral specialist with children and teens with severe Down syndrome until 1980 when she received a commission to the U.S. Army Medical Team as a 2nd lieutenant and social worker.
In 1985, Platoni earned her doctorate in clinical psychology from the School of Professional Psychology of Nova University (now Nova Southeastern University), where she researched hypnosis in the management of symptomatology in terminal cancer patients.
From 1984 through 1987, Platoni served as Chief of Psychology at DeWitt Army Community Hospital at Fort Belvoir in Virginia. In 1989, she was named a Major in the U.S. Army and was called to active duty during the Gulf War, serving stateside during Desert Storm for six months.
After 9/11, Platoni voluntarily deployed to New York City on two occasions in order to provide disaster mental health and critical incident stress debriefing services to members of the New York City Police Department. In 2003, she served for a year as commander of a Combat Stress Control Detachment at Guantanamo Bay, Cuba, in support of Operation Enduring Freedom.
Within weeks of her redeployment from Joint Task Force-Guantanamo, Platoni volunteered to return to active duty, deploying to Iraq in support of Operation Iraqi Freedom, holding the position of Deputy Commander of Clinical Services for the 55th Medical Company in Baghdad and Officer in Charge of Team Ar Ramadi.
Upon conclusion of her tour of duty in Iraq, she was invited to Fort Benning in Georgia to serve an additional six month mission to provide reintegration services for combat arms soldiers.
In 2009, Platoni was deployed to Afghanistan, where she served as clinical adviser for the medical detachment and Officer in Charge in Kandahar Province and Kabul, Afghanistan.
As a graduate of the Army's Command and General Staff College, she holds the rank of Colonel and is presently assigned to a Combat Stress Control Detachment based in Madison, Wis.
In between military deployments, Platoni maintains a private practice in Centerville, Ohio, where she lives with her husband. Since 1979, Platoni has served as the Army Reserve Clinical Psychology Consultant to the Chief of the Medical Service Corp. She also holds appointments as Assistant Clinical Professor with the School of Professional Psychology at Wright State University and is a skilled hypnotherapist, utilizing hypnosis in the treatment of patients suffering from chronic and debilitating pain.
She was awarded Diplomat status by the American Academy of Pain Management and holds professional memberships in the American Psychological Association, Ohio Psychological Association, the American Society of Clinical Hypnosis, the Society of Clinical and Experimental Hypnosis, and the Association of Military Surgeons of the United States.
For her professional contributions to the field of psychology and many years of humanitarian service, she was awarded a Lifetime Achievement Award by William Smith College in 2008.