Barbara Maynard Chilson '69
Advocate for social change and social justice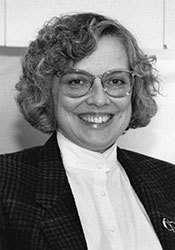 Senior Vice President of Reveo; Former CEO of Globalspec.com; First female president of Grainger Parts
Barbara Maynard Chilson '69 was most recently the senior vice president of Reveo, following a stint as the CEO of Globalspec.com, a position she accepted in early 2000. Just prior to that she was president of Grainger Parts. Grainger is the leading distributor of industrial maintenance, repair and operating supplies in North America. She was elected their first female president.
Chilson graduated from William Smith summa cum laude with a bachelor's degree in modern languages. She taught Spanish and English at the high school level before returning to school to earn a master's degree in business administration, concentrating in marketing and finance, at the University of Chicago.

She has been an active alumna and has served the Colleges in many ways, including as president of the Alumnae Association and two terms as an elected member of the Board of Trustees.