Nancy Kelley Hammond '59
Former Director of the Office of Budget and Finance, Michigan Department of Public Health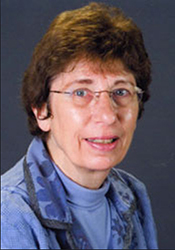 The William Smith Alumnae Association posthumously honored the late Nancy Kelley Hammond '59 with an Alumna Achievement Award for her lifelong dedication to public service and gender equality. An instrumental force for justice, Hammond was known as "one of the premier feminists of the Second Wave of the Women's Movement," as the Michigan Women's Hall of Fame described her upon her induction in 2006.
Hammond politically mobilized women across the state of Michigan in 1972 when she and a colleague published the Michigan Legislative Report, a comprehensive guide to legislative voting records on issues pertaining to women— a revolutionary resource at the time. Her leadership led her to become a founding member of the Michigan Women's Political Caucus and the elected chair of its Legislative committee, work instrumental to the inclusion of higher education in anti-discrimination laws on sex and marital status.
"Nancy is remembered as an extraordinary woman of strength and leadership devoted to improving the lives of others," says Vice President for Advancement Kathy Killius Regan '92, P'13. "Her public service was instrumental in creating fair representation for women in the classroom and the legislature, local victories with a national impact."
Hammond's promotion of anti-discrimination laws continued during her later position as assistant director of the Michigan Women's Commission. Her tireless efforts and advocacy expanded fair housing laws to include protection against discrimination based on gender and marital status, in addition to closing loopholes that allowed medical facilities to discriminate against employees or applicants based on sex. In addition to her official leadership roles, Hammond volunteered as a community organizer to distribute monthly news reports to keep constitutes informed and mobilize women's interest groups.
Never ceasing to forge new ground, Hammond became the first woman to serve as deputy chief of staff to Michigan Gov. James J. Blanchard. Her final stop in state service was her appointment as director of the Office of Budget and Finance, Michigan Department of Public Health, where she directed the department's budget, accounting, grants and auditing functions.
At William Smith, Hammond was the editor of the Herald, a member of Little Theatre and Phi Delta honorary society. She graduated cum laude from William Smith and went on to receive a master's degree in labor and industrial relations from Michigan State University.
In addition to her status as a champion of women's issues, Hammond is remembered as a devoted mother, grandmother and Heron.