Chrysa Chin '84
Executive Vice President for Strategic Engagement and Development for the National Basketball Players Association (NBPA)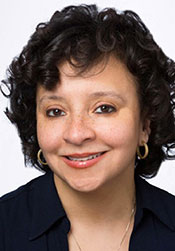 In a 2014 profile, Sports Illustrated described Chin as "a trusted confidant and life coach to NBA players around the league. A teacher, mentor and friend, Chin has been a shoulder to lean on for rookies and veterans alike…someone they can trust when it comes to enduring the off-the-court rigors of the league."
At the NBPA, Chin directs the strategic implementation of player initiatives and innovative programs designed to foster relationships between players and businesses. An accomplished adviser, mentor and trailblazer, she has crafted a distinguished career supporting the personal and professional development of basketball players for more than 25 years. She is also director of the NBPA Foundation, which "highlights and accelerates the real and collaborative work that players do worldwide to build their communities and create meaningful change."
Chin previously served as vice president for player development for the National Basketball Association (NBA), where she was the first woman to hold a managerial position in the Player Development Department and the title of vice president. At the NBA, she oversaw the department's daily communication with players and their family support networks, and played active roles with the NBA's Rookie Transition Program, NBA/NBPA Player Assistance Program, USA Basketball and the WNBA.
Chin spearheaded the expansion of the league's "20 & Under" program which supports rookie players to successfully adjust to their careers as professional athletes. Her impressive resume boasts All-Stars such as Chris Paul, Steve Nash and Alonzo Mourning — players who have fostered record-breaking careers and community-building foundations. Chin also co-founded the National Basketball Wives Association, which empowers players' wives to take leadership roles in community development and philanthropy while raising funds for charitable initiatives.
In 2004, Chin was commissioned by USA Basketball to work with the Men's Senior National Team. Her guidance and player relation strategies assisted the players as they made the transition to international play. After capturing bronze at the 2004 Olympics, the team won gold at the 2008, 2012 and 2016 Summer Olympics, and the 2010 and 2014 World Championships.
Chin, who earned a B.A. in international relations from William Smith, serves on the steering committee of the Professional Association of Athlete Development Specialists' Athlete Development Summit, as well as several advisory boards.