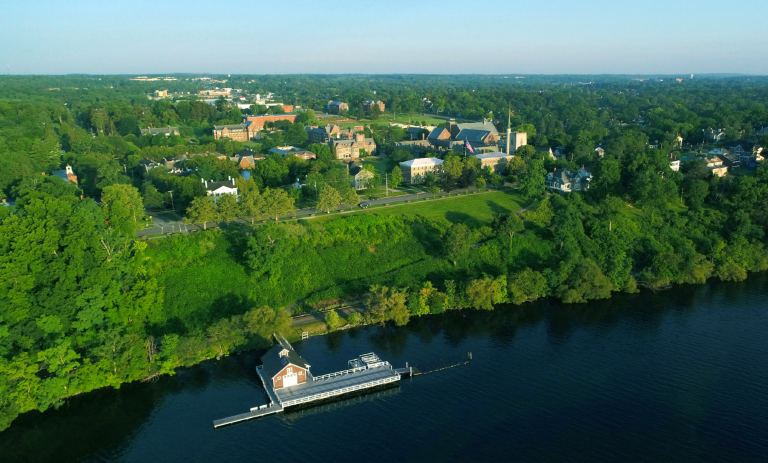 Heartbreaking News about Professor Grant Holly
November 8, 2022
Dear Members of the Hobart and William Smith Community,
I am heartbroken to share the news that Professor of English Grant Holly passed away this afternoon. Professor Holly was the longest serving faculty member at HWS, a successful screenwriter, a scholar and a mentor to generations of students who benefited tremendously from his knowledge and commitment. He was a valued friend to his colleagues, providing advice, counsel and support. He died doing what he loved, showing students the joy and wonder of film. I prized his friendship over many years, enjoyed wonderful conversations with him about film, literature and family, and admired his dedication to our students and alums. Grant will be dearly missed.
Grant joined the faculty with an appointment to the English Department in 1970. He had just earned his Ph.D. from the University of Rochester, following his undergraduate years at Wesleyan. For 52 remarkable years at HWS, he taught a range of courses, including screenwriting, 18th-century literature, literary theory and psychoanalysis, and literature. His first-year seminar, "The History of Everything," was the kind of course that spoke to Grant's imagination and talents, engaging students in deep thinking on a cosmic scale, honing their reasoning and writing, and making it fun. He led study abroad programs and was instrumental in establishing the Colleges' vibrant program in Los Angeles that allows students to spend a week meeting with alums.
In addition to his produced screenplays, Grant enjoyed success writing pilots and working on rewrites for Columbia TriStar. An accomplished scholar, he wrote many articles and reviews on such figures and topics as Swift, Pope, Blake, Austen, the novel, literary theory, and early voyages of exploration. Meanwhile, he was an energetic mentor, advising countless Honors projects and counseling many alums as they ventured to Hollywood.
Grant is survived by his partner of many years, Suzie Wertman, and together they were engaged in numerous Geneva activities and enjoyed a broad circle of friends. Grant was devoted to his family, including his children, Lauren and Nick, who were the source of his great pride and inspiration. With his children and their mother, Michael Ann Holly '73, former professor of history and art history, as well as family, friends and colleagues, Grant established the "A" Fund in 1992 in honor of his son Alexander Holly. Alexander, known to his family as "A," passed away before he was able to realize his ambition to become an architect.
In his mentorship of students, his scholarship and screenwriting, and his support of the arts, Grant demonstrated a commitment to this community that lasted more than half a century. With energy and enthusiasm, he approached each class and each student as an opportunity to share his love of the world.
Grant 's passing is an incalculable loss for Suzie, his family and our community. As you grieve, I encourage you to turn to those who can help you process this loss, and know that there are resources on campus to assist you. The Counseling Center is available for drop-in appointments and can be reached at (315) 781-3388. Crisis counseling can be accessed 24/7 by calling (315) 781-3388 and selecting option 1. Faculty and staff can access services through the Employee Assistance Program . The Office of Spiritual Engagement is also available; St. John's Chapel will be open for reflection tomorrow from noon – 1:30 p.m. and again from 6:30 – 8:30 p.m. The Chaplain and Dean for Spiritual Engagement Nita Byrd will be there.
As soon as we know details about arrangements, we will communicate them to the entire campus community.
With great sadness,
Mark D. Gearan
President
Members of the campus community have offered a stream of reflections and memories, some of which are included on this page.