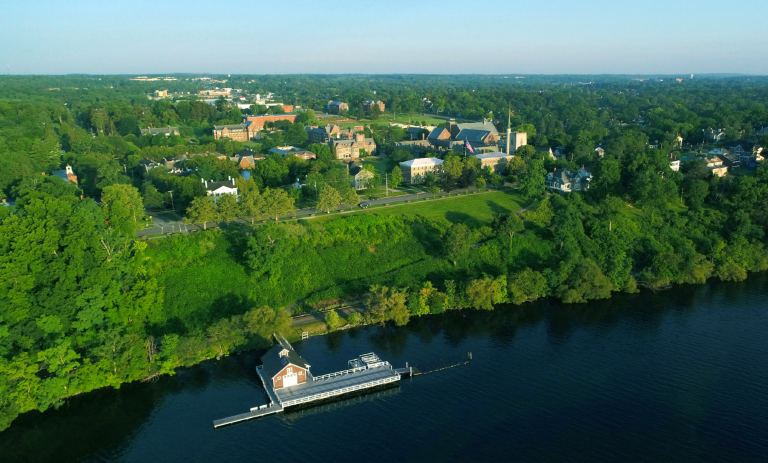 Hobart Hockey Wins the NCAA DIII Championship!
April 2, 2023
Dear Members of the Hobart and William Smith Community,
I write following an exhilarating few days spent first in Beverly, Massachusetts, and then here in Geneva as the HWS community gathered to cheer on and celebrate the Hobart hockey team that on Sunday night clinched the NCAA Division III Championship. Led by Head Coach Mark Taylor, who was named the DIII Hockey Coach of the Year, the team returned to campus on Monday and were greeted with significant fanfare including an escort off the Thruway courtesy of our local police and fire departments. Hundreds of students, faculty, staff and Geneva community members met them in the pouring rain to show our collective appreciation for their grit, determination and sheer skill.
No one said it better than Coach Taylor, who was quoted in the Boston Globe: "The experts will say it was an offensive game, a defensive game, but to me, it was a character game."
In the coming days and weeks, we will continue to celebrate this team's character and to profile the people and circumstances that helped them achieve their goal. But this concept of character, I believe, is far-reaching across our community. It includes the team's faculty fellow – Professor of Environmental Studies John Halfman – who, like every faculty fellow connected to each of our 29 teams, attends games, watching intently and supporting our students whether they win or lose. It includes our alums who show up to games, support our students during Athletics Day of Donors and who – in the thousands – watched the Championship game and celebrated with the team via social media. It includes the Geneva residents who drove to Beverly because they knew that seeing just a little more orange and purple in the stands might make the difference. And it includes the parents who make sacrifices to be certain their children have opportunities to grow and evolve at HWS. These last few days have been a tremendous reminder of the character of our community, and how we come together to support one another.
I invite you to relive the weekend's many moments of triumph via a special webpage we've put together. As we continue to add more photos and videos to the page, I call your attention to this video, which captures the kind of school spirit I'm seeing on campus and that I believe is multiplying across the nation and the globe.
With appreciation for your support,
Best,
Mark D. Gearan
President