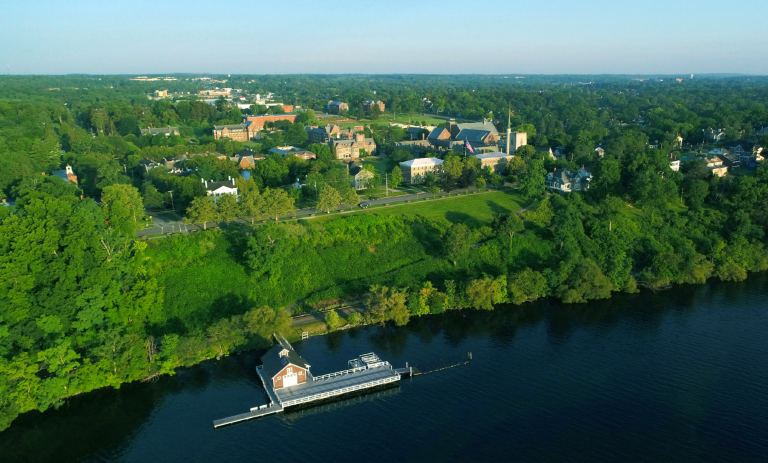 Once More to the Lake
August 8, 2022
Dear Colleagues:
As I prepare to return to Geneva, I am reminded of E.B. White's famed essay Once More To The Lake. Published in Harper's Magazine in 1941, White writes about returning to a lake in Maine he had visited every year as a boy. White's essay, a masterpiece of vivid description and reflection, references the past and present of the lake as fixed despite the changes in the world. The lake, White writes, is "constant and trustworthy."
I have been thinking of White's notion that the lake is 'constant' even as the world has changed since his boyhood visits. For me, returning to Geneva and the "constant and trustworthy" Seneca Lake is a comforting thought. Yet I also know that so much has changed in our nation and our world since I last lived on the shores of the lake. A global pandemic, racial reckoning, climate concerns, mental health challenges and assaults on our democracy have altered so much of our lives and polity. Changes throughout our society, civic life and in higher education have brought unique challenges and demands. And so I return to Geneva as a learner – recognizing that it is 2022 and not 2017 when I left the Finger Lakes. I return looking forward to learning more from you about today's Hobart and William Smith and the aspirations for the future. I will need your help.
In the days since my appointment, Mary and I have been very touched by the thoughtful and generous outreach by so many colleagues and alums. It confirms the special nature of the HWS community and our excitement to arrive on campus. We look forward to being in Geneva for the Opening Institute and to greet incoming First Year students as they begin their journey at the Colleges. I am truly looking forward to the good work we will do together.
As you would imagine, I spent much of the past week in conversation with a number of colleagues, faculty leadership and Trustees. While a positive COVID result has slowed down much of my outreach, I am feeling better every day and look forward to more conversations. In the meantime, I write to provide some brief updates as we enter August and the academic year nears.
In my discussions with Provost and Dean of Faculty Sarah Kirk, I have been struck by the innovations that are happening in the curriculum and the thoughtful ways that faculty colleagues are imagining the future of the liberal arts. I applaud the faculty and staff who, through the challenges of the pandemic, doubled down on the commitment to provide an exceptional educational experience for our students.
In conversation with Sigrid Carle '84, the Chair of CoFac, I have pledged my efforts to work collaboratively to advance the academic mission of the Colleges. I have also reviewed the plan approved by the Board of Trustees for the faculty and staff compensation package outlined by President Jacobsen and fully support this deserved approach.
Regarding the incoming First Year classes, I can report that we expect 444 First Year students and 21 transfers this fall. This represents an increase from last year, and we will continue to build upon this growth. Reports indicate that the quality of this entering class is very good and that students are highly engaged. It is my understanding that a number of colleagues from across campus have been assisting with our enrollment efforts and these results demonstrate that impact. And finally, I was pleased to learn last week that President Jacobsen had appointed Kathy Killius Regan '82 P'13 as Vice President of Admissions and Financial Aid. She will be working closely with John Young as Dean of Admissions. Kathy brings more than 38 years of experience in higher education, including 35 years in admissions and advancement to this leadership role to join with John's lengthy career in admissions.
There is so much to look forward to in the coming year – lectures, symposia, athletic contests and of course, the Bicentennial Celebration on October 22, to which you are all invited. This significant institutional moment will be a chance to celebrate the proud history of Hobart College as we imagine the dynamic future of Hobart and William Smith Colleges.
Thanks again for the warm welcome. I look forward to seeing you soon on campus. As always, please do not hesitate to contact me with any questions or concerns.
Best,
Mark