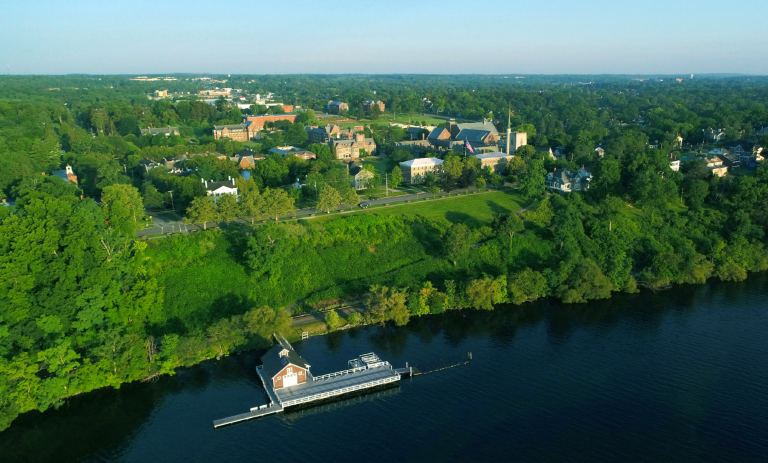 Eulogy for Grant Holly
November 18, 2022
Eulogy for Professor of English Grant Holly
Suzie, Lauren, Chuck……
Thank you for giving me the opportunity to say a few words today. Thank you for my title in the program – 'Grant's Colleague.' I prize that. And thank you all for sharing Grant with all of us.
Chaplain Byrd, Reverend Miller,
Members of the faculty, staff, emeriti faculty, Grant's students – present and past, and the legions of Grant's friends and Geneva neighbors –
All of us who have had the honor and joy of working with Grant, learning from Grant, laughing with Grant and loving Grant.
I have been honored to work with Grant since 1999 when I first came to Geneva. From day one as a senior member of the faculty – he was unfailingly kind and generous to this inexperienced president.
Supportive and direct, he taught me a great deal about our faculty, Hobart and William Smith and the promise of this special place.
I was fortunate to travel with him to Los Angeles as he created a vibrant and essential program for our students and witnessed his engagement in the classroom.
And Mary and I were thrilled when our daughter Kathleen took classes from Grant – loving every minute of them.
And so it is a challenge to sum up this magnificent man.
His boundless energy – for friendships and teaching.
His keen and inquisitive mind – for ideas and concepts.
His unfailing dedication to his students.
His unflagging commitment to these Colleges and his colleagues.
All this week, I have been thinking of Bob Dylan's song "Forever Young" – because Grant Holly was forever young.
Young in ideas. Young in approaches to different generations of students. Young with a wickedly funny sense of humor. And young in style.
So - let's call it out. Grant Holly had style. Black turtlenecks, jeans, skinny ties, cool sunglasses. The man had panache.
Suzie – for all of us here on campus and in Geneva, we saw how much joy you brought him. And how much love he had for you.
Lauren – I think it's fair to say that Grant's face and entire body lit up when he spoke about you and your brother, Nick. Your accomplishments. Your achievements. Your families.
In 2001 when Kerry Kennedy, the daughter of Robert and Ethel Kennedy, visited campus for a talk on human rights – Lauren you had just appeared in the television movie 'Women of Camelot' portraying Ethel Kennedy.
Grant came to our house for a reception before Kerry's talk – and walked up to Kerry and said "My daughter played your mother" – and he walked to the dining room. A father's pride.
At Hobart and William Smith, we talk a lot about our mission to prepare students to lead a life of consequence. A life of consequence.
This week gives testament to Grant's life of consequence – as his faculty and staff colleagues, students and alums have reflected on what he meant to them.
Students and alums remembered how he "leaned us into our strengths."
How his criticism was always "constructive and never deflating."
And my favorite: "Grant was the professor of my very first class on my first day at HWS – it was a breakout group of a first year seminar. He walked in right on time, wearing his trademark skinny black tie, carrying a tiny cup and tiny saucer. Standing in the middle of the room, he lifted the cup to his mouth and took a sip. Holding the cup out for all of us to see, he said "Espresso." He then looked at the class gesturing for us to repeat after him. "Expresso," said the class. Grant held the cup out again. "Espresso," he enunciated again gesturing to the class. "Espresso." the class repeated. "Good" he said. "You have now learned something in college; don't ever mess it up again."
Faculty colleagues describe him as 'a big presence." "A natural storyteller." "Deeply knowledgeable about knowledge." "An authentic listener who showed respect to everyone."
Another adding: "He was the most senior member of the department; I was the most junior and I felt that respect from day one."
"Grant was someone who showed me you can do serious work without taking yourself too seriously."
"A whirlwind inside a well-dressed stillness." "A tireless and ferocious advocate for academic freedom, faculty governance, pay equity, and maternity leave."
For me, I shall always remember my last conversation with Grant. It was so perfectly Grant. Quintessentially Grant.
It was a few weeks ago. We were catching up by phone. It was his last semester teaching here and I was sad about that. He graciously inquired how Mary and I were doing on our return to Geneva and checked in on Kathleen. And then he expressed his concern that a few of his classes this semester would be remote as he would be in LA with his beloved son, Nick.
And I said – what I'm sure everyone here would say: Grant, I said, it will be fine. Our students love your classes in any format. And besides, I added, this institution owes you this at this time.
To which Grant roared into the phone:
"This institution doesn't owe me anything. It has given me so much. It has given me a life. Working with students and watching them grow. I have had wonderful friendships with faculty and staff colleagues. I have loved HWS. This institution owes me nothing."
I sat there in my office stunned. Stunned because – first of all – he was wrong. HWS does indeed owe Grant Holly for his 52 years of teaching excellence.
And secondly –– no one had ever expressed anything quite like that to me.
It was perfectly Grant. Quintessentially Grant.
Gracious.
Filled with gratitude and optimism.
Dutiful to the Colleges, and
Evidencing his love for his family.
For this was a man who had weathered life's greatest storms – and remained a man of great faith.
This was a man whose intellect combined with his humor to form web upon web upon circle upon circle of friends and admirers who cherished his spirit and kindness.
This was a man whose colleagueship extended to every level, rank and job of this institution of 52 years.
And this was a man who exemplified the very best of our faculty – engaging students, cheering them on, offering constructive advice and opening up spheres and sectors they would never have imagined.
While I did not know Grant as long as Professors Jim Spates or Jack Harris – they met Grant on the job interviews to come to HWS. Or certainly Professor Dan Singal who went to kindergarten with Grant.
I did not enjoy decades of friendship like Jim Crenner, Elena Ciletti, Mara O'Laughlin or Kathy Fuchs.
Nor did I benefit from daily conversations in Demarest Hall like Tina Smaldone.
But I do know what Grant Holly meant to Hobart and William Smith. Not only to our history – but to our present and our future.
I do know that our current faculty model their teaching and engagement with students on Grant.
I know students and alums whose lives and careers were transformed by his classes.
And I know that our community prized his friendship, his quick wit and his genuine kindness.
Indeed, Grant answered Mary Oliver's searing question in her poem 'The Summer Grass' in which she writes:
"Tell me what it is you plan to do with your own wild and precious life."
Well, Grant's wild and precious life was one of love and service as a friend, a colleague, a father, grandfather and partner.
And for that, HWS will always be grateful.
Godspeed Grant Holly.
We will miss you here.
And we will never, ever, forget you.