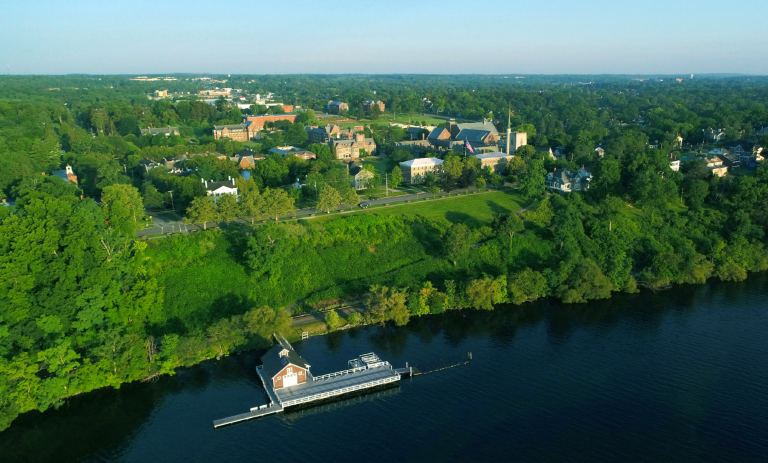 2022: A Remarkable Year
December 22, 2022
Dear Members of the Hobart and William Smith Community,
At this time of year, I reflect on the people, places and things that marked 2022. Today I write with gratitude for the counsel and support extended to me as I returned to Geneva and the extraordinary students who make our community so special. I have appreciated the chance to renew friendships and to meet new colleagues and members of the HWS family at campus events and alum gatherings. All of these interactions provided me the chance to see today's Hobart and William Smith and our dynamic campus environment, and to observe the consequential lives our graduates are leading. As I reflect on my return to campus, I've been considering the through lines that connect our past, present and future.
Remembering our Past: The Hobart Bicentennial
Very few institutions of higher education can claim the milestone of a history spanning 200 years, and our longevity makes Hobart one of the 50 oldest colleges and universities in the nation. So how did we celebrate? By doing what we do best – we engaged in deep conversation about our founding, our responsibilities to Geneva and the region, the complexities of our history and the tenacity of our alums. We gathered great minds through lectures and symposia, including the Stern Family Forum, and we put on a tremendous Gala that welcomed everyone back to campus.
Celebrating the Present: A Banner Year
The work of our faculty, staff and students brings great pride to the Colleges. We are among only 25 schools recognized by The Princeton Review for outstanding professors, and Washington Monthly ranked us fourth in the nation for our commitment to community engagement. Faculty and students were awarded Fulbrights and a Goldwater, we expanded our Posse cohort to include Chicago, celebrated the opening of the Miltenberger and Bennett Hooper Rowing Center, and cheered the Herons and Statesmen on to numerous athletic wins. As of the writing of this note, Hobart hockey is ranked number 1 in the nation. Our alums, parents and friends have made their support clear through philanthropy resulting in the largest fundraising year in HWS history – nearly $40 million was contributed in fiscal year 2022 – and so far this year we have seen an outpouring of support for scholarship and financial aid, the Annual Fund, the sciences, athletics and the renovation and expansion of the Alger Adams '32 Intercultural Center.
Building for the Future: The Course Ahead
The best is yet to come for Hobart and William Smith, and I have great hope and confidence for our next 200 years. We are working hard to increase access to an HWS education as we also seek to enhance the student experience through internships, study abroad opportunities and leadership experiences. We are planning for a new integrated science center that will honor the significant research of our faculty and students, and there are exciting new curricular innovations underway that will preview the world our students will engage.
I am grateful for your continued support of Hobart and William Smith. Our mission to prepare students to lead lives of consequence remains a vital and necessary statement of our values for the century ahead.
Mary joins me in sending our very best wishes for the holiday season and the new year.
Sincerely,
Mark D. Gearan
President