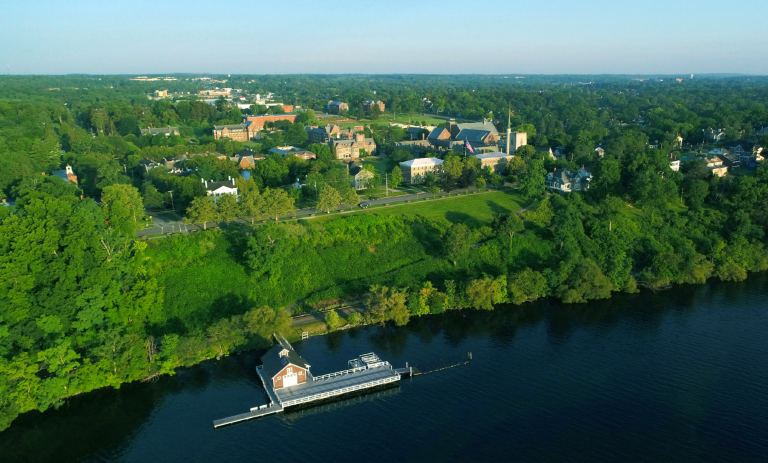 On the passing of Professor Emeritus Kenneth Carle
January 27, 2023
Dear Members of the Hobart and William Smith Community,
I write with the sad news that Dr. Kenneth R. Carle P'82, P'84, P'90, Professor Emeritus of Chemistry, died peacefully this morning at age 93. A remarkable educator, scholar and friend to so many in our community, Professor Carle served on the Hobart and William Smith faculty for more than 30 years, during which time he demonstrated again and again the profound impact that our professors have as teachers and mentors.
Born in Keene, N.H., Ken graduated from Middlebury College, later earning his master's from the University of New Hampshire and Ph.D. in physical organic chemistry from the University of Delaware. He arrived at Hobart and William Smith in 1959. For the next 33 years, including 25 as the Colleges' pre-med advisor, he developed life-changing relationships with students, inspiring them to think deeply, dream big and pursue their futures wholeheartedly.
When Professor Carle was honored with the Distinguished Faculty Award in 2001, his former students recalled "the warmth and excitement" that he brought to Lansing Hall, his dynamism and skill as a teacher and his "infectious personality." His "upbeat, caring teaching style" instilled in his students the confidence that they could succeed, even — perhaps especially — when faced with the complexities of organic chemistry. His encouragement inspired persistence, "to not just learn chemistry but to enjoy the process and the knowledge."
In December, I was fortunate to visit with Ken and one of his former students, Kevin Stein '88, who said that Ken inspired him to "chase the challenges" and "keep learning new things." This is the difference that Ken made in the lives of his students; his mentorship modeled an enthusiastic and lifelong devotion to learning.
In addition to his courses and mentorship, Ken built strong academic relationships across campus and around the world that changed the course of science education at HWS. His first sabbatical in the 1960s through a Fulbright-Hayes grant took him to the Philippines, where he later returned to teach water chemistry. That course led to the development of a research program on Seneca Lake and an environmental studies course, which over the next several years blossomed into what is now the Colleges' environmental studies department. Ken's last sabbatical in 1988 took him and his wife Edie around the world, looking for locations where HWS science students could study abroad.
When Ken retired in 1992, he was presented with the Faculty Award for Community Service for his long tenure as chair of the Pre-Med Committee. Other awards include the Sigma Chi Faculty Award, given to the faculty member who has done the most to improve faculty student relations. The Dr. Kenneth R. Carle Endowed Summer Science Research Fund was established in 2020 by Ken's son, Dr. Kenneth "Alan" Carle '82, with support from Ken's daughters, HWS Professor of Biology Sigrid Carle '84 and Sandra Carle Pilotte '90, as well as Dr. Steven Lasser '78, Bradford Spring '88 and Michael Dick '70, P'09.
Ken was predeceased by Edie, his wife of more than 60 years, and is survived by their children, Robert, Alan, Sigrid and Sandra, as well as countless friends, colleagues and former students.
Please keep Ken's family in your thoughts. As arrangements are made, we will keep the community apprised.
Sincerely,
Mark
Mark D. Gearan
President
Hobart and William Smith Colleges