COMMENCEMENT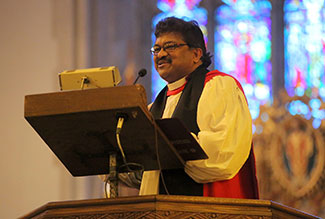 The Rt. Rev. Prince Grenville Singh
Bishop, Episcopal Diocese of Rochester
Baccalaureate Address
May 13, 2017
I am truly grateful to President Gearan for inviting me to preach at the Baccalaureate on eve of your commencement; your 192nd and 106th. It is a joy to have journeyed on the Board of Hobart and William Smith Colleges under President Gearan's wise and gracious leadership for the almost nine years I have served as Bishop in the Episcopal Diocese of Rochester. Roja and I cherish the friendship we have shared with Mark and Mary and look forward to keeping it alive even after their transition. I know they are devout Catholics and respect them for it, but I would like to make them honorary Episcopalians if they won't get into trouble with our dear Pope Francis. I also want to say thanks to Chaplain Maurice Charles and Julianne Miller for their gracious leadership. Especially grateful for Chaplain Maurice's gracious comeback despite all the suffering he endured while recovering from a terrible accident. Our thoughts and prayers are with Robbie …. and all others here and around the world who are recovering from unfortunate illnesses and events, including this planet, our island home.
Welcome to Trinity, a church in the Episcopal branch of the Jesus movement and one of 46 churches in the Diocese of Rochester. We are spread around eight counties in rural, suburban and urban contexts. We have a nearly 50/50 ration of men and women clergy in parochial cures with an increasing diversity across age, sexual orientation, race, and class. We strive to be joyful as we build loving, liberating and life-giving beloved communities. Last year we increased our numbers for the first time in two decades. I have the privilege of serving as the eighth bishop of this remarkable diocese. They welcomed me and we welcome all!
Classes of 2017, I am sure you will hear many versions of how great you are and about how big you are going to make it, over the next 24 hours. I would like to talk about the impetus to be other centered by striving to embody disarming love. To embody love is to be curious, faithful and courageous. A lover is a person who has moved from consumer to generative giver. A lover is an agent. A lover transcends all that binds and holds us in restricting and irresponsible spaces of fear. A lover takes the spatial constraints of goodness and embodies, incarnates, reifies it. We stand on holy ground here at Trinity Church. People of prayer and good works, sinners and saints, have stood here for over two hundred years. Where a lover stands is holy ground. Colleges, churches, temples, mosques, Gurdwaras, and other holy places are like goodness "for here." A lover is like goodness "to go." But, maybe I am assuming a meaning for love that is not popularly shared. Someone once said,
"love is like an onion
You taste it with delight, but when it's gone you wonder
Whatever made you bite.
Love is a funny thing just like a lizard
It curls up round your heart
And them jumps into your gizzard.
Love is swell
It's so enticing
It's orange jell
It's strawberry icing.
It's chocolate mousse
It's roasted goose
It's ham on rye
It's banana pie.
Love's all good things without a question.
In other words, it's indigestion."
When love is narcissistic and about self-indulgence, yes, it is like indigestion.
Most of life's realities will teach you to be cautious, withdrawn and fearful, not curious, faithful and courageous. This is what I like about love. It provides a way to connect the temporal where every human being, regardless of Faith or no-Faith, has the capacity to create a new future. When you love, you create what does not exist until that moment. It is, as David Brooks in his book The Social Animal articulates it, in the infant cry to the mother, "I am not here, touch me, so that I know I am here." Love shows you up for the joy you are and didn't even know it. It happens in an encounter, a look, a smile, a touch, an acknowledgement, a humane policy, a resistance to narcissism, an equitable system, a selfless culture, a generous hospitality, and a loving glance.
Of course, as with all things that matter, to love is not easy. There is suffering. There is a cost.
When you love, you can count on being hurt, betrayed and even abused.
When you love, you will be taken advantage of, sometimes scourged, and almost always considered weak.
When you love, you may find yourself wandering into places of self-doubt, hearing voices of the naysayers, and forgiving all kinds of people. Through it all, I hope you will remember: You know enough for now, you are enough forever, and love is all you need.
So here are a few thoughts for you to ponder as you stand at the threshold of agency otherwise known as commencement.
First, try to be curious about your place in this vast universe. The Episcopal tradition of faith teaches me to try and move away from extremes. It is a teaching that several major religions teach in some form or the other to look for the middle path, via media. Have you heard this one? Why did the Anglican cross the road? To get to the middle. I find that paradigm to be helpful with a lot of life and especially when it comes to identity in relation to the self and the other. My faith worldview teaches me to remember that I am a beloved child of God while also understanding the limitation of mortality, "remember that you are dust, and to dust you shall return." Seeking a healthy balance in identity between these two poles can be a lifelong curiosity and discernment. Many a sage has delved into the depths of this understanding since it is the one lever that each person has a degree of control over.
Regardless of what box you check when you fill out forms, try to be curious about the rigidity and fluidity of identity. Racism, sexism, ageism, etc., share a few things in common. One of them is that they all have a degree of social construction that went into them. Race, Ethnicity, gender, sexual orientation, age, class, caste, etc., all have aspects that impact our identity, but what parts of them are essential? Let us be mindful about responding to manipulative provocations by those who essentialize historically and socially constructed identities and fall prey to ever-morphing ancient divide and rule tactics. The filmmaker Ken Burns crafting a documentary on World War II famously said, "There's too much pluribus and not enough Unum." You know enough for now, you are enough forever, and love is all you need.
Second, love in action is best when it is demonstrated in faithful personal, interpersonal, cultural and institutional ways. The friendships you share are some of the best and purest friendships you may have in your entire life. They are friendships based on who you are, pure and simple, not what you do. Try and guard them faithfully. They are rare and precious. I have had many opportunities to witness this first hand on the Board of Trustees in the deep friendships cherished and generosity invested. There are a handful of friends I have and cherish even today who went to school with me. They knew me just as Prince, or PG, raised by a single mother in Madras, now Chennai, with nothing more than a wing and a prayer to figure out how to live a life of consequence. They knew me before I became the bishop formerly known as Prince; may he rest in peace!
Look at the selfless, iconic faithfulness around you, embodied by your families, the faculty, staff, Trustees, scholarships and resources invested by people of goodwill, who are no more with us, who didn't know you except for love, every kind of counselor, medical professional, and coach. Notice the faithful connections with your contextual neighbors in the Geneva community, the public school, Neighbors Night, Arts for All, and more. Try to be faithful to your relationships, because they are as and sometimes more important than the policies you will help create. Be faithful to the cultural values of equity, service, citizenry, and entrepreneurial leadership, that were taught, and more importantly that you have unconsciously caught in these Hobart and William Smith Colleges. Be faithful to non-binary ways of approaching life's challenges as you graduate from an institution that is an epitome of both and thinking and practice as coordinate colleges. Most importantly, be faithful to the trust invested in you, especially when you mess up. Get up, brush off the dust or snow, express your apology, learn from your failure, and start all over again, because you know you have it in you. You know enough for now, you are enough forever, and love is all you need.
Finally, love in action is courageous. The stories of this place and the forebears of the institution are stories of courage. It took courage for Bishop John Henry Hobart, the third Bishop of the Episcopal Diocese of New York, to ride on horseback to Geneva, NY in 1806 to establish this church. It took some crazy kind of courage in 1818 to announce his plans for establishing a college in Geneva. It took tenacious courage in 1849, for Elizabeth Blackwell to become the first woman in America to receive the degree of Doctor in Medicine. It took courage for William Smith in 1906 to establish a Coordinate School for Women. You raised up the Episcopal Church's 27th and first black Presiding Bishop Michael Curry, who is setting our hearts on fire preaching about a loving, liberating, life-giving God. We prepare to receive the next President of HWS because this place played a role in raising him and forming him to be the leader he is today. Your institutional DNA list is long, compelling and filled with courage.
There is courage in these waters of Seneca. Courage to experiment, to be entrepreneurial leaders, and to live lives of consequence. I wish you every blessing as you live your lives lovingly, and unpretentiously. You know enough for now, you are enough forever, and love is all you need.
Let me draw this to a close with a blessing for the first family as they prepare to transition like many of you. May I invite them to come forward for a blessing.
To the Gearans, President Mark and First Lady, Mary, first daughters Madeleine and Kathleen. They are the reason I titled my remarks "embody disarming love." Such love is patient, and kind. It does not envy, it does not boast, it is not proud. It does not dishonor others, it is not self-seeking, it is not easily angered, it keeps no record of wrongs. Love does not delight in evil but rejoices with the truth. It always protects, always trusts, always hopes, always perseveres. Love never fails. The best teacher in life is an embodied experience. We have been blessed with close encounters of the Gearan kind. Disarming love, this is how it looks! Thank you! We are grateful!
The Lord bless you and keep you.
The Lord make his face to shine upon you
and be gracious to you.
The Lord lift up his countenance upon you
and give you peace. Amen.