Inauguration of Dr. Gregory J. Vincent '83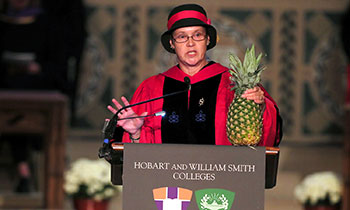 Nan Crystal Arens
Faculty Greeting
October 27, 2017
Good afternoon. My name is Nan Crystal Arens. I am Professor of Geoscience and, for the moment at least, I am serving as Dean of Faculty. It is my honor to represent the faculty in welcoming President Vincent to the Hobart and William Smith Community.
You may be wondering why I've brought a pineapple to Inauguration. In my culture, the pineapple is the symbol of extravagant hospitality and welcome. I grew up in rural northeastern Connecticut, in a community and family steeped in the traditions of another time. My mother's people left Massachusetts for Connecticut in the early 18th Century—and, by the way, we're really sorry about that whole witch thing in Salem.
In that time and place, pineapples were grown commercially only in the Caribbean. They came to New England as a perishable afterthought on sailing ships loaded with nutmeg, sugar and rum. Because they were rare and perishable, they were valuable. Any hostess who put one on her table or served one was communicating the most lavish hospitality.
This delicious symbol—and the hospitality it represented—was so powerful that we carved it into furniture, painted it on walls, sewed it onto linens and even etched it onto gravestones. And lest you think this all very quaint, even into the late 20th Century, my mother reserved pineapple for the most special of occasions, a symbol lost on many guests who were not part of our community. A Midwestern boy I brought home from college stated matter-of-factly that he didn't care for pineapple and pushed the plate away. My mother was so offended that she was only coolly polite to him for the duration of our relationship. Silly, right?
Yes….and no. Diversity and inclusion are values that we lift up at HWS. As educators, we understand that the most innovative ideas and the best decisions come from a diverse group of leaders. We know that real equality is built on difference not sameness. We know that to be successful in the 21st Century, our students must not only tolerate difference but learn to thrive in diverse communities.
That all sounds very good, but diversity and inclusion is a little like this pineapple. It's prickly on the outside. If we are not paying attention, we can get stuck on the spines as we try to get to the goodness within. Because we lack common points of view, having authentic conversations in diverse communities is hard. Solving problems in diverse communities is hard. Yet I believe HWS is ready to have the hard conversations and solve the difficult problems.
President Vincent: As we welcome you to this community of teacher-scholars, I present to you a talented faculty ready to do the hard work. And I present you with this pineapple as a token of our welcome.