Inauguration of Dr. Gregory J. Vincent '83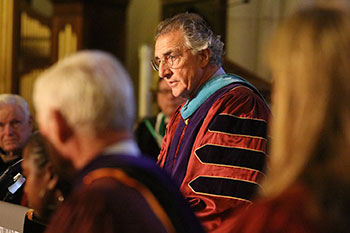 Tom Bozzuto '68
Welcome Address
October 27, 2017
Good afternoon. My name is Tom Bozzuto and it is my honor to serve as Chair of the Board of Trustees.
Welcome distinguished guests and delegates; faculty, staff and students; alumni, alumnae and parents; and valued community partners.
On behalf of the Board, I would like to welcome you and thank you for joining us at this pivotal moment in the history of the Colleges – the inauguration of the 27th President of Hobart and the 16th of William Smith, Dr. Gregory J. Vincent from the Hobart Class of 1983.
Today as we celebrate Dr. Vincent's inauguration, I'd like to thank the many members of the Colleges' community who dedicated their time and energy to the presidential search process. I would like to especially recognize the search committee headed by Trustees Katherine Elliott from the Class of 1966 and Tommy Poole from the Class of 1961. Their leadership and commitment brought us to this exciting moment today.
One of the reasons I asked Tommy to lead the presidential search committee with Katherine is because Tommy did such a spectacular job the last time he chaired a presidential search committee. That search resulted in the 18-year presidency of Mark Gearan.
We are so lucky to have President Emeritus Mark Gearan with us today to share in this special moment. Mark's legacy of innovation and community-building have set a tremendous foundation for Greg's presidency. Thank you, Mark, for all that you have done and continue to do for Hobart and William Smith.
Greg enters the presidency of Hobart and William Smith at a time of increasing complexity in higher education when the competition for students and philanthropic dollars has never been more intense.
Opportunities for innovation are opening new doors for students to learn deeply as they also stretch their knowledge across multiple fields of study. A talented and well-prepared workforce is in high demand in every possible sector – from architecture, sustainability and finance, to engineering and biology. Well educated graduates are needed in business, in government, in academia, and in the non-profit sector. In short, the shape of higher education is swiftly evolving, creating great challenges and great opportunities.
It is my belief and the unanimous belief of the Board of Trustees that there is no one better to help us navigate this future than Greg Vincent.
Greg represents the very best of Hobart and William Smith. He has dedicated his life to ensuring access to education and to providing opportunities for faculty and students to succeed. He is principled and pioneering, forthright and creative.
In the short time he has been here, Greg has set forth aggressive plans for, among other things, student access and student success, community engagement and our financial strength. Greg has a bold vision that will take these, our beloved Colleges, to new heights. His plans will require change, and I am, along with the Board of Trustees, 100 percent behind him. The energy Greg brings to this work is substantial and we are incredibly fortunate that he is taking the helm at this time. As an alumnus, as an expert in higher education, and as a leader, Greg has the experience, drive and vision we need.
So, to Greg, I say this: you begin your presidency with our full confidence and with the support of 20,000 alumni and alumnae who stand behind you, ready to assist.
Thank you.