Commencement 2021
Jackson Lesure '21
Hobart senior speech
May 16, 2021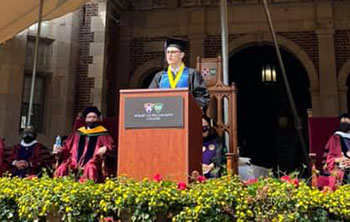 Breathe.
Ask any graduate questions about their future and you might get an overwhelming amount of "I don't knows" in return. Questions like "Are you ready to graduate? What's next for you? And Where will you go?" What's been hard for me recently is how they add up to this deeper question, "Who are you?". They surround us from all angles, and no matter how tired we are of hearing them; we can't help but look in the mirror and ask them to ourselves. "Where will I go?" "What will I do?" "Who am I and Who will I be??"
There's another question for us to consider: "Where are we?" Not literally, as in Geneva, where our seasons are prepping for winter, barely making it through winter, and then spring, just an extension of winter with some sunshine and mud. I mean metaphorically, "where are we?"
It's like season 3, episode 4b of the greatest show ever made—Spongebob Squarepants. In this episode, Spongebob and Patrick bought a tv, only to throw the tv away and keep the box instead. They sat inside it and played for hours, going on extraordinary mountain climbing adventures, treasure hunts, and space launches, using just one thing. You might know what I'm talking about...their "imagination."
Our linear educations have led us right to this moment. It's a freedom new to many of us, and with it, we're being granted a similar opportunity as the one Spongebob and Patrick had within that box, only this time...it's our turn to create the stories. So much wisdom from a sea sponge and a star fish!
We should remember that our stories don't need to be perfect, and neither do we, even if sometimes it can feel that way. I want to echo the words of Professor Freeman in the Sociology department. We were talking one day before class about the idea of perfection and what it means to constantly strive for it. She said this: "Perfect is just something we reach for but can't actually grasp, something we try to define but always define it in reference to someone else, and something that stops us from growing because we're too distracted on growing towards something."
It's okay to think we need to be perfect, to have all our next steps, our futures, and our identities completely figured out. But we don't need to. We don't and we can't! Part of life means when you think you do have it all figured out, a random thought, an unexpected person, or…a global pandemic will come right around to upend everything. No matter the individual, communal, or societal issue or uncertainty, it seems like the best thing we can do is listen to Dory, a wise blue fish who once said, "Just keep swimming."
Imagine we're at the edge of a pool, the water representing our uncertain futures. Imagine there are lights shining down on each of us. Now imagine redirecting those lights so they don't shine on us, but around us. We'll notice people to the left, to the right, in front, and behind us all standing at the same edge, together. The same people that held flashlights in the air illuminating the classes of 2021 on McCooey field four incredibly short years ago. We are not alone, we are not new to standing at the edge of amazing opportunities feeling hesitant to make the jump, and we are not required to have everything figured out before jumping in. We are human. We are courageous. And we are light. The more we jump, the more we illuminate the uncertainty. The uncertainty in our own lives, in the lives of others, and in the world, hopefully over time revealing the answers to the questions we seek most. "Where will we go? What will we do? Who will we be? Let's embrace our futures with the understanding that in the face of uncertainty, the only thing we need is the courage to be ourselves.
Thank you.