Commencement 2021
Sarah Berman '21
William Smith senior speech
May 16, 2021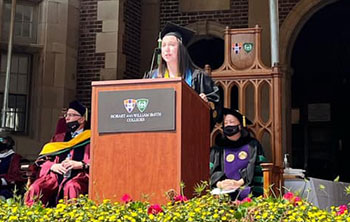 This year, as an Admissions Office Senior Intern, I was responsible for interviewing prospective Hobart and William Smith students. This was an interesting position for me to be in because I was also in the process of being interviewed for jobs and graduate school programs myself. One question that I would always ask was "Can you tell me about a time when something didn't go your way?"
Immediately, the high school senior's facial expression would go blank and I could feel the student's anxiety through my computer screen on Zoom. This wasn't meant to be a trick question and to be quite honest, I thought it was something simple to answer given the year that we've been going through.
If this question was posed to me during an interview, I could offer a menu of responses to the interviewer. Did this person want to hear about the time I was abruptly sent home from studying abroad? The time my dream summer internship was cancelled? Or, perhaps the time when my senior year swim season just disappeared? I think you get the point here.
The feeling of things not going our way is something that I know we can all relate to. However, despite all of the cancellations and disappointments, we're all sitting here, in-person, wearing caps and gowns about to receive a diploma commemorating so many years of hard work. Somehow, in one way or another, it all worked out in the end, which is a testament to our flexibility and adaptability.
It's no secret that graduating college is a huge accomplishment, but if you include the classes of 2020, we're only the second class in more than 100 years to do so during a pandemic! Now that is an exclusive club! We should feel so proud to be here today after overcoming many, many challenges.
This year, one of my personal challenges was the lack of ability to plan. For endless months, everything was up in the air and plans were crumbling faster than a Saga cookie.
I slowly came to terms with the fact that just having a plan A, a plan B, and a plan C was no longer possible. And, like many of you, I had to resort to throwing darts at every possibility when it came time for future planning. It felt like my world was being set on fire. I had to figure out a new plan, and I did and it all worked out. Whether you know exactly what you're doing tomorrow, or if you're waiting for the sun to rise and just figure it out, don't let the uncertainty in the world discourage you.
As a Writing and Rhetoric major, I like to look at the world in terms of writing. Instead of thinking of life as a plan that needs to go in sequential order, I now think of life as a rough draft constantly being revised. Through making changes whether big, or small, sometimes things turn out exactly how you thought, and other times you successfully end up somewhere different. It's okay to have a plan, but remember to be flexible about what happens because if you're sitting here right now preparing to receive your diploma, you know that everything will work out in the end.
So, if you're ever in an interview and you're asked, "Can you tell me about a time when something didn't go your way?" Embrace what you've been through and demonstrate how you learned to be flexible and adaptable. I think that most will agree that pandemic graduates will have a sense of resiliency that most people cannot relate to. We know how to turn our disappointments into triumphs and how to keep reminding ourselves that everything will work out in the end.
Thank you.