Founder's Day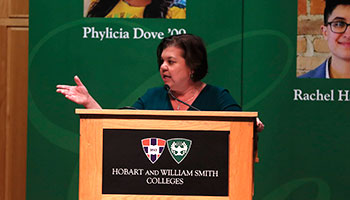 Lisa Kaenzig, Dean of William Smith College
Founder's Day 2019
November 7, 2019
Welcome to the 111th celebration of William Smith College's Founder's Day. I am delighted that you are joining us for this important celebration. Before I begin my welcome, I would like to address the controversial issue that so many of you seem to be talking about this week. I have been receiving non-stop questions recently from students - many of you here tonight - who have been emailing, calling, stopping by our office and threatening to protest outside our office! Yes, please rest assured: we will have cheesecake tonight!
As the Dean of William Smith College, I thank you all for being here, as we reflect on the history and traditions of the College. Each year on Founder's Day, we honor not only the signing of the deed of gift that established William Smith College, but also the achievements of our current students and graduates.
Here at the Colleges, we all love telling the stories of our students' and graduates' many successes. So let me tell you a very important story tonight. The story begins in 1906 with a local Geneva nursery owner named William Smith. Smith, who was close friends with many suffragists in our area at the time, signed a deed of gift to establish William Smith College. Smith wanted to establish a non-denominational, liberal arts institution dedicated to educating women broadly. In 1908, William Smith College opened its doors with a charter class of 18 students and had 20 student by the end of the year. And, as you certainly know, the college has continued to grow - not only in size but in national reputation. I think often about how amazed and proud William Smith, our founder, would be by the college he created more than 100 years ago. The Founder's Day tradition, which began in 1908 with a celebration attended by William Smith himself, is a chance to reflect on this special place and the myriad of successes and discoveries that women have made here for more than a century.
Each year for Founder's Day, we think about an important theme we would like to highlight. As we were considering various possibilities this past summer, there was a magazine cover story that went viral for all the wrong reasons. Some of you may have seen the story or the coverage about it that came immediately after its publication. Forbes' magazine published a list of "America's Most Innovative Leaders," and there was only one woman on this list! This story led to a perpetuation of stereotypes about gender in careers, and it did a lot of damage. When the editor of Forbes wrote a reply, he did apologize but he also gave a reason for the exclusion. He alluded to the lack of women in the pipeline: the lack of women who are CEOs and top officers of public companies, the lack of women's receiving important funding for start-ups, etc. He said that he and his editorial staff believed that these were the reasons why women did not rise to the top in the magazine's formula that created their top 100 list. I was quite appalled by this reasoning and that the editor seemed surprised by the backlash that this list created.
Just a few weeks after the Forbes' story, I received some new issues of magazines in the mail (yes, we actually still receive snail mail!) to which our family subscribes. These issues show the real future of innovators in our country: hold up Entrepreneur Magazine (Oct-Nov. 2019 issue: 100 Powerful Women) and Inc. (October 2019 issue, 100 Female Founders).
This conversation in the public sphere made me realize that we must do more here at William Smith to feed that pipeline so that the future issues of Forbes magazine's "Top 100 Innovators" list has many more women! And, we are doing that here at the Colleges. Our outstanding Entrepreneurial Studies program is almost 1/3 WS students now and growing, according to our own Professor Talmage who joins us tonight. In fact, he and the Entrepreneurial Studies program hosted a special event last night to encourage WS students to enroll in the ENTR courses and to consider this minor as well. We can indeed increase the pipeline, and for this Founder's Day, we pay special tribute to the long history and current successes of William Smith alums who are creators, innovators and trailblazers.
And, this leads me to my introduction of our next speaker: we are very fortunate to have an innovative leader with us, a person who is indeed blazing a trail right here at the Colleges as our first female president of Hobart and William Smith. She is a well-known scholar in Economics and a deep and careful thinker. I was reading an article recently on the most important characteristics of successful leaders and recognized our new president in this list: She is highly intelligent (watch her Inauguration speech, if you were not there in October) and a person of character and personal integrity. She has a high energy level and seems to genuinely enjoy getting to know others. And, most importantly, as the article about noted: she has a vision and a wonderful sense of humor! Please join me in a very warm welcome for our own President Joyce Jacobsen.