Commencement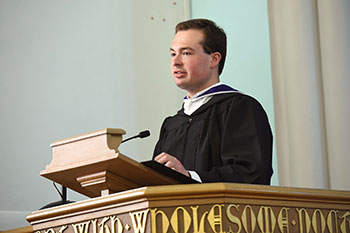 Matthew Fox '19
Baccalaureate Remarks
May 18, 2019
Ever since I was young, my parents and grandparents would tell me to say the Shema whenever I got on a plane or was going anywhere. Saying the shema is a statement of faith. I thought I understood what it meant to me, until I came to HWS.
When I first got to HWS, I was afraid to tell people I was Jewish. I went to Hillel events even though I was a little worried but outside of that, I told no one about my religion except my closest friends. I was scared. With so much anti-Semitism in the world and because of past anti-Semitic experiences, I didn't want to broadcast my religion.
I began to fully understand the Shema last fall at a vigil for the victims of the Pittsburgh Synagogue shooting. I initially felt worried about what would happen at the vigil. But despite my fear, I went up to the podium and read a small poem. There I was, broadcasting my Judaism to the whole community.
What I saw, surprised me so much. So many different people from so many different communities all came out to stand against the hatred demonstrated by the brutal attack on the Tree of Life Synagogue. So many people came out to say that they stood with us. It was then that I realized I was part of a community and I didn't need to be afraid I was Jewish.
The Shema is a statement of faith and I saw just how important it is to make a statement of faith and to reaffirm my own faith.
Just a few weeks ago, I once again understood the Shema more deeply. Holocaust Remembrance Day was at the beginning of May. For this solemn day, we set up speakers in front of Scandling and read the names of as many victims as we can. I have never actually gone up and stood there in front of the whole campus reading the names. That changed a few weeks ago.
As President of Hillel, it was my job to make sure the name reading ran smoothly for the last hour of the event. I sat there and listened as people came up and read the names. As the names were read, each one producing an echo, I started to imagine what each of their lives must have been like. I have been fortunate enough to go on The March: Bearing Witness to Hope trip with Professor Dobkowski, which goes to different sites connected to the Holocaust. As each of the names were read, I thought back to all the places I had seen and everything I had learned. It was all deeply moving.
I found that I wanted to go up and read some of the names, to honor their memory. As I went up and began reading names, it was an experience unlike any other I had ever had. I felt like each name I read, I was playing a small part in honoring them and also remembering them, ensuring that people would not forget.
Often times, it is very easy to be quiet, stay in the background and just keep your head down. It is the times that you stand up and take a stand for something you believe in that defines us. Anne Frank once wrote, "If we bear all this suffering and if there are still Jews left, when it is over, then Jews, instead of being doomed, will be held up as an example."
When I now think of the Shema, I think that it is about embracing my faith and beyond that, to do good. I have learned that to stand up and do good is more important than letting evil or bad silence us. I'm no longer afraid to stand up and embrace my faith. No one should have to be afraid to embrace their faith. As we move on from this day, I hope you all consider embracing what you hold dear, and always speak up for the things you believe in.