Inauguration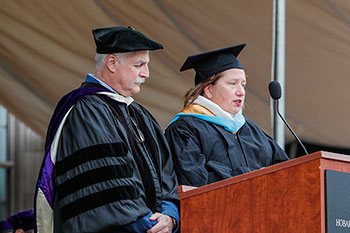 Julie Bazan '93 and Rick Solomon '75, P'10
Presidential Inauguration Greetings from the Alumni and Alumnae Associations
October 18, 2019
BAZAN says: It is a privilege to be here to share in this day of celebration. On behalf of all alumni and alumnae, and as the presidents of the Associations, we are honored to welcome Dr. Joyce P. Jacobsen to Hobart and William Smith as our president.
SOLOMON says: President Jacobsen, there are more than 20,000 alumni and alumnae who live in every state of the nation and in nearly every country on the planet. We own businesses and run nonprofit organizations. Among us are teachers and politicians, spiritual leaders, scientists and entrepreneurs, artists, authors, civic leaders, health care providers and economists, committed graduates of these Colleges who determinedly pursue lives of meaning and purpose. And although we may live in different places and have different careers, every one of our life stories - all 20,000 of them - can be traced back to Hobart and William Smith.
BAZAN says: On the occasion of your Inauguration, President Jacobsen, we pledge to do everything in our power to ensure that you have the resources, the support and the momentum you need to succeed. We ask in return that you push the Colleges and all of us to dream more and achieve more, and that you honor our history and heritage as you also forge a path into the future.
SOLOMON says: President Jacobsen, you have distinguished yourself as an accomplished intellectual, teacher and administrator, and are leading a life of consequence. It is our hope that you will serve as a role model to our students and an example to our alumni and alumnae of what it means to be deeply engaged with Hobart and William Smith.
BAZAN says: President Jacobsen, the Alumni and Alumnae Associations are united in our love for our alma maters and we are united in our support of you. We wish you all the best, and look forward to working together in the years ahead.