Inauguration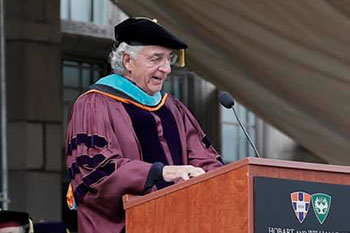 Tom Bozzuto '68
Presidential Inauguration Welcome Address
October 18, 2019
Good afternoon. My name is Tom Bozzuto and it is my honor to serve as Chair of the Board of Trustees.
Welcome distinguished guests and delegates; faculty, staff and students; alumni, alumnae and parents; the deans of Hobart and William Smith Colleges; and valued community partners.
On behalf of the Board, I would like to welcome you and thank you for joining us at this pivotal moment in the history of the Colleges - the inauguration of the 29th President of Hobart and the 18th of William Smith, Dr. Joyce Jacobsen.
Today as we celebrate Dr. Jacobsen's inauguration, I'd like to thank the many members of the Colleges' community who dedicated their time and energy to the presidential search process. I would like to especially recognize the search committee headed by Trustees Cynthia Gelsthorpe Fish from the Class of 1982 and Andy McMaster from the Class of 1974. Their leadership and commitment brought us to this exciting moment today.
We are fortunate to have President Emeritus Mark Gearan with us today to share in this special moment. Mark's legacy of community-building has set a tremendous foundation for Dr. Jacobsen's presidency. Also with us is the former Interim President and Professor Emeritus of Economics Pat McGuire, who served the Colleges with distinction and commitment during the last year. Thank you, Mark and Pat, for all that you continue to do for Hobart and William Smith.
I am proud to be here today, at the symbolic heart of our campus, in a space that, although it has changed over the decades, remains our home, whether we graduated 60 years ago or are just starting our campus journey.
Today we welcome - officially and with great excitement - the newest member to our community - our president, Dr. Joyce P. Jacobsen. We searched with great diligence and a sense of urgency to find her. We needed just the right person for this role, a person of character and fortitude, and a scholar of the highest regard. A leader who told us right from the beginning that she preferred action to inertia, one who had a vision for the liberal arts in this new millennia and a confidence in the Colleges' trajectory.
President Jacobsen is an academic and an administrator, a scholar and a teacher. She is a fierce advocate on behalf of all students and faculty, and a strong voice for women, the LGBTQ community, students of color, international students, and first generation students. She loves athletics and the spirit of comradery that comes from participating on a team - whether that's the hockey team, the debate team or a research team. And I have learned that she has a unique ability to analyze difficult situations and cut through directly to their core.
Since we met her last December, Dr. Jacobsen has stood out as a person who understands the kind of community we have at Hobart and William Smith – fiercely independent, forward-leaning, and constructed of people who may have disparate perspectives but who all share a single aspiration - to thrive and to grow.
Dr. Jacobsen enters the presidency of Hobart and William Smith at a time of increasing complexity in higher education both here on campus and nationally. It is my belief and the unanimous belief of the Board of Trustees that there is no one better to help us navigate this future than Dr. Joyce Jacobsen.
And so to Joyce, I say this: you begin your presidency with the Board's full confidence and with the support of 20,000 alumni and alumnae who stand behind you, ready to follow your vision and leadership.