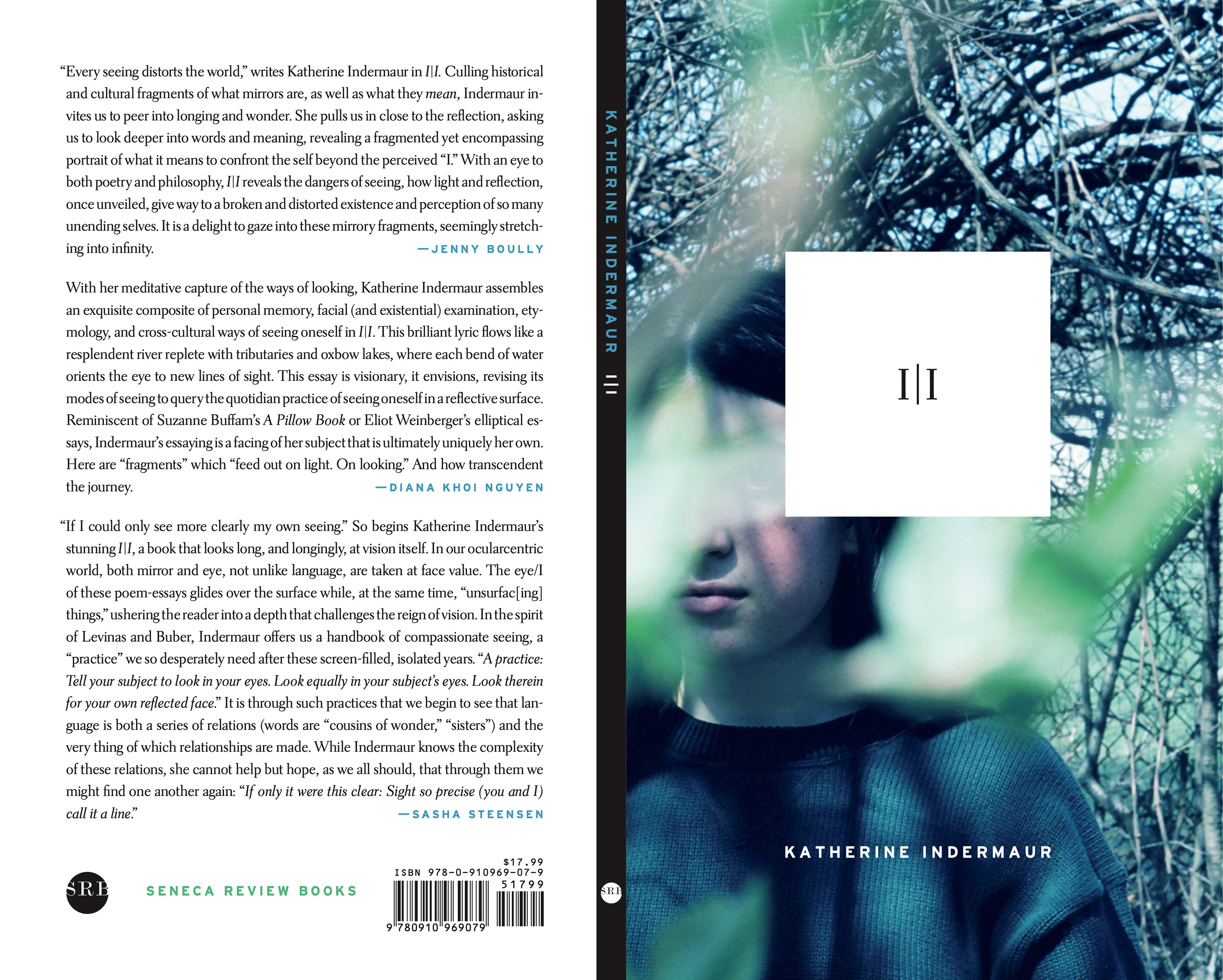 Fall 2022
In lieu of a fall 2022 issue, Seneca Review Books has released Katherine Indermaur's I|I, winner of the 2022 Deborah Tall Lyric Essay Book Prize.
Katherine Indermaur's full-length debut, I|I, is a serial lyric essay that explores the mirror's many dimensions—philosophical, spiritual, scientific, mythological, historical—alongside the author's own experiences. Anyone who has struggled with the disconnect between their outward appearance and their inner self knows how fraught and fragmentary it can be to behold one's own reflection. Indermaur's essay, however, does more than merely problematize the contested space where the face and the mirror meet. There is also affirmation to be found here. This is a book that thinks so keenly it breaks into song.
In fragments one might be known. Seen from dozens of angles, the mind may move among facets and see the whole. It is, in fact, how seeing works in the human brain anyhow. Katherine Indermaur's I|I finds rich resonances among these disparate but not discrete shards. Rather a full shape in time and space assembles. Both the "lyric" and the "essay" are fully achieved, home is sought, the self seeks to connect with all of what is beyond. —Kazim Ali, book prize judge and renowned poet and essayist
You can order I|I from Your Local Bookstore, Bookshop, SPD, Amazon, or directly from Seneca Review Books via Submittable. And you can get a sneak peek inside here.
FACEBOOK
Submissions
Seneca Review's general submission period runs from February 1st through March 15th and from September 1st through October 15th.
You may submit poems and essays electronically through Submittable.
Sign Up
Sign up for our updates, announcements, and calls for submissions!