Student Activities
What We Do
Student Engagement strives to offer a comprehensive calendar of exciting programs and trainings for the entire student body.
Orientation
The Office of Student Engagement works hard to make Orientation one of the best weekends of a student's experience at HWS. Each year the office hires student Orientation Coordinators from each College as well as a robust team of Orientation Leaders and Orientation Mentors. Look for information during the Spring semester each year to find out how you can be involved in this terrific weekend of welcome!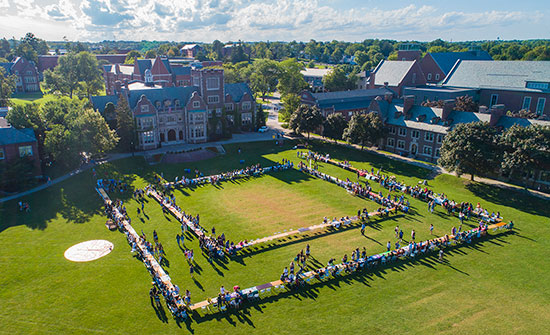 Involvement Expo
We're excited to have you meet club leaders and become involved in what interests you! The Fall Involvement Expo on the Quad is your one stop shop for campus involvement at the start of the academic year. At this annual event, we feature over 100+ clubs, student organizations, and campus departments at the event; it's not one to miss! The Spring Involvement Expo is another opportunity to learn more about ways for you to engage on campus.
Social Event Request Process
Students are able to host medium and large sized events where alcohol is served by TIPS trained social hosts.
Steps to Request an Event:
Submit completed Social Event Request Form at least 5 business days prior to your event date
Identify TIPS monitors from the TIPS Certified Student List
If providing alcohol at the event, complete your Guest List and email it to Kristen Tapscott as an excel file at least 5 business days prior to your event date
Weekly Buzz and Weekend Highlights
Get the scoop each and every week, twice! The Weekly Buzz and Weekend Buzz are Student Engagement publications that go out to the entire campus twice a week highlighting everything that's happening on and off campus!
Campus Activities Board
The Campus Activities Board (CAB) is advised by the Office of Student Engagement and offers an array of great programming from their popular Open Mic Nights in the Cellar Pub, to Hot Air Balloon rides on the Quad, CAB is always there to provide awesome entertainment to the student body!
To join CAB or to get more info, please contact us via email cab@hws.edu.
Student Government
William Smith Congress, Hobart Student Government, and the Budget Allocations Committee are staples of the Office of Student Engagement. They are the voice for the student body and provide crucial support to the countless student organizations and clubs on campus. William Smith Congress and Hobart Student Government meet every Tuesday at 8pm in Coxe Hall, stop by to learn more about how to take advantage of your time at HWS!
The Herald
The Herald is the student run newspaper for Hobart and William Smith Colleges. It features regular publications in print and online - it's a great way to stay up to date on all that is HWS while hearing the thoughts and opinions of your peers!
Senior Week
Just as we love to welcome new students to campus, our office loves to help send our seniors off right with an entire week of fun programming just for seniors ending with a memorable Commencement ceremony and weekend.
More