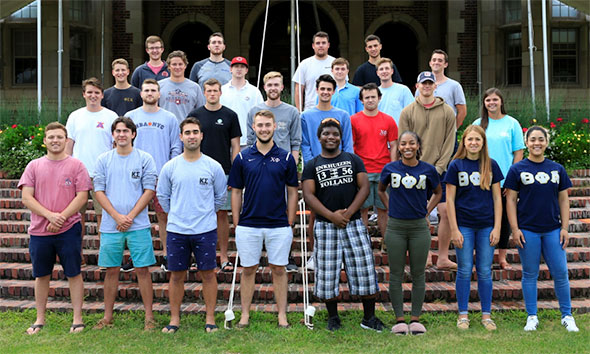 OVERVIEW/HISTORY
TIPS training will be offered to all students on campus. Successful completion of the training will make them eligible to be monitors at events with alcohol present.
Organizations sponsoring an approved event with alcohol will be required to contact and secure TIPS monitors from the list of on campus trained TIPS monitors (provided on the Student Activities website).
Please see Community Standards, specifically pp. 74-80.
Hobart College has possessed a rich fraternal history nearly since the college was founded in 1822. As early as 1840, fraternities have been a part of campus life and played a role in the college's development and growth. Each year, numerous men and women come together and welcome each other as brothers and sisters, joining the ranks of Greeks who came before them. While the campus has had the privilege of hosting dozens of local Greek organizations, they are not recognized by the Colleges. National Greek Organizations remain the sole source of Greek life at the Colleges.
HWS has recently added two new Greek organizations. Alpha Phi Alpha is the first Greek letter fraternity founded by seven African American students known as the seven jewels in 1906. The Upsilon Phi chapter is the 937th chapter of the organization chartered at HWS in 2014.
Founded at HWS in 2017, Theta Phi Alpha is the first and only sorority at William Smith College. The Delta Kappa chapter prides itself on unity and providing a new space for women while maintaining the lifetime bond of sisterhood.
Hobart and William Smith's Greek community is an important aspect of campus activities and social life. Hobart's Greek men have made it a tradition to be active members of the campus community with fraternities and now the sorority engaging in numerous functions and events sponsored by Hobart and William Smith, ranging from club activities to student government and varsity sports. Members from each organization are provided with opportunities for philanthropy and community service and are known for their concern of others. Many brothers and sisters become involved in leadership positions on campus, as well, all the while providing support and friendship for each other. Each Greek organization exhibits such deeds in its own way, ultimately trying to offer opportunity and brotherhood/sisterhood to all its members. The Colleges' administration works with the fraternities and the sorority to foster and preserve such an environment for the Greek community.
Today eight fraternities and one sorority are officially recognized by the Colleges: Alpha Phi Alpha AΦA (2014), Chi Phi XΦ (1860), Delta Chi ΔX (1948), Kappa Alpha Society KA (1844), Kappa Sigma KΣ (1935), Phi Sigma Kappa, Sigma Chi ΣX, Theta Delta Chi and Theta Phi Alpha ΘΦA (2017).