Commencement 2022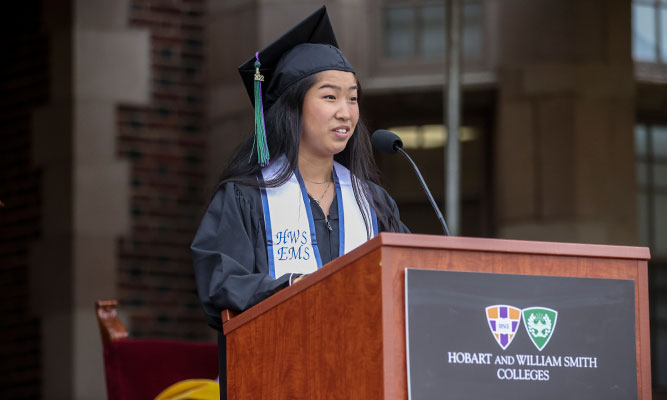 Mary Mazzarella '22
Commencement 2022
May 22, 2022
It's a great honor to address and celebrate this special milestone with you. Inescapably, our thoughts wander, recalling our time spent here and anticipating what awaits next. As we think about both our past and future, let's not forget the present...right now.
As an avid photographer, many of you have seen me about campus capturing moments...moments like a beautiful sunrise on the lake, a shot on goal with ice flying, a receiver seemingly defying gravity, leaping for a pass, ...And, on occasion being on the receiving end of an errant basketball to my face and almost being steamrolled by the next Ali Marpet- all in attempt to not break Kevin Colton's lens. But it is capturing the fleeting moment that we often see truths, beauty, and realities that would otherwise go unnoticed.
We have learned much here that we carry with us as we journey forward. We have been exposed to a rich knowledge-scape of diverse ideas. We have been nurtured to be inquisitive, critical thinkers and encouraged to be seekers of truth about not just the world, but about ourselves.
Who am I? What do I choose to be and why? How are others impacted? These ever-present questions form the lens through which we must see ourselves if we are to lead "Lives of Consequence." The environment at HWS has been a safe place to grow emotionally, socially, and intellectually, so that we can live such lives, and become part of something bigger than ourselves.
The challenges of our generation are great. We live in a world increasingly steeped in danger, marred by pandemics, war, climate change, and social unrest. The picture looks bleak. Despite this or perhaps because of this, there is no greater opportunity to do things that are meaningful. There is so much for us to give if we don't choose to turn off our cameras and look away.
Breakthroughs come forth and are around every corner. Each of us has the capacity to partake, some as voices of conscience, advocates, and makers and judges of law. Others as social workers, business leaders and artists. The list is endless. The portrait of our class of 2022 is yet to come into focus, but a beautifully unique composition will develop in time, as we are exposed to the world. Ours will join a 200-year family album of those who have already made a difference. It is our turn to contribute to the great human endeavor, seeking truth and the betterment of our world for ourselves and the generations that follow.
Now, take a look from a different perspective and ask yourself, "How many people have helped you to be where you are today?" We are the heirs of countless acts of love and kindness. Some given by bystanders, others given by steady fixtures in our lives. Freely given because they believe our lives mean something. That within us is a capacity to lead consequential lives. Later, take time to thank those who have come to be here with you and those who aren't here but have helped you along your way.
As we depart from our home on the lake, and Cox Hall recedes into the distance, perhaps for the last time, take a moment to remember that we lived, learned, and laughed together. Take a mental picture of it all and carry it with you. Focus on who you aspire to be and pursue truth using the skills we have learned here. Remember every moment is a snapshot of who you are in act and deed. You alone choose your life's composition; your picture and what others will see in you.
Good luck to the Class of '22. Go do great things for the world. Thank you.