Convocation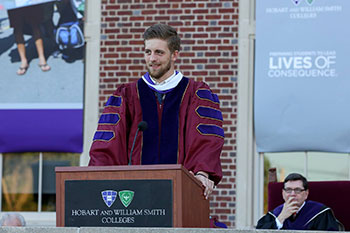 Student Trustee Zach Grattan '17
Convocation
August 29, 2016
This is our song. This is our story. What will it be? What will you contribute to it? I recently had the pleasure of listening to Winton Marsalis, the founder and head of Jazz at Lincoln Center. I won't stand up here and act like I know much about jazz. However, as I listened to Marsalis speak more and more, I could not help but try to understand this type of music in terms of my own life.
What I came to grasp was that all of us here today are not so different from a band. Behind me you can find your drummers, those who will give you your deadlines, your beat. Between each hit of the drum, you will be given moments to fill with creativity, rises and falls, discoveries that you can only make in a place like this.
Your professors will be the backbone to your song, but you will be its music. You may not know yet what your role will be here, but be assured, you will contribute to this place. With you, the experience of this place will be decidedly changed for those around you.
In Jazz, there is often no plan to what will occur during the course of a song, and often the plan changes through out the course of the song. What is clear is that each song is unique and influenced by the talent, the imagination, and the passion of each musician, each player, each student. Every song and story is interconnected in ways we cannot foresee and may not fully understand in the moment, but each note, each choice, will unquestionably leave its mark.
For me, this dynamic is abundantly clear in the classroom. When everyone is knowledgeable, passionate, and prepared, the class becomes something different. Participation is not forced, rather natural and celebrated.
As a first year student sitting in Professor Cerulli's Buddhism class, I learned that contributing in your own way is one of the most powerful things you can do. You may not know it, but everyone around you will be better for it. After all, this is your song, your story. This is your life of consequence. Welcome HWS class of 2020.