Convocation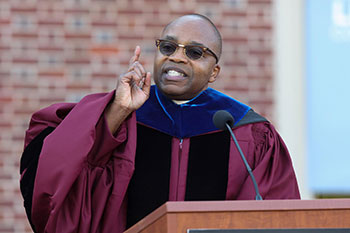 Chaplain Maurice Charles
Convocation
August 29, 2016
Classes of 2020! Welcome. Congratulations on your acceptance to Hobart and William Smith Colleges!
2020…Twenty years ago in a university far, far away, a brand new chaplain started his academic year with a phone conversation with his mother. In the middle of his excitement about giving his first public address, his mother interrupted with the words, "How wonderful. I'm so proud of you. Now you just tell those young people what that Bible says—"
"Wait a minute, Mom, I can't just get on stage and spout Bible verses at people. This is an institution of higher learning. We have Atheists, Agnostics, Bahais, Buddhists, Christians, Muslims, Hindus, Jews,—people from all over."
"Oh, that sounds fascinating. I wish I could be there with you. Well… You just tell those young people what that Bible says," —You could see her lifting her finger even at a distance, and enunciating her words for dramatic effect. "Just tell them, 'With all thy getting, get understanding.'"
Mother, who was not a college graduate, often quoted this text from the Hebrew Scriptures, Proverbs 4.7, when my siblings and I locked horns, or when we gathered at the family dinner table engaged in lively debate. Whenever one of us dismissed someone else's viewpoint, or worse, dismissed another person out of hand, she would raise a finger in the air with the words, "With all thy getting. Get understanding."
Hers was an invitation to listen carefully, think deeply, be open to those moments when you turn to another person and say, "So do you mean to tell me…" —and the surprising words you hear deepen your insight.
Every year, this community renews itself. Welcome, everyone, to your new community: it is a rare and privileged space for getting understanding.
You will find many here who have dedicated their lives to getting understanding—to understanding you. Our doors, our hearts, and often our homes are open to you in the days and years ahead.
Welcome!