Commencement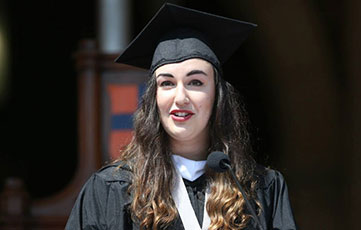 Loren Hiser '15
Commencement Speech
May 17, 2015
Hobart and William Smith Colleges is an institution of tradition. And as this ceremony itself beguiles a long history of ritual, I believe it prudent to not stray from the conventions of a proper commencement speech.
A WikiHow entry boasts that there are three necessary bases to cover in order to properly execute a commencement speech. Having been a college student for the past four years, I dare not argue with WikiHow.
Step one: Share a motivational quote with the audience and share how it connects with your class' experiences in school.
Hmmm….
In the inspirational situational comedy, Parks and Recreation, Tom Haverford and Donna Meagle created a mantra for a generation when they said "Treat Yo Self." I believe no other quote can properly exemplify the experience of the classes of 2015.
From the first time we realized that we had 14 meals left to use and only two days to use them, to the moment one-card came into our lives and reminded us that snack money really can buy happiness (or, in this case, Marks), our class has taken advantage of every bonus and luxury that has been sent our way. We have treated ourselves to master blasters, to shoestring sweet potato fries, and to our favorite Hibachi birthday destination. We have treated ourselves to internships. To semesters abroad. To conferences. To networking opportunities. We have treated ourselves to championship rings, national titles, and nationwide acclaim. We have treated ourselves to theme houses, to fraternities, to Seneca and the boathouse. We have treated ourselves to yellow bikes, Nalgenes, and means of sustainable living. We have treated ourselves to William Smith charms, to Hobart paddles, and to the diploma we are about to receive.
We have been spoiled by friendship, education, and opportunity so substantially, that I doubt any one of us will be able to leave this campus and treat ourselves to anything less.
Step Two: Take time to point out some good advice for the years to come.
Life is too short for bad books, bad movies, bad people, or unsalted butter. Kindness should not be mistaken for weakness. Similarly, baking soda should not be mistaken for baking powder.
Floss.
Changing your car's oil is not an option.
Changing the job that car is driving to, the city that car is parked in, or who is sitting in the passenger seat IS.
Learn how to make at least 5 different meals for yourself. I know, Mom, cereal and toast don't count.
Just because someone is in a position of power or authority does not mean they are automatically intelligent, competent, or right.
However, be sure to send thank-you notes to those that were intelligent, competent, and who brought you right here.
Apologize.
And for goodness sake do not get teary eyed when you deliver your commencement speech.
Step Three: Call your fellow students into action!: leave them with an inspiring sentence encouraging them to go out and make a difference.
I don't think I have to call you all to action. We're a pretty accomplished bunch. But I do believe that any member of the class of 2015 has the potential to be better. We can assume leadership positions in the arts sector, the non-profit sector, and the entertainment sector. We can be politicians, global ambassadors, and molders of young minds. We can conquer New York; conquer LA, conquer DC, London, and Peru.
We have the potential for our reach to expand far beyond any conceivable notion we hold now, and we can do it with compassion, grace, and intelligence.
We have this mantra around here. "Worlds of experience, lives of consequence." But that's not what we have when we leave. That's what we have the potential to achieve once we leave. William Smith women and Hobart men, I know that we will spread, after this day, to what will feel like the four corners of the earth. We will be far from the home we have made here, far from the familiarity and comfort that we have grown to love over our last four years… but remember, while this place didn't teach us a damn thing about how to change the oil, it did teach us a few things about how to change the world.
Thank you.