Convocation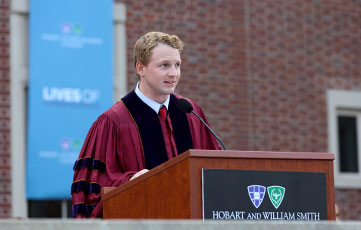 Maxwell Gorton '16, Student Trustee
Convocation Remarks
August 31, 2015
Dear Members of the Classes of 2019,
Welcome to the colleges of the Seneca and to the heart of the Finger Lakes, Geneva, New York. I would like to offer sincere congratulations to each and every one of you on your acceptance to Hobart and William Smith Colleges; a place that for many has grown to symbolize personal growth and nostalgia. You are all about to embark on the beautiful journey of the liberal arts education. This autumn at HWS, as the leaves begin to change, so will you.
So here's my advice for you – the Classes of 2019…
Prepare to intensely question and investigate yourself, the world that your eyes see, as well as the places in the world your eyes have yet to see. At HWS plan on your passions being heightened and if you are brave enough, your passions are in danger of being reinvented. Ladies and gentlemen, you are not being asked to reinvent the wheel; you are simply being given the opportunity to reinvent yourself; a notion that is both terrifying and overwhelming.
But understand that in front of you lies an amazing opportunity to discover just what it is that makes you tick, and the opportunity to rigorously pursue that rhythm.
This transition to higher education is difficult and can be frustrating. All at once you will be asked to entertain social endeavors, academic obligations, and the pressure to perform from the world outside of HWS. You will soon learn that sleep is irreplaceable, procrastination is a gamble, and that inspiration is not always obvious.
And for the sake of your sanity, I ask you to all come view your education at HWS as a process rather than an end result. Learning that takes place here is highly personal and contextual; please understand that your takeaways from this experience will likely be different than those of your peers. And that is the way it is meant to be.
I argue, that one of the most amazing parts of this institution are the people who are brought together. Ladies and Gentlemen, take a good look around this audience. Whether you realize it now or not, these people will be some of the best teachers and friends you have ever known; I know that they have been for me.
As I sat some years ago where you sit, I would have never imagined that the unfamiliar faces and names I was surrounded by would come to have such a positive influence on my life, but they have. Do yourselves all a favor and start shaking hands. And to the members of the classes of 2019 this is my greatest wish for you all; simply to know one other.
I will never know what opportunities I've missed out on because I didn't know someone's name, and they will never know what they have missed for not knowing mine. Of all the books in the HWS college store, there are none written about you; at least yet.
To the members of the Classes of 2019
Where ever you may go after it is all said and done, go with all of your heart; Too many go with just their head.
I wish you the best of luck.