Convocation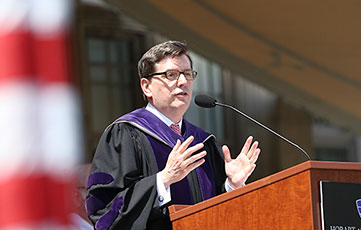 President Mark D. Gearan
Convocation Remarks
August 31, 2015
We begin this academic year with excitement for the new students, faculty and staff who are joining our community at a time of enormous opportunity for Hobart and William Smith Colleges.
We begin this academic year with gratitude to current students, faculty and staff who have worked hard in the past year to enhance our community in meaningful ways. And as always we begin this academic year with appreciation to those students, faculty and staff from prior generations who worked and studied together and built this campus and heritage for nearly two centuries.
And so at Convocation we honor and celebrate the past – and we vision forward together for the promise of the year ahead.
On Friday we welcomed the extraordinary Classes of 2019 – drawn from 35 states and 18 nations to our campus. Bringing academic accomplishment, service commitment, athletic talents and a broad range of leadership and co-curricular interests to our campus. As Chaplain Charles rightly said: "you belong here."
Today we welcomed new members of our faculty to the Colleges. With impressive scholarly achievements and a commitment to liberal arts education, they join the ranks of our dedicated faculty who engage our students in the classroom. We thank them for joining our community and know they will find an intellectual home here.
We welcomed new staff members to our campus this year. You have heard from two of them: our new Chaplain Maurice Charles and our new Title IX Coordinator Susan Lee. With other new colleagues, they too join a campus community that is student-centered and bring their backgrounds to further expand our aspiration and reach.
In this Convocation Exercises – you have heard meaningful advice from our students:
Nicole's urging to find your place, never give up and take risks.
Max's reflection to 'prepare to intensely question and investigate yourself'
Or Professor Nick Ruth's advice to 'do everything you can to make the familiar seem strange'
And our Board Chair Maureen Collins Zupan to 'be uncomfortable'
Title IX Coordinator Susan Lee urged you to be 'change agents' and to 'speak up. Be a leader. Take us to a future where the thought of misogynist and homophobic cultures and of sexual violence and relationship violence occurring anywhere would be absurd.'
All good advice. Absorb it. Reflect on these statements. Take them to heart.
One year ago from this podium I called upon the campus community to engage in a conversation about ways in which we can foster and enhance a culture of respect. Faculty, students, staff and alums have joined in formal and informal ways to reflect and provide ideas and suggestions.
My meetings and sessions with student groups have been among the most meaningful and important ones I have had in my time as president.
Together, we have reviewed and provided input on policies and procedures; we have explored new social spaces and worked to find interim measures to expand study space; we have facilitated important dialogues through the President's Forums and Fisher Center, in student residences and through student clubs and organizations. We have employed best-practices and implemented relevant training.
In the weeks and months ahead we must continue these conversations. Much has been accomplished to build a foundation of policies, procedures, staffing and outreach. Now we must all collectively work together to bring real life and meaning to these advances.
To do so --
In the classroom – with our new curriculum.
In student residences, social space and dining halls.
In student organizations, clubs, athletics.
In Geneva and around the world.
We all know that campuses are to a large extent siloed into students – faculty – staff. And there are ranks within each – first years to seniors, Assistant Professor to Full Professor. Hourly employee to Senior Staff member.
And of course we all have our roles to fulfill for the Colleges and we all have jobs to accomplish.
But overarching this division and rank can be a campus community that transcends the silos at a human level.
I have always been intrigued and inspired by the African cultural tradition of Ubuntu – which South African Archbishop Desmond Tutu describes as 'the essence of being human.'
It is commonly translated "I am because you are."
It's a profound concept that speaks to the importance of human connection, community and mutual caring.
In reflecting on Ubuntu tradition, my old boss President Clinton made the point that "When we finish sequencing the human genome, we discovered the astonishing fact that genetically every human is more than 99.9% the same." And yet we spend so much of our lives, thoughts, and self image organized around this 1/10 of 1%.
I believe our challenge – and our opportunity – is how do we take this Ubuntu 'essence of being human' and bring that concept into our campus culture at its core. How do we exhibit the human kindness and empathy to create that desired cultural norm.
I fully recognize the enormity of the task to confront the divisions and privileges we see in society of gender, race, class, homophobia. But we are Hobart and William Smith and we have the chance to foster a campus culture that prizes our differences as we unite in a campus culture of respect, empathy and civility.
The work ahead is hard. But given the past year and our ability to come together in important ways, I am confident of our capacity.
I am reminded of the Cherokee nation parable of two wolves. A young boy comes to his grandfather to learn about his life.
The grandfather says: "There is a fight going on inside of me" and likens it to a terrible fight between two wolves – a bad one and a good one.
The bad represents anger, arrogance, division, ego and envy. The good represents compassion, love unity, empathy and acceptance.
The grandfather says the two are in a battle every day inside of you.
The grandson asks his grandfather: "Well, which wins?"
To which the grandfather replies: "The one you feed."
My hope for the year ahead is that we feed the good spirit in all of us this year. That we do so individually and collectively. Chaplain Charles reminded us that 'small gestures matter' and I agree.
This can be a year of enormous opportunity – a new performing arts center opening, a new curriculum designed and readied for the next generation of students, new students and colleagues bringing their many skills and talents to our campus.
But we will not be our best, unless we purposefully and intentionally work to enhance our culture. A great deal has been accomplished, but more work remains. And we need all your help.
And so I open this academic year with great excitement for our collective work together.
I now call forth Chaplain Maurice Charles to give our closing prayer.