Convocation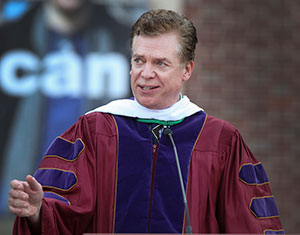 Christopher McDonald '77, L.H.D.'13
Convocation Address
August 27, 2013
Thank you, President Gearan, for your gracious introduction.
I am deeply grateful to be here today before the faculty and students of Hobart and William Smith Colleges and to be honored in this way by my own alma mater. I am distinctly flattered to be included in the distinguished group of honorary degree recipients. This occasion brings me a particular sense of family.
And this is a family. In the audience are most of my immediate family members: my mother, my sister, my brothers. Also present are some of my Hobart classmates who have become lifelong friends. My high school social studies teacher Mara O'Laughlin is here – a dear friend and a fellow honoree. Friends from Romulus are here, continuing to support me for all these years. I am particularly touched and fortunate that my mother is here today. It was with her encouragement and support that I attended Hobart. She and my late father made my education here possible. Thanks, Mom.
I am so proud of my alma mater and of the accomplishments of our faculty and students. I am excited that next summer we will be breaking ground on the long-overdue performing arts facility that will give a state-of-the-art home to music, theatre and dance here on the campus. I am so gratified to be a part of this moment.
Honorary degrees are usually conferred at Commencement - the end of 4 long years of study. Instead, I find myself in the unique position of being able to offer my reflections at the beginning - just as many of you are embarking upon your academic journey.
Your life - that big, nameless, nebulous future - will be strongly influenced by the choices you make now. You've already made an excellent choice in deciding to attend Hobart and William Smith Colleges. This is a place where you can take advantage of every opportunity - where you can make smart choices - where you can expand the boundaries of what you dreamed as possible - where you can change the course of your life. My years here certainly did that for me.
I arrived at Hobart two weeks before classes began to hit the practice fields on a football scholarship. I was determined to work hard both on and off the field, and to distinguish myself academically as a pre-med student. My goal was to become a dentist. I soon realized, however, that there were other choices available to me. While walking to get my mail one morning, I saw a sign for auditions at the Bartlett Theater. I went in and gave it a shot. That choice - going out on a limb outside my comfort zone - led to many changes. Professor E. E. Griffith, God Bless him, said to me : "Yeah - we're gonna use you."
I discovered, right here on this campus, that I had a passion and talent for acting. Several productions later, at the end of my sophomore year, I changed my major to English.
My enthusiasm for theater led me to join Koshare, where I learned how the commitment to movement - the stretching, rhythm, strength and endurance necessary to dance - improved all aspects of my physical world.
My senior year brought the opportunity to study theater in London with Professor Grant Holly in one of the college's first global studies programs. My passion for acting was cemented when I was exposed to West End Theater. I remember following the great British actor Derek Jacobi's brilliant repertory in "Cyrano de Bergerac" and "Twelfth Night" and felt ignited by the power, the passion and the depth of his talent. It was life-changing.
These experiences and many others added up to an extraordinary education that has kept me on a path of the pursuit of knowledge to this day. After graduation, I continued my studies with the Royal Academy of Dramatic Art in London, followed by the Stella Adler Acting Conservatory in New York City. I will never forget Stella's words of wisdom: "The truth of your art is in your imagination. Your choice is your talent." As a young actor in Boston, New York and Hollywood, I had the confidence to pursue my dreams in this field thanks to the foundation of support from Hobart.
My experiences at HWS continue to inform my choices as an actor and artist, as a husband and parent, and as a citizen and human being.
Let's think for a moment about the many successful and accomplished citizens of this country who started their journeys here at Hobart and William Smith. They are captains of industry in every possible field – science, medicine, politics, education, technology, finance, and even show business. The career of Wendy Ettinger is proof of that.
Why are there so many leaders? Because here we are trained and encouraged to think outside the box. We're encouraged to look at all aspects of a situation or problem and determine for ourselves what is right and fair. We're encouraged to make our own choices. With this foundation comes the confidence to make a change in the world. How lucky I was - how lucky you are - to be a part of this special liberal arts center of learning that encourages and fosters our growth and achievements.
There is a myth about intelligent choices - that intelligent choices are made only through logic and careful consideration of probability and expected outcomes. Here at HWS, I hope that each of you makes choices based on great passions and loves that you develop here, through great debates into the late hours with fellow students and professors.
There are many kinds of choices that have led to great changes in the world, and these choices were not made by committees, by always doing the safe thing, the most reasoned thing, but instead by trying new things, not being afraid to fail, not even having the word failure in your vocabulary.
And when you approach something new, something different, something out of your comfort zone… maybe your hands are sweating and your heart is racing – remember that you are not afraid, not worried about failure. You are excited about trying something new, following your passion, evolving and growing. It's the most exciting thing anyone can do… at any age.
My hope for each of you is that you make choices based upon your passions, and that those choices lead to positive changes in your world and my world. I challenge you to be passionate about doing the right thing, about following your dream, about evolving and growing and contributing to our world.
So here we are - at the onset of your journey of self-discovery and conscious choice.
Choose - your passions
Choose - your path
Choose - engagement with fellow students and professors
Choose – to be of service to your community
In the words of Shakespeare's Hamlet:
"If it be now, it is not to come
If it be not to come, it will be now
If it be not now, yet it will come
The readiness is all."
Choose to be ready.
Choose wisely.
Your choice is your talent.