Convocation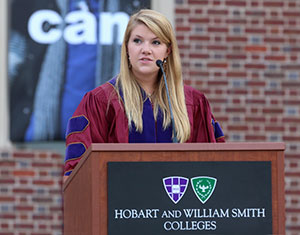 Abby Evans '14
William Smith Student Address
August 27, 2013
Good afternoon and welcome to the Classes of 2017.
Dean McNally, President Gearan, members of the HWS community, it is an honor to speak here at Convocation and to share in the excitement of a new year on campus with you all.
This past weekend we welcomed some of the brightest and most open-hearted individuals to the Classes of 2017 and as Transfer and Exchange students to these amazing colleges. It was a weekend only made possible by the love and gratitude that so many of us share for this wonderful place.
When I entered William Smith, just three short years ago, I felt confident in where I was coming from and where I could return to. I trusted in a deep connection with my family and assumed that I would always be able to go "home"…
During my Orientation weekend, I had one of those lanyards around my neck – just like the ones all of the incoming students had to wear this past weekend – name, class year, hometown. Abby Evans. Class of 2014. Glen Arm, Maryland. No worries.
However, many of my friends, peers, and mentors know that – these days - I tend to shy away from answering the question "where are you from?"
During the spring of my first-year here at William Smith I faced a life moment that truly shook who I was. I lost confidence in the stability of my family and the presence of a "home" that I could always return to. I became lost, for lack of a better word.
This is an incredible place to find yourself feeling lost. Seriously! This community of open-minded, compassionate, and hardworking people continues to open doors wherever a student, faculty, staff or community member may need one.
For me I found a home in the Office of Admissions, first as an event helper, then a tour guide and now a Senior Interviewer… I even have a Mom-Marylyn and a Crazy-Aunt-Sue in the Office.
I found a home in the Anthropology department with amazing faculty who believed in me enough to nominate me as a Teaching Fellow. A department that challenged me and helped me create an independent project that resulted in a fellowship from the Centennial Center for Leadership.
I found a home in the Community Service House where I worked alongside my peers for three semesters giving back to this amazing city. A home in the Dance Department and within Koshare where I have felt loved, challenged and supported by both the faculty and my peers through movement.
And lastly a home here in Geneva where I was lucky enough to spend my summer designing this year's Orientation alongside Wes Traub, Jeff VanLone, Kristen Tobey and many others who truly love this place.
Home is a place where you find comfort, stability, acceptance and love – a space to nurture you as you search for your own identity and place of belonging. But it is also a place where you are challenged to imagine all that you can become and all of the feats that you can accomplish – If you ever find yourself having a hard time believing in what you can do, find someone who does – I guarantee there are at least a dozen waiting for you.
This is an incredible place to feel lost, because it is so easy to find a home. If and when you experience your own life moments that feel they might throw you off course -- know that your colleges have wonderful resources to support you! There are wise mentors and teachers, compassionate leaders, and really strong students and peers, all here and available to you.
So whether you are an incoming student or one of my classmates about to embark on your final year here, I challenge you to not only find those moments and places where you feel most at home—but to give back to them. Help this become a home for future students, faculty, staff and community members.
I hope you strive not to take this place for granted but instead embrace each thing it has to offer and take full advantage of it. You can do and be extraordinary here.
As I prepare to graduate, I can say – without hesitation – that this is where I will forever call home. Abby Evans. Class of 2014. Hobart and William Smith, Geneva, New York.
Thank you and welcome home.