Convocation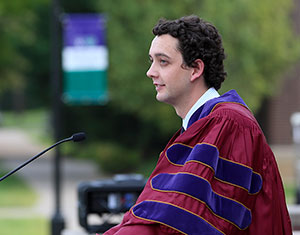 Greg Mathieu '14
Hobart Student Address
August 27, 2013
Thank you Dean Baer, President Gearan, and the entire HWS community.
Okay. First, I'd like to take a quick survey – if you don't mind, President Gearan?
How many of you are sitting at your very first Convocation? Okay, now those of you with raised hands– how many of you have been placed in a course you never would have chosen for yourself?
If your hand is still in the air – congratulations. You are about to experience what it means to have your life transformed by Hobart and William Smith Colleges.
When I came to the Colleges three years ago, I had every intention of becoming a biology major. I was taking introduction to biology, I was doing the lab time – I was on the path that I had chosen, and I was doing…all right.
When I found out there was a scheduling conflict between my chem lab and that semester's cross country practice, I asked my adviser, Professor Susan Henking, to put me in a random class – it didn't matter which one.
Later that week, I was sitting in Introduction to Intercultural Communications, an anthropology class.
I was thrown into a world of modern and ancient culture I had never known or considered; it was enthralling. I found myself working harder for that class than I'd ever worked before. I was profoundly interested in this subject I had never considered before, and then it hit me – I had found something that I had been missing while pouring over my biology notes: passion.
This spring, I'll proudly walk across the steps of Coxe Hall to shake President Gearan's hand and accept my degree in anthropology.
This is what it means to have a Hobart and William Smith education. Whether your passion is for cultural anthropology, or biology, or community service, here at the Colleges, that wonderful hunger for education is nurtured. If you are able to take advantage of all that is offered through places like the Center for Community Engagement and Service Learning or the Centennial Center for Leadership will point you to the intersection of inspiration and passion.
In the next few weeks, you will meet professors and members of campus who are passionate about what they do and the students they meet.
Professor Christopher Annear was one such professor in my time at the Colleges. Before I took Environment and Culture with him my junior year, I didn't realize how important the ethical struggles of expansion and development were to me. His approach to every class was one of deep interest and electric curiosity.
Seek out professors like Annear. Find a club on campus that makes you stop what you are doing to reconsider your life – and how your life affects others.
Have your picture taken with the I'm OUTstanding campaign, and make a stand for equality. Become political: last fall, HWS Votes registered more people on campus through the organization TurboVote than any other small college in the country. And I am sure there are EcoReps in the audience who would be more than happy to help you recycle your program once Convocation is over.
Cultural anthropology has taught me that every action we take can have a positive – or negative – influence on others. Selfish actions can yield devastating results – in cases like Global Warming or Imperialism – but selfless actions can create unity and community. I urge you to become a force for positive change.
Ultimately, I think that the greatest lesson I've taken from my time at the Colleges is that it is not what you get from the Colleges that is important. It is what you give.
From Professor Annear and Professor Henking, to all of the students who have given their time and energies to cleaning the lakefront and registering students to vote, I learned that passion is not selfish – it is to be shared; and the Colleges share what they have in spades.
So as you begin your first week of classes – or maybe your final year here – ask yourself: how you are sharing yourself and your passions.
And maybe take an anthropology class, too.
Thank you.