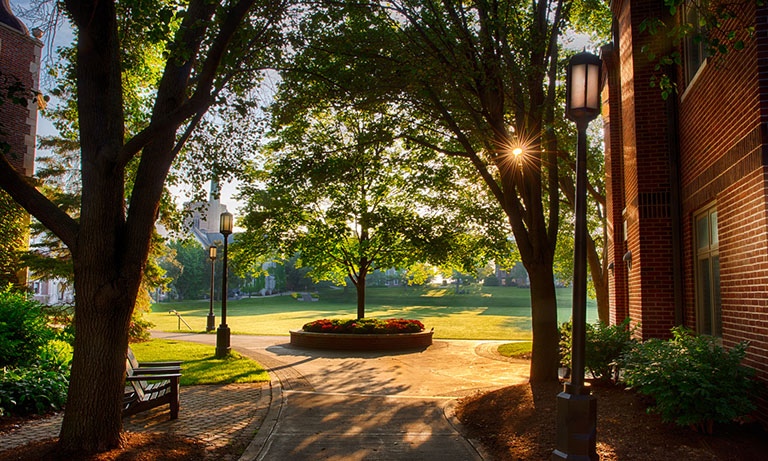 Human Resources
OFFICE OF HUMAN RESOURCES
Welcome to the Office of Human Resources website.
Human Resources supports the campus community by providing information and services related to employment, compensation, benefits, health & safety, and training. We are committed to providing professional guidance, consultation, and quality customer service. As you click through Human Resources website you will find information and the tools to help you be productive and successful at Hobart and William Smith Colleges.
Announcements
2023 Open Enrollment
Benefits Open Enrollment will take place this year October 28th through November 14th. Employees are now able to log into the benefit portal using PeopleSoft single sign on. Simply log into PeopleSoft with your HWS username and password as you normally do and then navigate to the benefit portal located under the Human Resources menu. As a benefits eligible faculty or staff member, you have access to a range of quality benefit options so you can get the coverage you need for yourself and your eligible family members. Open Enrollment is your annual opportunity to reassess your healthcare, life insurance, and other benefit needs - by considering how you used your benefits in 2022 and how your needs may change in 2023.
Visit the 2023 Open Enrollment webpage for more information.
Vaccination Forms
Please enter your vaccination information using the COVID-19 Vaccine Confirmation Form using your @hws.edu email.
If you are not yet vaccinated, please indicate whether you plan to be vaccinated or wish to file an exemption by completing the COVID-19 Vaccine Plans or Exemption Request Form using your @hws.edu email. If you plan to be vaccinated, please provide the date(s) of your vaccination appointment(s) on this form. If you wish to file an exemption, please provide the reason for your exemption (religious, medical, etc.) on this form.
HWS Return to Campus Update for Employees
As part of the Governor's Forward New York Plan, the Finger Lake Region has met all of the criteria and has entered Phase II of reopening, which allows for a limited number of administrative, library and research employees to return to campus. The Hobart and William Smith Colleges senior leadership team has reviewed available information and collaborated with local health officials and other higher ed institutions in the area to ensure we are prepared with the resources and best practice safety protocols for returning to campus. I am pleased to announce that we are ready to begin phasing employees back to work on campus starting June 15.
We will begin to phase in employees beginning on Monday, June 15 and anticipate a return to full staffing by mid-August. The Return to Campus for Employees Guide is consistent with both federal and NYS guidance and provides details of the Colleges phased return and the protocols implemented to keep everyone safe. The guide is subject to change depending on future guidance from the state and if circumstances in the region or on campus do not evolve as anticipated.
All employees will be required to complete a COVID-19 Safety Training prior to returning to campus and to perform an online daily wellness assessment. The wellness assessment is in accordance with NYS guidelines and is intended to determine if someone is experiencing COVID-19 related symptoms or has been exposed to someone diagnosed with COVID-19. Employees who experience symptoms should not return to campus until cleared to do so.
Please familiarize yourself with the guide and consult with your respective vice president about specifics pertaining to your department and your individual timeline to return to work on campus. The order of return will be prioritized for those staff members who can best fulfill their jobs by completing their work on campus and whose work provides a critical operational need.
We recognize as we bring people back to campus that some employees may have special family circumstances or be concerned about childcare. Division vice presidents are sympathetic to these issues and will work with employees to identify flexible work arrangements. Similarly employees who are at higher risk for serious illness from COVID-19 according to CDC guidance may be concerned about returning to work. In those situations employees should contact Human Resources about accommodations, as soon as possible.
Thank you for doing your part to keep your work colleagues and the HWS campus community healthy and safe.
Summary of COVID-19 Benefit Changes
Medical Plan Changes Related to COVID-19 Expenses:
Coverage of medically necessary diagnostic tests that are consistent with CDC guidance related to COVID-19 are provided to members at no cost.
Prior authorizations will be waived for diagnostic tests and for covered services that are medically necessary and consistent with CDC guidance for members if diagnosed with COVID-19.
Members will have coverage with no out-of-pocket expense to them, for in-network provider office visits, in-network urgent care visits and emergency room visits resulting in testing for COVID-19. If an in-network provider is not available, the Health Plan will cover testing at an out-of-network provider with no out-of-pocket expense to the member.
Telemedicine and MDLIVE:
During the state of emergency, all telemedicine visits will be covered in full. Members will have no cost share.
If you have symptoms of the virus, using MDLIVE, doctors can assess your condition and help determine the necessary next steps, all from the comfort of your home. If you are suffering from other common medical conditions, MDLIVE doctors provide reliable care while minimizing the exposure to contagious viruses like COVID-19.
MDLIVE also provides behavioral health care services 24 hours a day. Whether you need help managing daily stress or a major life event, you can schedule an appointment with a licensed psychiatrist or therapist at a time convenient for you.
Attached are instructions for registering for MDLIVE and scheduling an appointment.
OptumRx Pharmacy Benefits:
Since these are truly unprecedented times, we know that employees will have questions regarding their pharmacy benefits. OptumRx has created a

landing page

to provide a central repository for COVID-19 resources and answers to common questions.
OptumRx has also leveraged their resources to provide a global network of expert clinicians that will answer calls from employees who are in need of emotional support. The

Optum Emotional Support Help Line

connects people with caring professionals and the resources they need. It is open 24 hours a day, seven days a week.
Impact on Flexible Spending Accounts:
Dependent Care Spending Account Participants - The dependent care needs of HWS faculty and staff have likely changed with remote work as well as workplace and school closures. Please note that a change in your expenses is a qualifying event to adjust or cancel your dependent care election. Please let Human Resources know if you would like to make an adjustment to your election. More details and a legal alert can be found on the

Alera website. Should your expenses change again during the year, this may also qualify you to change election.
Healthcare Flexible Spending Account Participants - Recent federal legislation through The CARES Act has broadened the list of eligible expenses for your healthcare spending account. Many over-the-counter (OTC) products as well as menstrual care products are now eligible, including purchases back to January 1, 2020. For members using an AleraPay debit card, merchants are responsible for updating their inventory control systems so cards swipes may not automatically recognize eligible products. If cards are not accepted for these purchases, you can submit a detailed

claim form

along with a receipt to AleraPay for reimbursement. A revised list of eligible expenses will be available on the AleraPay website.
403b Retirement Benefit Updates:
In response to the CARES Act, Transamerica has revised processes that allow plan participants to defer loan repayments for one year and also to delay the required minimum distributions for those age 70 1/2.
HWS has elected to allow participants to take Coronavirus related distributions and loans from their retirement plan account, in addition to the existing two loan limit normally offered through the plan.
Reasona
ble
Accommodations for Employees with Disabilities
It is the policy of the Colleges to provide reasonable accommodations for qualified individuals with a disability who are employees or applicants for employment. The Colleges are committed to complying with the Americans with Disabilities Act (ADA), the New York State Human Rights Law (NYHRL), and all applicable laws prohibiting discrimination in employment against qualified individuals with disabilities. The Colleges will reasonably accommodate qualified individuals with known disabilities unless doing so would result in undue hardship to the Colleges. The interactive process of identifying a reasonable accommodation begins when an employee or applicant discloses a disability, provides documentation, and requests an accommodation. Volunteering information about a disability will not subject an employee or applicant to any adverse treatment or penalty. All information concerning disabilities will be considered confidential and will be released only in accordance with the ADA and the NYHRL.
To request an accommodation please complete the accommodation request form and return it to Human Resources.
Deborah Drain, Director of Human Resources, also serves as the Colleges ADA/504 Compliance Coordinator and can be reached at drain@hws.edu or (315) 781-3313.
Harassment and Non-Discrimination Policy
The Colleges will not condone any verbal or physical harassment of or discrimination against any employee by another employee, non-employee (e.g. contractors and vendors), student, or guest on any basis including, but not limited to, age, race, color, creed, gender, sexual orientation, gender identity or expression, physical or mental disability, national origin, religion, military or veteran status, marital or familial status, pregnancy, genetic information or any other status protected by law. The purpose of this policy is to assure that, in the workplace, no employee harasses another or discriminates against another on the basis of any protected status. Discrimination and verbal or physical harassment will not be tolerated and may result in disciplinary action, up to and including termination. Read More >>