WILLIAM SMITH EVENTS AND TRADITIONS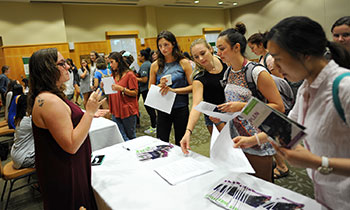 Deans' Welcome at Orientation
The William Smith Dean's Welcome is an event dedicated to welcoming the first-year class during Orientation weekend. This year, students will meet at the top of the William Smith Hill and proceed through Smith Hall to the William Smith Green. The event will feature speakers and light refreshments will be served.
The First Year Experience
This event features a panel of current William Smith seniors as they reflect on their first semester at William Smith. All William Smith first-year students are required to attend.
Getting Involved at William Smith
This event showcases the programs that the William Smith Deans offer and support. Some of the programs that are featured are the Honor Societies – Hai Timiai and the Laurel Society, the Public Leadership Education Network (PLEN). This event is a great opportunity to bring students together and allow them to explore the programs that the William Smith Deans help to provide.
Women's Leadership Conference
This event is sponsored by the PLEN at William Smith Chapter, with assistance from the William Smith Dean's Office. There are panels of speakers featuring Hobart and William Smith faculty and alumnae, as well as members of the Geneva community. The conference is open to all William Smith students as well as female-identifying students from Geneva High School.
Founder's Day
Each year, William Smith students come together to pay tribute to William Smith, the founder of the College.
Celebrating Excellence Dinner
Held in February, the Celebrating Excellence Dinner is dedicated to recognizing the achievements of remarkable William Smith women and to inducting the new members of the Laurel Honor Society for outstanding sophomores and juniors.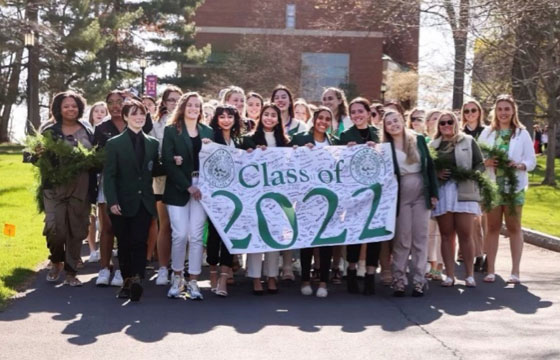 Moving Up Day
Moving Up Day is a ceremony that acknowledges academic awards given to students of William Smith, inducts the new members of the Hai Timiai Honor Society, and recognizes each class as they move up to the next. Students gather at the top of the William Smith Hill and proceed to the event as part of this annual tradition. Students are encouraged to wear their class colors to this event to display their class membership. This traditional event allows students to celebrate one another's achievements over the past year.
CLASS COLORS
2024 – yellow – loyalty and joy
2025 – red – respect and passion
2026 – green – fidelity and friendship
2027 – blue – faith and hope