William Smith Deans
General Information
GENERAL INFORMATION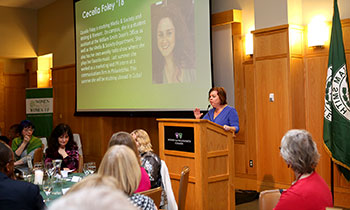 William Smith's intention in founding a women's college was to provide an educational opportunity that would allow women to live an "abundant life." The WS Deans coordinate a four year experience that supports his goal.
Through all the adventures and challenges you face, the William Smith Deans are here when you need information, support, or guidance. The ways in which we support students can be divided into three areas:
Academic
We support the academic mission of the institution as a first priority in students' lives. The Deans provide students with academic counseling, advising, problem-solving, and recognition. Additionally, because we see how academic policies impact student lives, we advise faculty and administrative bodies regarding the creating and change of academic policies.
Leadership
We promote the development of leadership in various ways. We provide opportunities for students to serve successfully in leadership positions and to understand group dynamics and democratic processes. We believe that since leadership has historically been a male/masculine reality, the importance of supporting separate leadership development opportunities specific for women is paramount.
Institutional and Personal Identity
We attempt to provide an experience that will allow women to become more self-aware and to understand and define themselves as members of the WS community, the Geneva community, and the world. Maintaining WS College traditions serves to connect students to the past, present, and future of the College. The traditions encourage students to understand WS College in a historical perspective. This sense of connection to the past promotes connection to the College in the present, thus supporting retention of women, and supports alumnae connection to the College post-graduation.