Commencement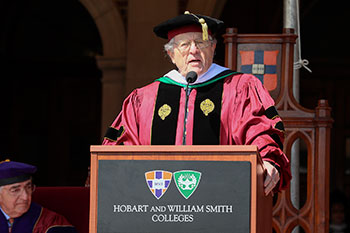 Interim President Patrick A. McGuire L.H.D. '12
Commencement Valedictory Remarks
May 13, 2018
Good Morning graduates and families, faculty and honored guests…our staff and Sodexo workers who have worked diligently to present our Colleges in their best light.
I came to Geneva, N.Y., and HWS 50 years ago in the winter of 1968 to interview for a faculty position in the Economics Department. The day I arrived, it rained, snowed, hailed, rained again and snowed again all in the same day…. I returned to New York City to Fordham University in the Bronx on the same day and it was not snowing in the Bronx!
This is what I saw: the Quad, Coxe Hall, Trinity, Gulick, Medbery, Williams and the Dorms. There was no traffic, no subway or expressways or noise. What kind of place was this? And then I saw this group <points to the faculty> and this group <points to the students> and I was impressed and intrigued. Is this what liberal arts was really like where faculty and students worked together to learn and experience learning? It was, and I came and I stayed.
I spent the next 49 years as a faculty member and a member of the Hobart and William Smith community and I never looked back. The President was Dr. Beverly Causey, an interim President who served two years and replaced President Albert Holland who served from 1966-68.
Holland resigned with less than two years at the Colleges… an interesting parallel. I loved the Colleges from that point in the fall of 1968 until now because of what this institution allowed me to do as a teacher and scholar. Students joined me in the adventure and we spent time in London, Ireland, Berlin, Romania, Hungary and in New York City, Washington, D.C. and Toronto and in downtown Geneva! I used to conduct tours of Downtown Geneva in the early 1970's! A small urban area that had seen better times and yearned to return to those times… and always with you, with students in a shared learning process. Does that sound familiar? How many of you went abroad with a faculty member, or went on the research vessel onto Seneca Lake or to the Boys and Girls Club of Geneva with your faculty mentors? Education was and is a shared experience here at the Colleges. "Worlds of Experience and Lives of Consequence."
While my former colleague and friend, Mark Gearan, was your President for 18 years and I have been your President for only 18 days, I know who you are! And I have heard about you:
…about your work with our faculty in your courses and in the world outside for research or terms aboard…60 percent of you have studied abroad, the vast majority have worked closely with faculty on honors, independent studies, published and unpublished research papers as well as ongoing research projects. Many of you worked with our talented coaches in a variety of sports, or worked on community projects with our equally talented faculty and staff. We have heard that many of you did an honors project with your faculty sponsor and others participated in the Senior Symposium this spring…. I know who you are.
In fact many of you have participated in a modern miracle for which I am eternally grateful… you have changed the lives of Geneva's children. You have lit the fire of hope for the children of Geneva and I have seen the evidence in their eyes when you work, play or interact with them. You have improved the lives of these children and you should be duly proud of your dedication, commitment and success. I am.
You have changed the lives of your fellow students. You will never be the same person again. You have changed the lives of your parents, grandparents and relatives. Yes, I know who you are and I'm sorry that I did not have the opportunity to know you better…but I know who you are. Everyone on this quad knows who you are and what you have done AND are capable of doing in your future. And I will let them know you are coming…
I would like to end with one of my mother's favorite Irish blessings… and with a somewhat altered version (sorry Mom…)
May the road rise up to meet you,
May the wind always be at your back,
May the sun shine warm upon your face and rains fall soft on your fields,
And until we meet again,
May God hold you in the palm of his hand.
And my Changes…
May the road rise up to meet you…
AND YOU REACH OUT AND GRAB THAT ROAD AND TELL THEM YOU ARE COMING.
May the sunlight of change and rains of disappointment not deter you from your life's goals…Tell them you are coming.
May the sun shine on the darkness that enters your life so that you can see your path…Tell them you are coming.
And if we meet again, may you bring peace and happiness to all you meet…Tell them you are coming.
Never forget where you came from; look back and remember us.
May your God bless you and keep you, and God bless you, your parents, relatives and friends and Hobart and William Smith Colleges.
Good-bye and I hope to see you soon again!