Convocation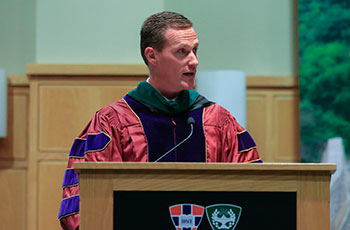 Dr. Jeremy Cushman '96
Convocation Remarks
August 27, 2018
Thank you President McGuire. It's my great honor, on behalf of the Board of Trustees and Chair Tom Bozzuto '67, L.H.D. '18, to welcome you to Hobart and William Smith Colleges.
Now despite the fact that most of you were not born the year I sat in the same spot as you do now, the time since my convocation 26 years ago has truly flown by. I still recall navigating the campus and the responsibilities of my new role. But what a wonderful position to be in – to have new experiences that test our intellectual agility, that demand we grow emotionally, and that require us to see the world in new ways. For one of the great things about a Hobart and William Smith education is that it imbues upon you a desire for lifelong learning, inquisition and exploration – if you will, supporting your future as a perpetual student. Now for most I say that in a figurative sense, but for myself− little did I know when I graduated that I still had another nine years of formal education ahead of me. But truly, as an emergency physician, the things I learned from my professors, staff, coaches, and fellow students on this campus – the quintessential liberal arts education – formed the foundation of a career and life that requires constant learning and discovery in an environment that can change in minutes with life on the line.
So for the next four years, this will be your environment for learning and discovery; for quiet reflection and celebration; for experiences and relationships that will last a lifetime. This environment, here on the shore of Seneca Lake, will value you, will give you tools to succeed in whatever academic pursuit and career you can imagine, and will challenge and support you. This is an environment and a community – a home – where your talents can shine.
Now like any home, it also comes with a family. Just like the families who brought you here, we will nurture you, look out for you, challenge you and have expectations of you. We may disagree, but we will always respect. We will do our best to provide you with the information you need to make the best choices for yourself, because your time here as a member of the Hobart and William Smith family is all about choices. Choices that will reflect upon you, your community, and this family. Choices that will engage talents and abilities you never thought within yourself. Choices that will forever alter your life in the way tens of thousands of other Hobart and William Smith students have borne witness to.
So in the coming years you will have triumphs and failures, wins and losses. You will achieve collectively far more than any one of you could accomplish alone. You will come to understand the meaning of Hai Timiai and Druid, of Koshare and Honors projects, of Herons and Statesmen. And you will make choices, define yourself, and become an active citizen in this community. You too will become an integral part of this environment and will be enriched by these Colleges as much as you enrich it. In doing so, you will no doubt begin your life of consequence. And so, on behalf of the Board of Trustees, and in great appreciation to the faculty and staff that will become your mentors and friends, welcome!