DFA CEREMONY 2014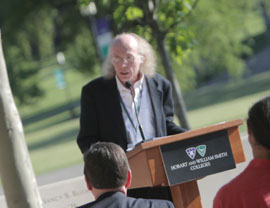 Claudette Columbus, 2014 DFA Recipient
Remarks by James McCorkle '76
First a story, because stories are beginnings:
Fox said to spider, "Cusi, let's talk to the stars."
"I'll spin the web," Cusi said.
The stars called them up.
Up spun spider.
Up climbed fox.
Fox talked to the stars,
Talked to them, talked to them.
Fox did not talk to spider, the diviner, impatient to return.
When the stars became gray with talking,
Falling, Fox yipped with the rising sun:
"Cusi, weave, weave a bed!"
But Cusi [the spider] had gone.
Corn is fallen fox.
Tassels and heads are wild tail, rank and quick;
Deer, fox whiskers.
People of white red black fur are fox,
Yipping at stars and spiders.
The scent of tassels, bloody, furry whisperings;
Uprisings in star dust; insurrection among stones.
These rowed vegetables grow foxy.
A creation-narrative from Claudette's book on Andean word-play and myth—a story that embodies so much of Claudette's storytelling and teaching: Multi-lingual, fluent in the deep cultures of humans, the play of words, understanding of the minute worlds of phoneme and metaphor, line and flourish, the cosmological centrality of the llama and how to best play a singleton.
As an undergraduate casting about for what spoke to me, or what might awake my curiosity, my advisor Walter Ralls suggested I take a class with Claudette, that maybe I'd find something sustaining (not his words . . . he was far more circumspect when addressing my floundering about in chemistry and anthropology) . . . and he convinced Claudette to let this sophomore into her upper-level English class, "Blake, Rilke, and Stevens." Once in, I was hooked. I still have the red Oxford edition of the complete Blake, the Duino Elegies, Stevens' The Palm at the End of the Mind. I do hope everyone has (or has had) a professor and a course that simultaneously anchors them and swings them way out into new spaces. I suspect not, and I feel incredibly lucky to have had Claudette at that moment in my life.
Claudette Columbus was transformational for me, and to all her students: how we respond to the world reflects a process she engaged within us, one which is still going on as one really never finishes thinking about questions once raised. What is the imagination? What is ethical? What do we understand of the life of others? How do we read the world? Ourselves? Claudette understood students who had not yet figured out their directions, or saw in them what they hadn't yet recognized and generously and carefully let them in on their own secrets. In honoring great professors like Claudette we celebrate the relations that they create with us: great teaching is relational, it's not about mastering x or y precisely, but entering the conversation, being part of these larger conversations.
In Claudette's recent book, Andean Archi-Texts, she refers to the polysemous word in Quechua, "cocha," which may refer to "any body of water ranging in size from the ocean to water in a small container," or it may also define "where existence is concentrated" . . . With its context of word-play, cosmology and metaphor, "cocha" itself seems very descriptive of Claudette—who hasn't puzzled over one of her enigmatic comments that seemed to drive to the core of life? Who hasn't been surprised by the span of Claudette's allusions? Or sat in her plant-filled office and wondered about all those books about so many different things?
Claudette asked of her students to think—not simply analyze—to think in transformative ways—how do we understand ourselves as humans and humane in our profoundly alive, but fragile, environment. (Yes, Claudette is a metaphysical environmentalist, too!)
Studying the romantics, Yeats, autobiography, being guided on the Baccalaureate Essay, and then "doing honors" with Claudette was by far the most stimulating and intellectually exciting period for me at the Colleges and even graduate school. What an experience of having a year-long conversation about poetry with Claudette! What a profound luxury that a college allows this chance! What a responsibility for a professor to take such a risk!
Little did I know then, that the courses Claudette often taught were ground-breaking in that they were comparative, cross-disciplinary, cross-cultural courses. Innovative, far-seeing. That she was instrumental in bringing into the curriculum the women's study program, making the department of English the Department of English and Comparative Literature, of supporting the growth of Latin American studies—of embodying interdisciplinarity and mentoring those who venture into that difficult arena.
What I have come to value in teaching was found again and again in Claudette's classes: the professor willing to go on an adventure with her students, to puzzle out understanding, to share astonishment at what is found (or what is adamantly resistant to understanding) and the patience extended to that process. Eclectic, arcane, enigmatic, pragmatic—who else could range across Dickens' London, the cosmologies of Andean peaks, the labyrinths of Borges and Gilgamesh, and end up taking you out for lunch at Ronnie's Cedar Inn? What I mean to say, is that Claudette's knowledge was expansive, always turning the corner so you really couldn't look at something the same way again. And yet she was very local—the locale, the topography was essential for Claudette . . . words matter, they are material and myth, metaphor, and wonder. She inspired me (us) to look and listen closely and, implicit in that, (to see, hear, and respond) empathetically.
And so it is my great honor to represent The Alumni and Alumnae Associations in presenting to you, Claudette, the Distinguished Faculty Award…
Quotations are from Claudette Columbus's Andean Archi-Texts: Wordplay and the Sacred in the Andes (Lima: Sociedad Geográfica de Lima, 2007): 131, 50.