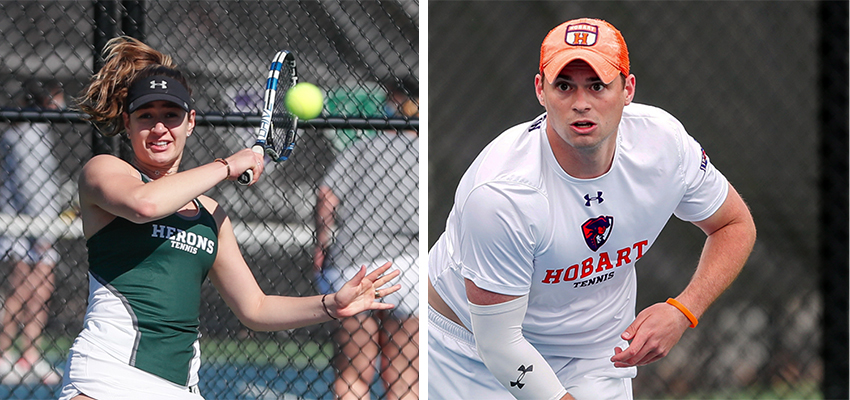 HWS News
3 September 2021 • Athletics Intercollegiate Tennis Association Honors HWS Teams
The Intercollegiate Tennis Association honored members of the Hobart and William Smith Colleges tennis teams by naming them scholar-athletes. The Herons were also named a 2021 Intercollegiate Tennis Association All-Academic Team.
In order to receive the designation of All-Academic Team, a team must hold a cumulative grade point average of 3.20 or higher on a 4.00 scale. All varsity letter winners are factored into the overall team GPA from the current academic year, which includes fall 2020 and spring 2021.
This is the 11th time since 2006 that the Herons have won the award.
To earn ITA Scholar-Athlete honors, a student must have a GPA of at least 3.50 on a 4.00 scale for the current academic year and be listed on the institutional eligibility form.
The following Herons were named ITA Scholar-Athletes:
Bonomo is a three-time ITA Scholar-Athlete. Morrow and Nguyen were honored for the second time.
Playing an abridged spring schedule due to the pandemic, William Smith was 1-6 in dual matches. Bonomo, who was 5-2 in singles matches was ranked 21st in the final Oracle/ITA Northeast Region rankings.
The following Statesmen were named ITA Scholar-Athletes:
Anderson, who was named the Liberty League Male Scholar-Athlete of the Year, is a four-time ITA Scholar-Athlete. He is also a three-time Liberty League All-Academic selection and a two-time CoSIDA Academic All-American.
Hobart finished the season with a 6-2 dual match record. The Statesmen were ranked 36th in the final 2020-21 Oracle/ITA rankings. Hobart was 5-1 in Liberty League play and finished second in the conference standings.