Security and Virus Protection
Cyber Security Awareness Training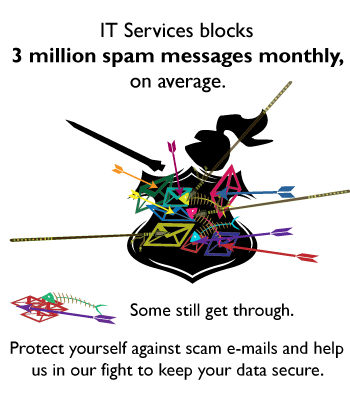 It's happened to everyone.
Whether it was an e-mail, a Facebook post, a tweet or a text. There was a link...and you clicked it. Maybe the link led to a malware site that affected your computer, or it led to a site that looked like your e-mail log in screen, your bank's web site or another portal log in. Regardless of the site, after you entered your credentials and nothing happened, you were concerned. "Did I just do something wrong?" This is called phishing.
If you were fooled, you're not alone. See the results of the recent simulated phishing e-mail sent on campus, and see what phishing looks like.
E-mail is an inexpensive and popular method for distributing fraudulent messages to potential victims. Most fraud is carried out by people obtaining access to account numbers and passwords.
Social Networks such as Facebook, Twitter, LinkedIn, Google+, etc. can be tremendous tools but can also pose significant risks to individuals and organizations so it is important to understand how to use them safely.
Keep Malicious Software Off Your Computer
Computer programs called spyware, malware, and viruses can infect your computer and cause problems for you. Some programs enable their creators to track you, use your Internet connection, and access or erase your data.
Protect Your Computer in Public
Physical security means taking measures to protect the computer itself and all of the data that is on it, particularly when you are in a public facility or traveling. Trust no one when it comes to taking care of your computer and data.
If you think your computer or your account has been compromised, or if your Colleges-owned computer or device has been stolen, you need to contact the Help Desk.
The first step in keeping your password secure is to create a good one. After you've created a strong password, keep it safe.