Security Awareness Training
Help Keep Our Data Secure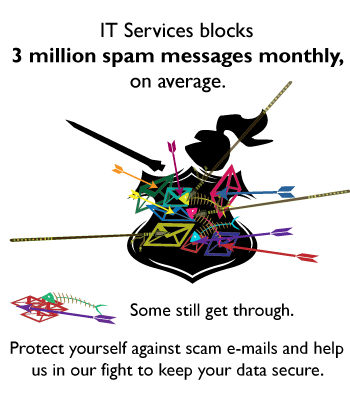 Perhaps more than ever before, cyber security is at the forefront and when it comes to information security and privacy, everyone at HWS plays a part. There has been a significant increase in cyber attacks specifically targeted at colleges and universities by cyber criminals looking to steal academic research data, personal information, and money.
Cyber security awareness training aims ensure that all employees understand how to avoid common cyber threats and mistakes that can put both the Colleges and your personal information at risk.
Learn about phishing, electronic scams, malicious software, and safe passwords on our Security Awareness Training pages.
Multi-Factor Authentication (MFA)
Multi-Factor Authentication (MFA)
Multi-factor Authentication (MFA) provides a layer of security by requiring additional credentials, like a PIN or answering a challenge question, beyond providing your username and password.
Once MFA is activated for a particular application or web service, you will be prompted to provide additional credentials to verify your identity. Once your identity has been verified you will be granted access to the application or web service. In addition, the device from which you have authenticated will also become a trusted device.
Trusted Device
In an effort to strike a balance between reducing our institutional risk of a cybersecurity breach while not being overly intrusive in the ability to access HWS applications and services used on a daily basis, the MFA capability will allow for what is called "trusted devices." A trusted device specifically applies to the combination of the browser on your computer or mobile device (phone, tablet, etc) and the device itself. Once you have signed into a service using multi-factor authentication, the system remembers your browser and device. For a period of 30 days, you will not have to go through the additional verification step when using that same browser and device to access any MFA enabled application or web service.
You can use your mobile device, including a smart watch, for one-touch MFA authorization. This makes logging in when prompted for MFA quicker than receiving a text message or answering knowledge base questions. To use your mobile device for one-touch authorization will you need to have a lock screen enabled on your device. Instructions for installing an app to your phone that has a "push to accept" feature to simplify authentication are available.
Registration in MyAccount
In order to use the MFA capabilities, you must have already logged into the system that allows you to manage your HWS credentials: myaccount.hws.edu. In addition to enabling MFA, this system also allows you to reset your own password should you forget it.
When you log into the system for the first time, you will need to update the following information:
Knowledge Based Questions – these are security questions that help the system confirm your identity if you've forgotten your password and need to reset it.
Recovery E-mail - this is an e-mail address, other than your HWS e-mail, that provides an alternate method for the system to confirm your identity.
The system will be automatically populated with a mobile phone number, for an additional way to confirm your identity, if you've provided it in PeopleSoft. If you don't know how to update your PeopleSoft information, please see instructions on the HWS Human Resources site.
Instructions for registering with myaccount.hws.edu are available.