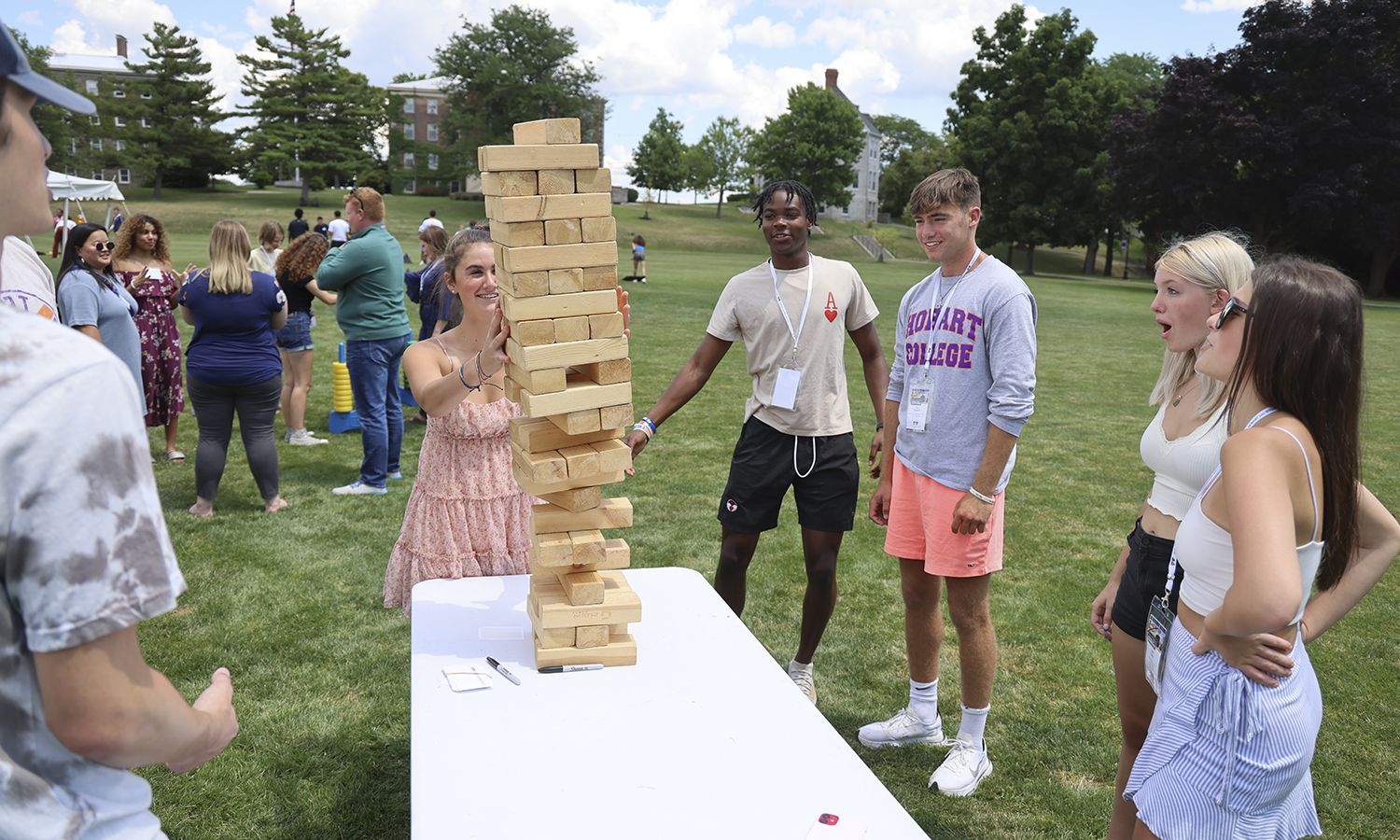 FAQs
FREQUENTLY ASKED QUESTIONS
When will I move in to my residence hall?
All new students move in on Sunday, August 20th. Getting your room key is one of the stops on your journey that day!
How do I know which textbooks and other course materials I will need?
While viewing your course schedule in the PeopleSoft Student Center, click the yellow button that reads Barnes & Noble Buy Books. This will take you to a list of the textbooks and materials required for your courses and the options to purchase or rent them from the College Store. Complete the transaction online and you will have the option to pick up your materials at the store or have items shipped to your home address. Not planning on purchasing from The College Store? No problem. ISBN numbers are provided so you can search elsewhere.
Which parts of Orientation are important for students to attend?
All incoming students are expected to be here for all of Orientation, which will take place on Sunday, August 20 – Sunday, August 27, beginning at 8:30 a.m. (International students will arrive on Saturday, August 19).
When will I know about my room assignment and my roommate?
Room and roommate assignments will be available on your myHousing website in July. You will receive email communication when this exciting news is officially announced!
If I select substance-free housing or single-sex housing, how will that impact my courses? Will I be able to live in special housing and still have the courses I want?
The Office of Student Engagement takes a variety of factors into consideration when assigning first-year students to their first residential community. While not all preferences can be met, preferences for substance-free lifestyle communities, preferences for same-sex or all gender residence halls, roommate preferences, and learning-community preferences are all taken into consideration. The Office of Student Engagement may reach out over the summer to discuss your particular preferences to ensure you're matched with the housing assignment most suitable for your needs.
What should I bring to campus?
Past Orientation Coordinators have created a list of items that will make students feel more at home and more productive on campus. Their suggestions are listed on the right side of this page.
Each student is provided with a desk, chair, dresser, closet or wardrobe, and bed. All windows will already have shades installed. Because campus storage space is limited, you will not be permitted to remove these furnishings from your room.
You may use posters, pictures, and other decorations to make your room feel like home. We suggest using poster putty and/or masking tape to hang posters and pictures on the wall. Please note that materials that damage the walls, such as LED flexible strip lights, transparent tape, adhesive stick-on cork board, nails, screws, etc. should not be used to decorate your room. For your safety, we ask that all fabric wall hangings (tapestries, flags, etc.) should be left at home.
What appliances will be available in the residence halls?
Small kitchen areas or kitchenettes with microwave ovens are provided in most residence halls. These areas are intended for cooking snacks and occasional meals. Each student may bring a small mini fridge (3 cubic feet or smaller) for their dorm room. More information about leasing a MicroFridge is available here. For safety reasons, cooking appliances (such as hot plates, rice cookers, etc.) in student rooms is strictly prohibited. However, single-serve coffee makers (like Keurig brand) are allowed.
Will I be able to see my room if I'm visiting the area over the summer?
Renovations, housekeeping, and occupancy by our summer programs prevent the previewing of rooms. Campus tours are available through the Admissions Office and usually include a typical room.
What will my mailing address be?
All students are assigned new post office box numbers in mid-July. You can access your mailing address from the Peoplesoft portal. After logging in, go to your campus personal information and you will find your Scandling Center address there. All letters and packages should be addressed to you at:
(Name)
(Box #) Scandling Center
Geneva, NY 14456
Please note: Do not mail to P.O. Box (Box#). It will slow your mail and make sorting it more difficult for the Postal Service.
Is it OK to send boxes of belongings ahead of my arrival?
We strongly encourage those who must rely on shipping to delay their shipments so that they arrive the week of August 14th. Sending packages ahead is discouraged because storage space is extremely limited. If you must send packages prior to your arrival, please send no more than two boxes, via UPS, to your campus mailing address.
The HWS Post Office will be open 9:00am to 12:00pm and 1:00 to 5:00pm Monday, August 14 through Friday, August 18, 10:00am to 1:00pm Saturday, August 19 and Sunday, August 20, 2023.
Will there be computer access in my room?
All student residences offer WiFi access.
Do I need to have my own computer?
Computers are an increasingly important tool for students at the Colleges. While the Colleges offer several public computing labs, having a personal computer is a significant convenience, especially toward the end of semesters when demands upon computer labs are high. All student residences offer WiFi access. In case you do not bring a computer, there are multiple computer labs around campus. Most serve as multimedia classrooms during the day and become open labs evenings and weekends.
How will I know when I have to leave my room before each semester break and when I can return after each break?
Residence halls generally open the day before classes begin. Residence halls close 24 hours after your last final exam or by noon (whichever comes first) the day after exams end each semester. Special opening dates are arranged for athletes and residence staff. Requests for early arrival due to extraordinary situations must be submitted through myHousing by way of the Early Arrival Request form.
Residences opening and closing dates are:
Fall Semester 2023
August 27 – On-Campus Residences open for all returning students
Oct. 7-10 — Fall Recess (halls remain open)
Nov. 22-26 — Thanksgiving Recess (halls remain open but students must register to stay)
Dec. 16 – On-Campus Residences close at noon for Winter Break
Spring Semester 2024
Jan. 21 – Campus residences open
Mar. 16-24 — Spring Break (halls remain open but students must register to stay)
May 11 – On-Campus Residences close at noon for Summer Break
May 19 – Commencement
Will there be cable connection in my room?
Your HWS credentials grant you access to Spectrum U – an online app that grants you access to all cable network television channels available to City of Geneva residents. Students can use this app with any device where they can use streaming services – computers, gaming systems, smart TVs, etc. All traditional residence hall lounges are also equipped with TVs that will stream Spectrum U.
How can I grant my parent or guardian access to view my academic information?
Please visit the Share My Info page for instructions and more information about the academic information sharing service provided by the Registrar's Office.
How do I get a job on campus?
Search and apply for open positions on the Human Resources webpage. Be sure to bring the necessary documentation to campus to complete your employment paperwork. A list of acceptable documents can be found here.
QUESTIONS ABOUT THE NEW STUDENT ONBOARDING PROCESS
I have not received my HWS username and password yet.
If you have submitted your deposit but have not received a username and password, please contact the HWS Office of Admissions at 800-852-2256 or admissions@hws.edu.
When I try to log into housing.hws.edu, it says I don't have an account.
If this occurs, please notify the IT Help Desk at helpdesk@hws.edu or call (315) 781-4357. They will be able to reset your account within 24 hours.
QUESTIONS ABOUT YOUR ACADEMIC SCHEDULE
What is Math 888 / Chem 888?
Math 888 and Chem 888 are not courses. They let the Registrar and your adviser know that you took and passed either the mathematics or chemistry test and are eligible for an upper-level math or science course.
How do I get transfer credits for AP or college courses?
Transfer credits are decided on a case-by-case basis with your First-Year Dean. If you took a college course or received a 4 or 5 on an AP exam, contact Dean Kelly Payne at (315) 781-3467 or Dean Joe Mink at (315) 781-3300.
How will I get textbooks? Should I rent or buy them?
More information about textbooks will be available on the College Store website in August. Visit the textbook homepage to learn more about the College Store policies for buying, renting and returning textbooks.
When will I get to meet with my academic adviser?
Your academic adviser is, typically, your First-Year Seminar professor. He or she will be in touch in early June. You'll have your first advising session virtually over the summer and meet face-to-face during Orientation Week. You'll have ample opportunity to talk about the upcoming semester and resolve any concerns about your courses.

Can I change my classes?
It is not possible to change your First-Year Seminar, but it may be possible (though difficult) to change your second and third course.
MORE INFO
Computer purchasing guidelines