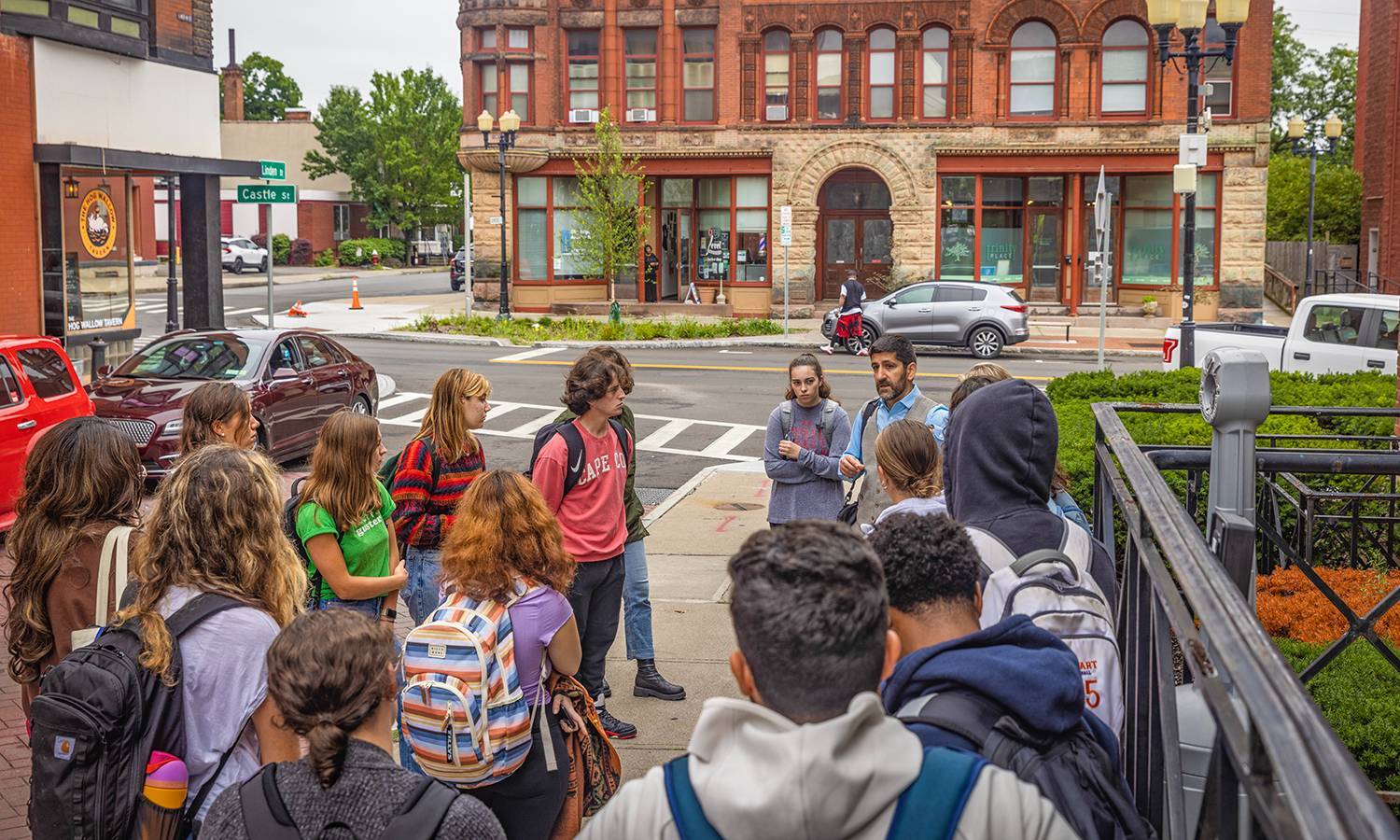 Spark! Projects
An Introduction to experiential learning
Engage in a themed experience with a small group of your peers during your first days on the HWS campus. Led by a faculty or staff guide and supported by student mentors, you'll dive into a topic of interest, collaborating with your Spark! group, getting to know the campus and greater Finger Lakes region and making connections to future academic and co-curricular paths. Your Spark! experience will culminate in a presentation, display, performance or other opportunity to share what you've learned during your first days at HWS.
As part of new student Orientation, all incoming first-year students are required to participate in a Spark! project. Transfer students have the option to participate in a Spark! project, but it is not required. Explore your Spark! options below and submit your preferences on the New Student Onboarding Portal by May 19.
2023 Spark! Projects
Pride in the FLX
Vice President of Campus Life and Associate Director of the Master of Arts in Higher Education Leadership Becca Barile
A unique opportunity for you to engage with the Geneva, Finger Lakes, and Rochester community through walking tours exploring the history of the local LGBTQ movement. With a sense of place and pride about the place that our cities occupy in the fight for civil rights & human dignity throughout our nation's history. Just as our region is celebrated for the instrumental role that it has played in the abolitionist and women's rights movements, so should it be recognized for its contributions to LGBTQ equality.
creation stories
chaplain and dean for spiritual engagement the rev. nita byrd, associate professor of religious studies sal kafrawi, professor of religious studies richard salter
What are the stories that we tell about where we come from, what we are, and who we are? In religious studies, we call these stories "myths." In this case, "myth" does not refer to a false story, but rather to a "true" story, a story that is true because it discloses meaning and/or wisdom. Some myths come from our religious traditions, but we also see them in other social, political, and cultural forms. What can we learn by attending to the creation stories of others? What is the creation story of the Haudensosaunee people, who first occupied this land? Do Hobart and William Smith have a creation story? Is the start of college your own creation story? What role do we play in narrating our own stories? You'll discuss the nature of creation stories and the many creation stories that surround us. From there, you'll walk the creation of Hobart, circumambulating the campus, make our way to the Labyrinth and other sacred spots on and around our campus, and reflect on how walking is a ritual, or physical recreation of, a creation story. Are there other rituals that accompany creation stories? How does commensality help us to create a world? On the second day you'll explore the broader land we occupy, with the special focus on Haudenosaunee creation stories. How can location, and specifically land, be part of our stories if we are new to a place? You'll close with a ritual creation of our new beginning.
golf course architecture in the finger lakes
william smith golf head coach chip capraro
You'll get off campus right away to explore some architecturally significant golf course designs here in the Finger Lakes by Donald Ross and Robert Trent Jones. While appreciating their beauty and splendor, you'll engage in some key conceptual questions: What were the basic design elements and fundamental principles of classically designed golf courses, including their magnificent club houses? What was the GOLFING EXPERIENCE their designers were trying to create? How is designing a golf course like solving a puzzle? As a group, you'll wrap up the SPARK! adventure making posters featuring images- photos and drawings- of golf courses seen in a new light, and maybe actually play a few holes!
finding art in nature
professor of geoscience nan crystal arens
Art is for everybody….as a way to unlock creativity, express yourself and build something together. You will explore the natural environment—the woods and lakeshore—to find materials and make art that is an expression of who you are and who you want to become. Yes, that means you'll be outside getting our hands dirty!
we are who we are: a performance of dance, music, and theater
professor of dance donna davenport
Do you like to express yourself creatively? Do you like the stage? Sing a little? Rap? Play an instrument? Write songs? Act? Give speeches? Standup comedy? Improvise? Dance for fun? Dance seriously? This is the Spark project for you! Three professional performers—in dance, music, and theater--who love to work with college students will encourage you to share whatever you want to share about yourself and your artform. Through the performing arts, you will come to know one another and share a very special, creative experience, designing a short and amazing showcase for the Orientation audience. Bring your musical instruments, dance shoes, costumes, and talents!! No big egos allowed. No audition. This is a collaborative, inclusive project.
leadership, culture & Community: HWS athletics
associate athletic director, senior woman administrator Liz dennison
You will discuss important topics around history, culture, academic/athletic balance, and self-leadership, all in an effort to weave an understanding of the Hobart and William Smith athletics into the your careers at HWS. You will explore the idea of followership as a form of leadership, and the transition from a senior leader in high school to a first-year team member and student in college. This SPARK will position you with a toolbox for success and immediate connections amongst their teams, the HWS community at large, alumni/ae connections, and Hobart and William Smith Athletics. Speakers will include administrators, coaches, alumni, and guests! This SPARK is limited to fist-year, fall sport student-athletes only.
Discovering the leader in you
Associate director of the centennial center kayla eberhardt
This 2-day SPARK! course will allow you to explore the leader in you! During this course, you will have the opportunity to reflect on the type of person you are through a personality analysis (MBTI assessment) and develop a customized leadership philosophy to match. Once understanding your personality and leadership philosophy, you will then take a deep dive into methods and practices to discover ways of leading yourself, leading others, and leadership in action at the Bristol Mountain Aerial Adventures Ropes Course. All of which will allow an exclusive fast track access into the HWS Leads Certificate Program. At the end of the 2-days, you will have explored, prepared, and reflected on yourself as the next leaders of HWS!
going with the flow (first-years learning on the water)
finger lakes institute associate director for educational programs nadia harvieux and finger lakes institute director dr. lisa cleckner
You will create a new "sense of place" through field experiences to water bodies that define our region: a local wetland complex that provides numerous ecosystem services, a stream gorge that hints at a very different geologic past, and the beautiful Finger Lakes themselves that drive our thriving regional economy. Through these field experiences (paddling, hiking and on-lake science), you will become familiar with the rich historical, ecological, economic and societal benefits of water in our region. You will use your immersive field experiences to develop a group "Artivism" display or project to help your first year peers broaden their understanding of "sense of place" while living in the Finger Lakes, all through the lens of water.
All Means All: A Look at Disability and Inclusive Education in Our Community
Associate Professor of Educational Studies Mary Kelly and Associate Professor of Educational Studies Audrey Roberson
In this Spark! project, you will connect with local teachers, schools and community-based organizations related to disability access and inclusivity (e.g., Ontario Arc, Happiness House, Center for Disability Rights, BOCES, Geneva City School District, etc.) while promoting inclusion and gaining awareness about the Ontario Arc College Experience Program here at HWS. You'll build connections with other HWS students, alum, and members of the broader campus and local community.
uniquely urban? Welcome to downtown
associate professor of sociology ervin kosta
You will explore together Geneva downtown's diversity of stores and visitors. You will get to meet some storeowners and community leaders, building connections between students and downtown community leaders. You will get to know some of the people that make the downtown "tick" – and learn how to ask and answer sociological questions about how neighborhood retail stores contribute to urban change. You will get to meet other students, learn how to conduct research, and figure out how to find coursework that might help you pursue your emerging interests. Oh, and you'll be the one answering all downtown questions for your classmates!
spark! outdoor adventure program
associate dean of hobart college david mapstone
SPOARK is a Spark! Outdoor Adventure Program….it's also a nifty utensil that can be found at backyard BBQs, Food Trucks, and in a hiker's backpack! HWS has been running an Outdoor Adventure Program for incoming first-year students for the last 15 years. Joining SPOARK, you will come to campus a day prior to the standard start of orientation, move into your room, meet your tripmates (8-10) and guides (2), and embark on a 5-day outdoor adventure across the Finger Lakes and Adirondacks. Whether you're sailing and kayaking the pristine lakes and marshes or hiking and backpacking the rolling hills and dense forests of the FLX and ADKS, you're certain to make new friends, challenge yourself, and learn about HWS from our upper-class guides. No experience in the outdoors is necessary. We just simply ask you to review our website for more information and complete the 3-question survey in the new student onboarding portal indicating your level of experience, preferred discipline, and ability to swim. Embrace the SPOARK.
hws pact (public art for community transformation): Color for change!
associate professor of women's studies michelle martin-baron, victor pultinas, bernadette bos
What difference can an image make? Plenty! Together, you'll create public art on campus in the form of a mural that welcomes the community and celebrates its diversity. Together, you will explore how art can instill a sense of belonging, create community, and impact our environments and relationships with one another. You'll explore mural environments around the Finger Lakes and dive into creating our own. Come roll up your sleeves and get painting!
The Visual Short Story Essay: Using the Library's Primary Source Databases
Senior Assistant Librarian for Research Services Jennifer Nace
We all like to tell stories and we all want to be inspired. Join librarian, Jennifer Nace, as you delve into some of the rich images and documents in the library's collections to create your own visual essays. What is a visual essay? A visual essay uses images and words to tell a story, make an argument, interpret a text, song, or other artistic work, or illustrate a problem. You will explore some of the library's more eclectic databases, do some brainstorming and reaction writing, and just generally have fun with the myriad visual ways of presenting our ideas!
Fish on!
Associate professor of writing and rhetoric ben ristow
In this Spark! program, you will join other like-minded first year students who spin and/or fly-fish or would like to learn. Currently, the HWS Fishing Club has experienced a renaissance, with over 50 student club members in 2022, and in this Spark! program, you will spend two days of activities on the surrounding water of Seneca Lake and its tributaries. You will have the opportunity to learn about the regional fisheries as well as world-class trout, bass, and salmon fishing in Central New York.
Finger Lakes Cheese & (Ice) Cream: Industry, Innovation, Entrepreneurship, Tourism, & More
Assistant Professor of Entrepreneurial Studies Craig Talmage
For our project, you will connect with dairy-based educational spaces, regional producers, local sellers, and nearby tourist venues in the Finger Lakes region, specifically those that are close to campus, Geneva, and Seneca Lake. On the two-day excursion, you will meet farmers, scientists, entrepreneurs, and alums in the Finger Lakes. And of course, you get to taste their products, see their workplaces, and make your own cheese and ice cream as a group! Your culminating project gets you involved in marketing these wonderful places and products to students at HWS!
fuzz and fluff in the finger lakes
associate professor of russian area studies Kristen Welsh and associate professor of mathematics & computer science jennifer biermann
Come with us to visit a fiber farm, see how a shorn fleece is turned into yarn, and meet the animals! Along the way, you will talk about what it takes to run a small, sustainable fiber arts business, and about how making things can provide balance in your busy life. You will learn the basics of knitting and handspinning, and complete a small knitting project. This program is designed for absolute beginners, but experienced fiber makers are welcome!
stage to page!
associate professor of theatre chris woodworth
Move. Watch. Write. How can movement inspire poetry, playwriting, memoir, or fiction? You've probably heard the phrase "page to stage" when it comes to theatre. Productions often start with a script, which gets brought to life through acting, directing, and design. What happens if we reverse this process? Drawing from techniques of several international artists, you'll generate a series of fast, short, physical sequences. From there, you'll put pens to paper as we use these movements to ignite a series of writing explorations in whatever genre you choose. Then you'll weave together movement and text to create a series of original performance pieces. You'll think on your feet, work as a team, make something brand new, build connections, and have fun! Who can participate? Poets, dancers, actors, athletes, playwrights, storytellers, fabulists, or anyone who wants to move and write! You will explore a wild array of physical theatre and site-specific performance techniques to SPARK creativity!