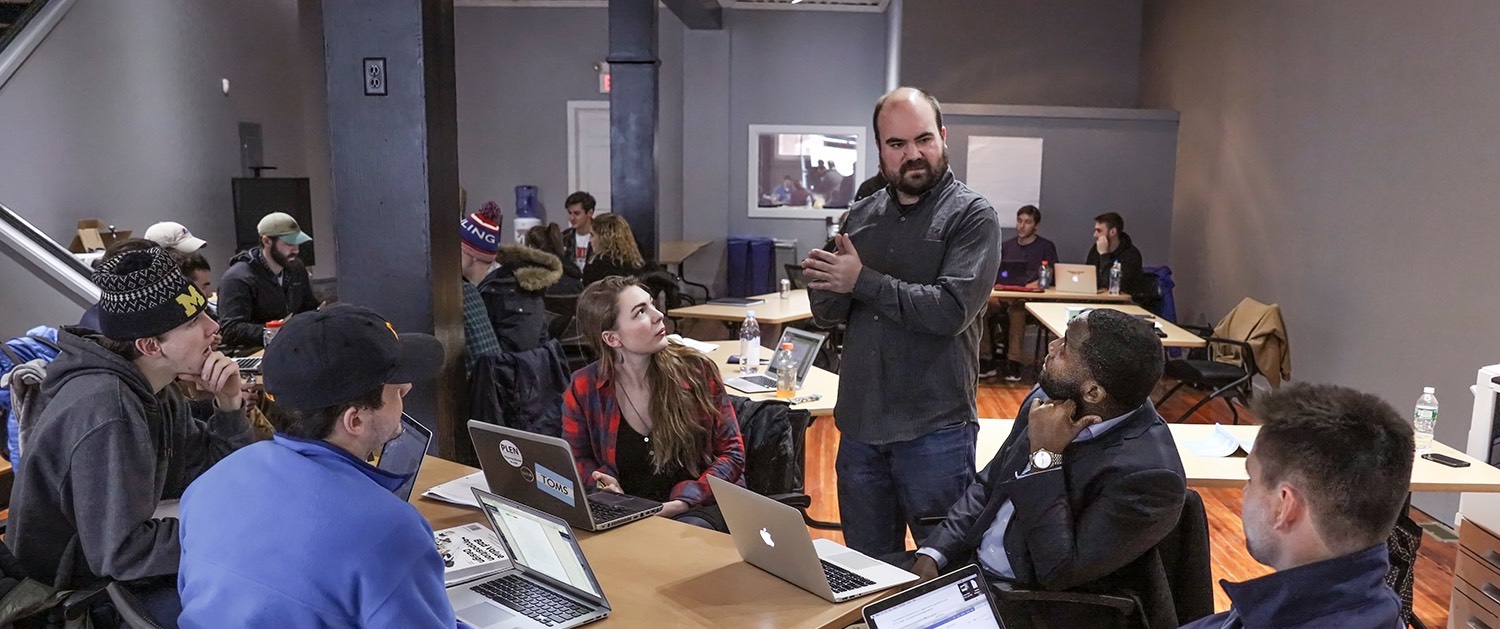 First-Year Seminars
It All Starts Here
Commonly referred to as "FSEMs," First-Year Seminars are courses with only 12-16 students that help introduce you to college coursework and college life. Each FSEM is designed around a thought-provoking topic that will serve as a springboard for honing your critical thinking and communication skills. FSEMs will also help you acclimate to our college's academic values and build a network of relationships in and out of the classroom.
Your FSEM professor will serve as your academic adviser for at least your first year, and you'll begin chatting with your FSEM professor in June to chart a course of study for your first semester. You will meet again during Orientation, when your FSEM course begins, and your advising relationship will continue to develop throughout the semester.
Each FSEM will utilize a First Year Mentor, a current student who will support you during your first semester and beyond. Find your mentor here.
First-Year Seminars are the only courses required of all HWS students, and every incoming first-year student is required to take one during their fall semester. Explore your FSEM options below and submit your preferences on the New Student Onboarding Portal by May 19.
Fall 2023 First-Year Seminar Offerings
Sustainable Living and learning Communities
associate Professor of Environmental Studies beth kinne and Associate Professor of Environmental Studies Whitney Mauer
We've all been told about the threats of climate change, but what about solutions? In this seminar, we'll learn about climate change by focusing on ways to 'drawdown' carbon dioxide levels and solve climate change. We'll be learning about solutions to climate change involving food, energy, land use, and social justice and equity to help us to build a more resilient world that can thrive in the face of global climate change. For example, did you know that reducing food waste and educating girls are two of the top solutions to tackling climate change? In addition to exploring ways to reduce carbon dioxide emissions, we'll also take several field trips throughout the course of the semester to see some of the ways these exciting solutions are taking place locally in the Finger Lakes.
I'm New Here: Imaginers, Observers, Immigrants
Associate Professor of Russian Area Studies Kristen Welsh
How do you define America? Does your definition mesh with what the rest of the world might think? This seminar explores American culture and identity by proposing and testing definitions for these terms. Our raw material for this project includes words, sounds, and images created by artists and travelers from the former Soviet Union. Some of our texts are fictional, some are not, and some blur the boundaries between the two. Some were created by people who visited the U.S. and went home again, some by exiles both voluntary and involuntary, and some by artists who simply imagined America from afar. As we study these works, we will discuss how the artists convey the excitements and anxieties of being a newcomer, the particular insights that new perspectives bring to familiar places and ideas, and how these topics connect to your experience as a newcomer to HWS. This course focuses on asking questions, using your imagination and analytical skills to make sense of the unknown, and using points of encounter between strangers (people, languages, nations) to enhance your understanding.
Face to Face: Interrogating Race in the United States and South Africa
Visiting Associate Professor of Africana Studies James McCorkle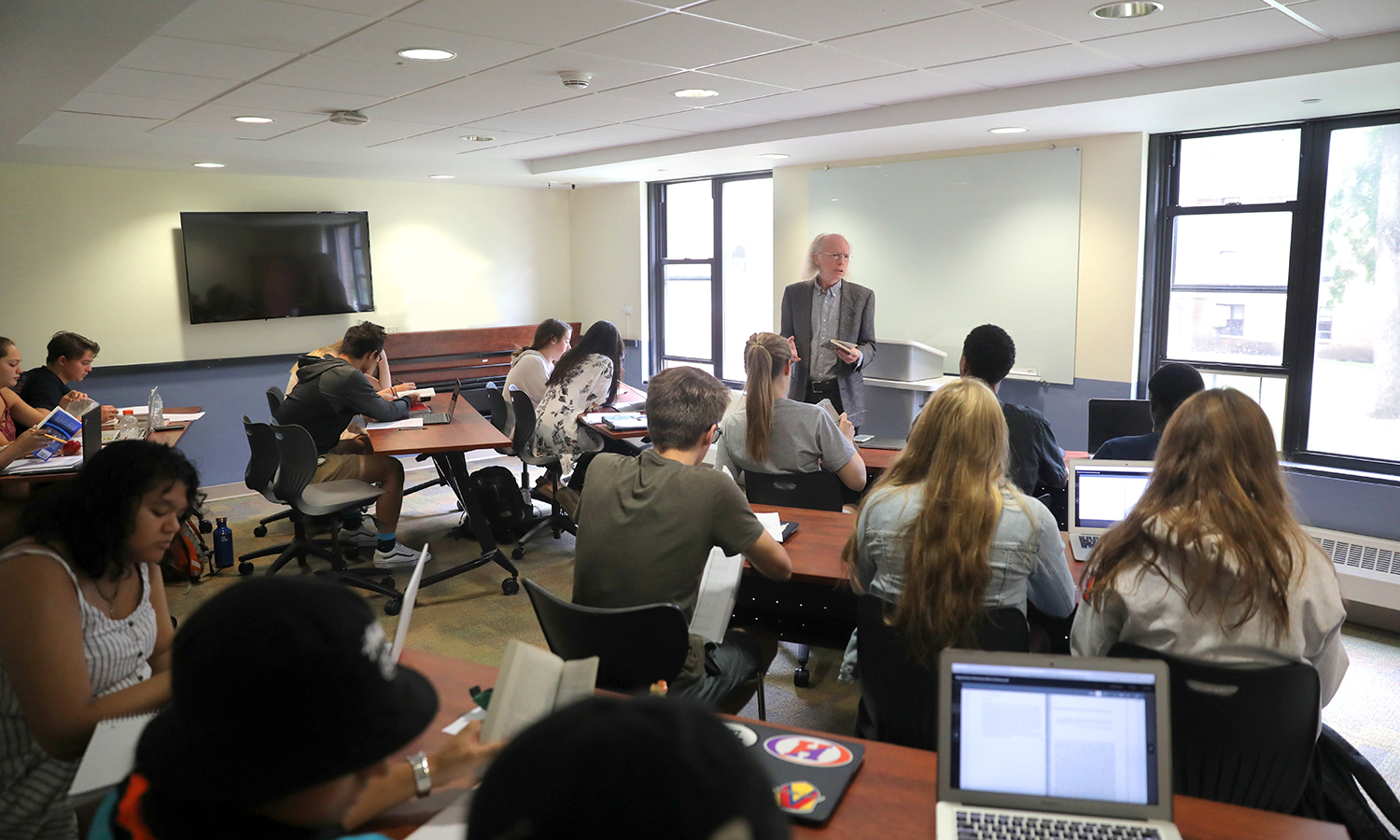 How do we talk about race after the murder of George Floyd? In this seminar, we'll explore the parallels between South Africa and the United States, their policies of segregation and their ongoing resistant imaginations.
New Chemistry Meets Old Art
Professor of Chemistry Walter Bowyer
Art and science sometimes seem incompatible. In this seminar, we will challenge that perception. We will begin by using art projects to help understand chemical principles. Using those principles, we then will explore art history to illustrate how science helps us understand art. For example, science can help us uncover lost secrets of past artists, offer us strategies to recognize art forgeries, and advise us on the conservation of art in museums. No previous skills in science or art are needed to enjoy this seminar. Typical readings: Ball, Bright Earth; White, Prehistoric Art; Woolfson, Colour: How We See It and How We Use It; Wieseman: A Closer Look: Deceptions and Discoveries; Bomford: A Closer Look: Conservation of Paintings.
Building Bridges: Immigration and Oral History
Director of Less Commonly Taught Langauges Program and Instructor of Italian Sebastiano Lucci
Why do people migrate from one country to another? How do immigrants navigate assimilation, discrimination, or and integration, and how do they impact American life? With a special focus on Italian immigration to the US, this course looks at immigration through a historical lens covering the colonial period and World War II, among other stops. We will be analyzing both the causes of migration and the lengthy and difficult processes of assimilation, using Italian-Americans as a case study to help us read, learn, analyze, question, and discuss. In the second half of the course, students will be introduced to members of the Geneva Italian-American community as our focus shifts to oral and ethnographic methods of learning and a micro-history project.
Just Words
Associate Professor of Educational Studies Audrey Roberson
Words aren't "just words," but representations of values and beliefs, with immense power to harm or heal. Language is a rich, multi-faceted expression of culture and identity, and so the way people speak and write varies greatly among communities, but not all varieties of language are valued equally. The concepts of "proper English" or "English with an accent" represent linguistic discrimination that has little do with the structure of language and is often rooted in systems of oppression: what appears to be a personal preference or pet peeve is often proxy for race, class, gender, and other biases, whether conscious or unconscious. Such linguistic discrimination has had high-stakes consequences in public spheres like education, health, and politics, but shifts toward less biased and more inclusive language are underway. How can we understand language as a variable expression of identity and culture? How does language reflect and reinforce values and ideologies? What kinds of linguistic changes are currently happening in society, and to what effect? What is the role of social media and AI in these changes? As we explore these and other questions, students in this first-year seminar will also explore ways to enhance the knowledge, abilities, and flexibility needed to be successful across four years of college
Ethical Debates in Medicine
Professor of Religious Studies Etin Anwar
How do we respond ethically to the problems posed by medical practices and policies? What ethical principles would we use? Should medical decisions consider the patient's cultural and religious backgrounds? How do different cultures treat health and illness? This course is an interdisciplinary approach to the moral, philosophical, social, religious, and legal dimensions of the theories, policies, and practices in issues regarding the beginning, the maintenance, and the end of human life. We will examine a few ethical theories ranging from Virtue, Utilitarian, deontological, religious to feminist Ethics to approach the topics in question. We will particularly discuss the ethical dilemma of the way in which medical technology offers choices to determine a new life, enhances the maintenance of bodily perfection, and informs the decision to end life. Specific issues covered in this seminar will include concepts relevant to ethical theories, religion and bioethics, reproductive technology, abortion, euthanasia, organ transplant, and plastic surgery.
Mars!
Professor of Geoscience Nan Crystal Arens

More than any other planet, Mars seems familiar to us Earthlings. A photo from Gale Crater could have been taken in Death Valley, California. At the same time, Mars is very different from Earth: cold, dry...lifeless? But was it always that way? Could Mars have harbored life? Did it? What was once a red smudge in Earth-based telescopes is today a real place that we can explore through orbital and lander images. In this seminar, we will use Earth as a model to explore these similarities and differences. We will compare and contrast the planets' internal structures, tectonics, rock cycle, hydrological cycle, sedimentary processes, glacial processes, atmospheric evolution, history, and potential for life—past and present. We will unpack how we know what we know about the Red Planet and highlight some of the most exciting unanswered questions. We will explore these topics through reading and writing, hands-on projects, and a taste of individual research. And we'll chat with some of the modern explorers who have brought us these discoveries.

From Comix to Graphix: The Art of Story
Professor of Art and Architecture Lara Blanchard
Are comics and graphic novels literature, art, both, or neither? What does Wonder Woman have to do with political history? Why render the Holocaust in a comic format? This seminar considers formats and themes of comics and graphic narratives, a thriving hybrid form, created by artists from various global cultures. The seminar is designed (and sometimes collaboratively taught) by a literature professor and an art historian and uses methods of literary and visual analysis to gain a deeper understanding of graphic storytellings. Students will read a range of works in these media, as well as theory, method, and criticism in the field. Students will produce critical analyses and, potentially, creative projects, both individually and in collaboration. This seminar helps students develop multiple skills of interpretation of narratives in a range of contexts. Readings may include Persepolis, Maus, Fun Home, and Scott Pilgrim, among others.
Design in American Culture
Associate Professor of Art and Architecture Jeffrey Blankenship
This seminar will focus on the role of designed objects—interiors, buildings, landscapes, and communities, as well as fashion, graphic design, and designed experiences—in the performance of American identities. The politics of consumption will be "read" through examining the visual and material culture of designed artifacts and spaces and their representation across a variety of media including magazines, literature, television, and film. The seminar will bring together texts and debates that cross the social sciences, humanities, and science/technology, drawing particularly on actor-network theory, material culture studies, sociology of consumption, urban and architectural studies, and cultural theory.
Almost Got Away With It

Associate Professor of Classics James Capreedy
Welcome to Ancient Athenian Law! In this course, we will read court speeches, documents, and some philosophies from ancient Athens and examine the ways in which rhetoric, morality, and law converged and justice was administered. This is not, strictly speaking, a course on modern law – our focus is on the ancient world where we will explore what the law protected and how the ancient Athenians administer their justice. We will study how the ancient Athenians defined, developed, and exercised law within their own cultural beliefs; law as an idea, then, is as central to this course as the practices and procedures of the ancient court system.
Game Changers: Disease, Cures and Social Change
Professor of Biology Sigrid Carle
How did early thinking on the causes of disease impact society? What scientific breakthroughs lead to the development of vaccines and antibiotics? What was the role of government in the development of cures? What parallels exist between societal reactions to COVID and to prior diseases and medicines? We will examine the history and science of vaccine development, as well as the social implications and controversies that surrounded such developments. Public health measures and vaccinations have changed the landscape of childhood diseases, as well as helped control our most recent epidemic-COVID-19, but developing medication that is stable and can be transported is not an easy feat: money and support, particularly from the United States government, was essential for the work on penicillin, for example. We will focus on the "game-changers," key cases with significant impact: the few insightful individuals who figured out simple public health measures could prevent deadly infections in maternity wards and in cities such as London, the discovery of a mold that inhibited bacterial growth and led to the development of the first antibiotic, and other discoveries that continue to impact the way we live our lives today.
Twenty Questions
Associate Professor of English Rob Carson and Professor of practice in english Daniel Schonning
Are we alone in the universe? Are human rights universal? Do animals have consciousness? Should the government tax inheritance? Do "alternative facts" exist? In this seminar we will contemplate twenty fascinating questions drawn from disciplines across the liberal arts, considering the various alternatives on offer and debating their respective merits. In the process, you will be introduced to the broad range of subjects that we study in the HWS curriculum, and you will develop a strong foundation of critical thinking and effective writing skills that will contribute to your academic success going forward.
What is Freedom?
Associate Professor of English Stephen Cope
What is "freedom"? How have ideas and beliefs about freedom changed over the course of history? How has freedom been defined, defended, critiqued, or dismissed by philosophers, politicians, artists, and others? Have these definitions, defenses, dismissals changed, and, if so, how? What relation, if any, exists between different kinds of freedom (freedom of speech, artistic freedom, freedom of conscience, of movement, of self- definition and/or self-determination...)? More generally, we will simply pose the question of what freedom IS, what the term MEANS, and where our ideas about freedom come from.
Hacking the Law
Associate Professor of History Matt Crow
We tend to think of law as a controlling power that gets imposed from above. For good reason perhaps, we have learned to be skeptical, even cynical, about the rule of law and the politics of law and order. Many scholars of constitutional and international law have wondered out loud recently whether what they study even really exists. All the same, it is difficult to think about rights, protection, equity, justice, and correcting wrongs without some basic understanding of legality. In this seminar we'll explore some examples of using, playing with, and hacking or breaking into the supposedly sacrosanct space of the law, from ancient rabbis and philosophers to modern questions about police power, animal rights, about law in environments like the ocean or the desert, and the crazy amount of crime drama on TV.
Parched: The Past, Present and Future of Water
Associate Professor of Geoscience Tara Curtin
In the midst of global climate change, environmental crises for water resources and the political debates over water, we have come to realize our complete dependence on water. We will explore the nature of humankind's encounters with water by examining maps; studying local bodies of water including Seneca Lake, nearby rivers and groundwater; listening to podcasts and music; reading and analyzing autobiographies, novels, poems, non-fiction works and scholarly articles; and watching movies and documentaries. Through class discussions, in-class debates, short essays, blogging, and research papers, this seminar will provide students with the tools to explore the past, present and future of water in order to think through possible solutions to sustain our water resources in perpetuity.
Relationships, Happiness and Service
Director of the Center for Community Engagement and Service Learning Katie Flowers
Everyone is talking about "belonging" but what does it really mean to be a part of a community? Students will gain an understanding of the social power structures that support or inhibit community building, and how that impacts individual and collective well-being. In addition to assigned readings and class discussions, students will commit to 20 hours of service-learning (2 hours per week over the course of the semester), through which students will help cultivate community through creating connections with peers on campus and with members of the Geneva community. "Exploring Community" will lead to skill development which will help students navigate their time at HWS and build towards a 'life of consequence.' This course will be linked as a Learning Community.
Railroad to Freedom: The Underground Railroad in New York
Assistant

Professor of History Janette Gayle
This seminar examines the semi-secret networks of Black and White abolitionists and anti-slavery activists that helped enslaved people escape to the North and Canada between 1830 and 1863. Deemed fugitive slaves by slaveowners and the law, enslaved people, as well as those helping them flee, faced significant obstacles. In addition to navigating an unknown landscape, they also had to face the law as well as ideas about property, slavery, and race. From the beginning of their history in America, enslaved people have used running away as way to free themselves. Some were successful, but many more were not. Failure not only meant dashed hopes, but also severe punishments that ranged from whippings to branding to partial dismemberment. In the early 1800s, as slavery in the South expanded and became harsher, abolitionist/anti-slavery sentiment grew. Strongest in the North, by the 1830s these voices had coalesced into the abolitionist movement where Black and White people worked to free enslaved people. Many of these folks became part of the underground railroad expanding routes to freedom. The enactment of the Fugitive Slave Law in 1850 resulted in an uptick in underground railroad traffic, an uptick that continued until January 1863 when President Lincoln issued the Emancipation Proclamation.
Writing and Resistance
Director and Chair of the Writing Colleagues Program Amy Green
Oppression and resistance are defining characteristics of the human condition, but out of such experiences can emerge the potential for social change. This course will examine such how personal testimonies, narrative histories, and impact stories have been used to empower communities and effect change in society. Student projects will explore individual tales of oppression and resistance like those from formerly enslaved peoples, women's suffrage and rights campaigns, Holocaust and genocide survivors, advocates for the Americans with Disabilities Act, door-to-door canvassers for marriage equality, the #metoo movement, and accounts of police brutality have all influenced the ways in which we as humans know and understand ourselves, each other, and our world. Together, students will write their own stories and explore texts, digital archives, podcasts, documentaries, and other media to understand how these stories have been deployed to empower community action.
The Reality Effect (It Was Not a Dark and Stormy Night)
Associate Director for Faculty Enrichment Susan Hess
Where is the line between a "real" story, misinformation, and "fake news"? Why and how do stories achieve power and influence? Whose stories get told? How do we use stories of social and other media, and how do they in turn use us? In this seminar, we will critically examine real stories--some more true than others--that have changed U.S. culture. Some have birthed social movements, some may be controversial or unsettling: examining such stories will help students become more adept at understanding stories' power over us. In FSEM 103, students will become better at analyzing story craft (method and impact), do much drafting and revising to improve as academic and story writers, and practice the art of storytelling to real audiences, too; the course will also help students acclimate to HWS academics by exploring the "story" that is a first-year student experience. Stories analyzed and other readings vary each year, but always include both historic and modern selections. Students interested in writing, media studies, law, and even medicine or business may enjoy this course; while it is not a fiction-writing course, fiction writers may enjoy and benefit from it, too.
Japan: Ghosts, Demons & Monsters
Associate Professor of Asian Studies James-Henry Holland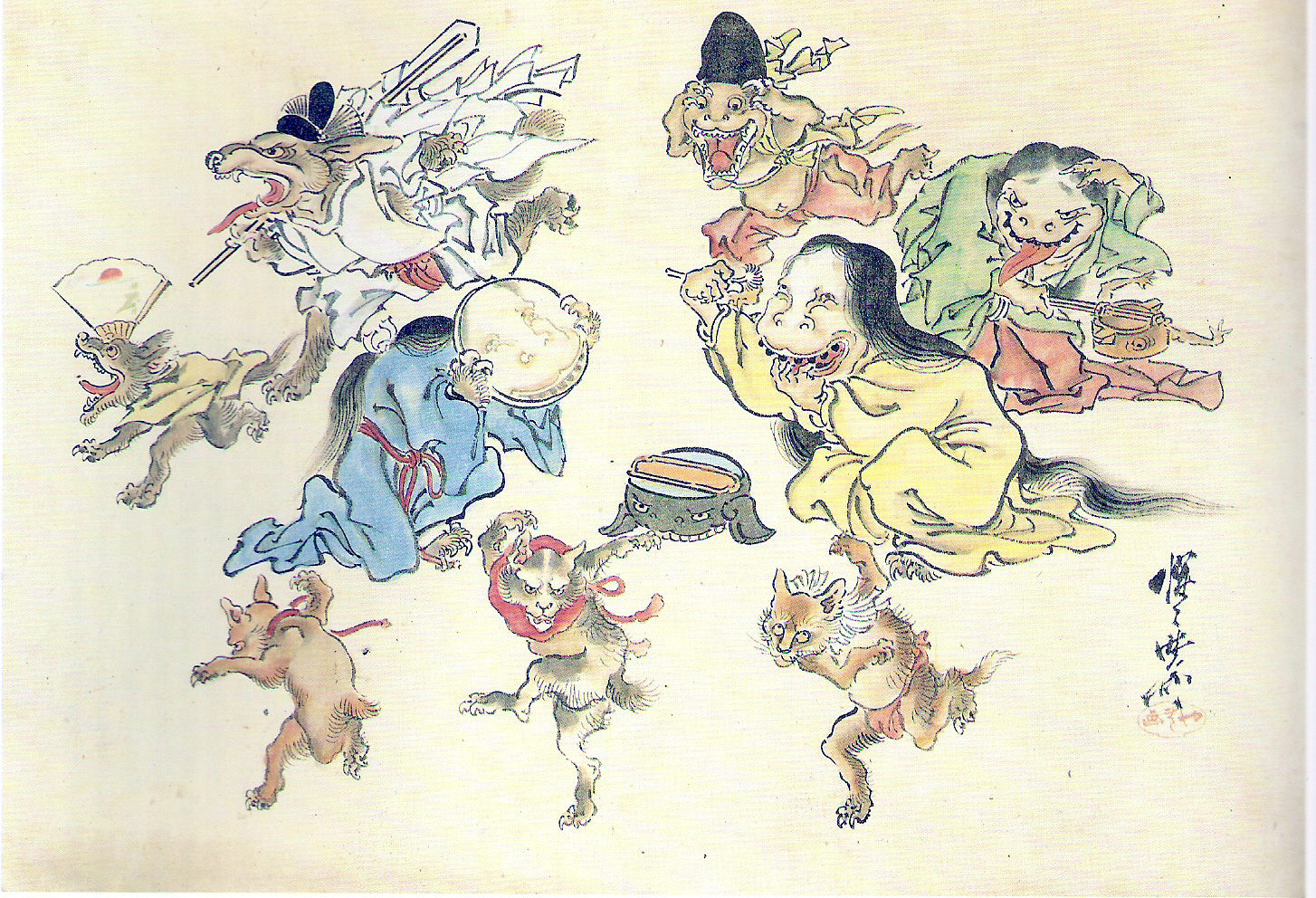 Godzilla. Pokemon. Films like "Spirited Away" or "The Ring." The ninja magic of Naruto. The shape-shifting demons of Inu Yasha. These are all examples of the Japanese supernatural, re-packaged for world consumption. But what does the American consumer miss out on when enjoying these Japanese tales? Why is occult lore such an important part of the expressive culture of Japan? What is the historical or religious basis of the "soft power" of "Cool Japan"? What do we learn about Japan—and about ourselves—when we shiver to a well-told Japanese ghost story? Readings will include Japanese comic books (in translation) and short creative fiction, backed up with academic analyses of the history of spooks in Japan. Students will research particular beings and give presentations on their findings. This is a writing-intensive course, and the final project will involve a creative re-imagination of the Japanese lore learned through the semester, expressed in live or filmed performances, written stories, or visual art projects.
Something in the Way
Associate Professor of Economics Christina Houseworth
Are you happy? Where do you find your happiness? The consumption of food, literature, or media? In the accumulation of things? In the love, acceptance, or praise you feel from another being? Do you find it in the moment? In the future? In the memories of your past? Do we find it in our friendships, our jobs, or our romantic relationships? Is it located in the deep recesses of our brains, or our egos, or our bodies? This course takes an interdisciplinary and interactive approach to defining and finding happiness by engaging with economic theory, philosophy, and art. We will interrogate the aspects of our work lives that generate or deplete our happiness, our obsession with consumption, and the reification of "self-interest." We will also dive into the wellness industry, inspect the societal hold on women's bodies, and much more!
Encountering Difference
Associate Professor of Religious Studies Sal Kafrawi
Encounters happen every day. We encounter people of different civilizations, nations, races, faith, class, sexes, and genders at schools, workplaces, supermarkets, public squares, and other venues. What do we expect when we meet other people? How do we respond when we encounter difference? What constitutes difference? Why do we fear difference? Why do people stereotype? Could the fear of the other necessitate one to control the narrative, the people, or their resources? Or, could encounter with the other become a life-changing experience that affirms oneself and the other simultaneously? What needs to be done for us to have a meaningful encounter with the other? This seminar will particularly explore on two kinds of encountering difference: Christian Spaniards' encounters with Native Americans in early Americas, contemporary encounters between White Americans and American people of color including African-Americans and Arab-Americans, and interfaith encounters between Christians, Jews, and Muslims.
Ghosts and Hauntings in the Americas
Associate Professor of gender, sexuality, and intersectional justice Michelle Martin-Baron
Why is the figure of the ghost prevalent in stories across the Americas? What are these ghosts trying to tell us, and what would happen if we took seriously their demands? This seminar investigates the ghostly, the haunted, and the possessed within theater, literature, and film in the Americas, as well as in upstate NY and on our own HWS campus. Following Avery Gordon, this seminar begins with the suggestion that "Haunting describes how that which appears to not be there is actually a seething presence, the ghost or apparition is one form by which something lost, or barely visible, or seemingly not there to our supposedly well-trained eyes makes itself known or apparent to us." Our primary goal is thus to learn to read with an eye and ear for the ghostly: what is presumed missing, repressed, and/or underneath the surface. We will explore folktales of ghosts, examine the uncanny, and investigate narrative and performative forms talking to, with, and about ghosts. Throughout, we will consider the relationship of history and memory, both individual and collective. We will search for ghosts on campus, in stories, in the archives, in art, and in our cultural imaginary.
Who Tells Your Story?
Professor of Theatre H May

"Who lives, who dies, who tells your story?" (from Hamilton) How are we shaped by the cultures in which we live? The saying is that history is written by the winners, but perhaps it is more accurate to say that history is published and institutionalized by the winners: it is written – in word and voice – by all of us. This seminar takes the feminist idea that "the personal is political" as a starting point, studying the way that autoethnography provides a theory and practice for melding personal and sociological examinations to generate new understandings of our world.

Hip-Hop Culture
Associate Professor of Music Mark Olivieri
One of the most influential cultural movements of the late 20th century has been the hip-hop phenomenon. It is a complex social movement whose audiences are as diverse as the music. The"Hip-Hop Nation" comprises a community of artists and adherents who espouse street performance aesthetics as expressed through various elements of hip-hop. While students are going to be introduced to the history and evolution of the movement, a great part of the seminar will be dedicated to examining the interdisciplinary nature of hip-hop, in which poetry, drama, music, art, and dance are inextricably linked. Ironically, the marketing of hip-hop culture to mainstream America has contributed to the erosion of the very fabric at the core of its movement. This seminar will address the catalog value of hip-hop and the "commodification" of the movement from its inception in the Bronx River District in 1979 to the present.
Miracle Drugs
Professor of Chemistry Erin Pelkey
Today, chemistry is often seen as a negative – "evil chemicals" and "toxic waste" are phrases that come to mind. In fact, chemistry has contributed many good things to society including drugs that alleviate pain, treat diseases, and save lives. Throughout history, drugs have shaped society and have had a profound impact on our daily lives. From the invention of aspirin (treatment for headaches and heart attacks) to penicillin (conqueror of bacterial infections) to AZT (treatment of HIV giving a fighting chance to those afflicted with AIDS), drugs have been there and have greatly impacted the world. This seminar aims to teach students with an interest in science and/or medicine about the structure of drugs, the history of their discovery, and their impact on society. The seminar will include a short chemistry primer so students can understand the basics behind the structure of drugs and how they work. Discussion topics will include the pros and cons of the pharmaceutical industry, the ethics of drug development, the impact drugs have had on the economy and media, and their effect on the human population.
Writing the Journey
Associate Professor of Writing and Rhetoric Ben Ristow
How has travel changed in the age of Social and media influencers? In this seminar, students examine the evolution of travel in the form of photography and travel writing to the curatorial age of Instagram and TikTok performances of place. Students examine what it means to "travel" and how travel is impacted by the way we consume media and how we produce cultural artifacts related to travel and migration.
Stealing Art, Saving Art
Associate Professor of Art and Architecture Michael Tinkler
What motivates people to collect art? What motivates people to steal art? What motivates rare individuals to fake art? In this FSEM, students look at the seamy underside and the high-minded public face of cultural property and the art world, from Nazi looters to museum directors. Among the topics considered: the transition from the Indiana Jones era of archaeology to scientific excavation; Goering's art looting and contemporary art restitution processes; the role of art museums in the restoration, conservation, and exhibition of art; and the complicated business of art fraud and forgery
Head Over Heels: Themes of Love and Longing in Popular Music
Associate Professor of Music Katherine Walker
"Falling in love":this prominent metaphor suggests that love is governed by laws as natural and irrefutable as gravity. In reality, our experiences of love and desire are conditioned by the culture we inhabit and the media—books, stories, television, and music—we consume. What is love? What is the relationship between love and desire? What is "normal" in love, and why/how is "normal" related to "good"? How are gendered identities and stereotypes bound up with our concepts of love? This seminar steps back from love as a drive or emotion to examine the received narratives and dominant scripts about sex, gender, and desire that shape our experience of it. Focusing mostly on popular music—an almost limitless resource on love and longing—we will come to understand our own beliefs and habits of thinking about this most intimate sphere of human experience, while critically evaluating music ranging from Motown to Mashups.