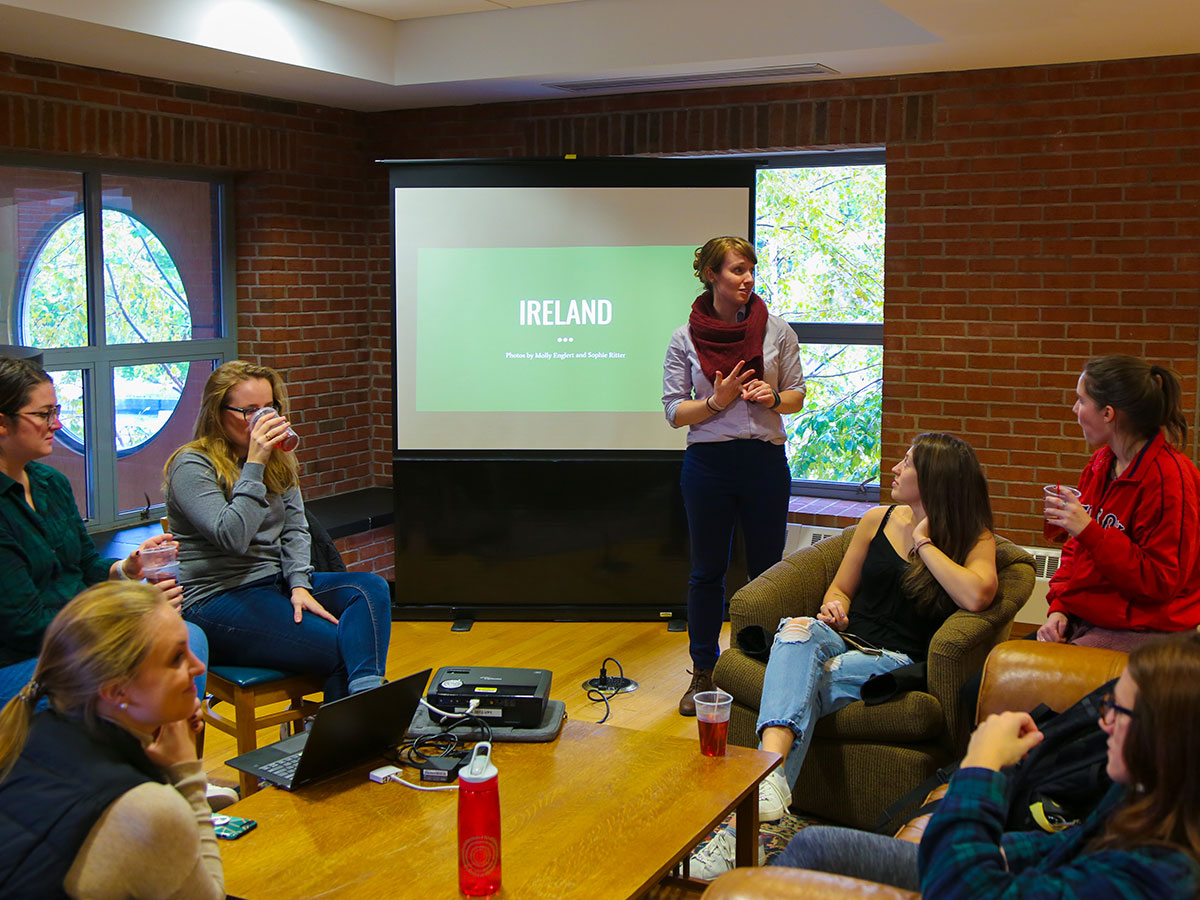 Re-Entry Resources
Returning Home After Your Experience Abroad
Returning home after a study abroad experience can be challenging in ways one might not have anticipated. After all, coming back to what is so familiar and comfortable should be easy, right? In fact, the "reverse culture shock" many students experience during the re-entry process can be even more challenging than the shock of entering and engaging with a new culture because it is unexpected.
But the reality is that people change while they are abroad, sometimes in significant ways and sometimes in more subtle ways – they meet new people with different customs and perspectives, experience new things they may like (or dislike), discover things about themselves, and perhaps come to view the world differently. While this can lead to some disorientation and frustration for returnees, it is important to recognize that this is common – and much like when you first arrived in your host country, you'll need some time to adjust. Following are some resources to help you better understand the re-entry process and some tips to help ease the transition back home.
Culture Shock & Reverse Culture Shock
Those who travel abroad experience culture shock – and reverse culture shock – differently; some may be deeply affected while others may be less so. Engaging with different cultures and societies is a challenging, but rewarding experience, as is the process of returning home after an extended period abroad. The diagram below is intended to help you understand the process of cultural adaptation and the highs and lows you may feel during and after an international experience.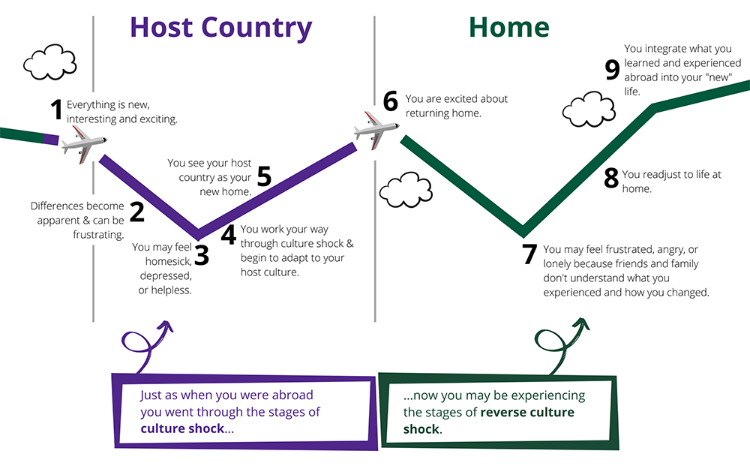 What is reverse culture shock and why does it happen?
What could be easier than going home? After all, you are returning to what is likely most familiar to you – you speak the language(s), you understand how "things work" and are accustomed to daily life, and you have a ready-made support group. When you were abroad and feeling home sick you thought about how great it would be to be back in a comfortable, familiar place with family and friends. However, the reality is that returning home after a significant international experience is not without its stresses. There are many reasons why this is so, but the major contributing factors include:
It's unexpected – People generally expect returning home to be easy and are surprised, and frustrated, when it's not.
Selective memory – When you are abroad, your perception of life at home can be idealized or romanticized. It's easy to minimize or forget the issues that were sources of stress.
Things change – Whether they are significant or subtle, some things have likely changed during your time abroad. You've had all kinds of new experiences that have impacted you in a variety of ways, and while you may expect things at home to be exactly as they were when you left sometimes they are not. Circumstances may be different and, just as you have grown and changed through your experiences, friends and family at home may have changed, too – and this can be unsettling.
People may react differently – People will expect you to be the same person as when you left and will generally treat you that way. Some may have little tolerance or patience if your attitudes and behavior seem to be significantly "different".
Misunderstanding reverse culture shock – The concept of reverse culture shock is not widely understood,particularly among those who have not experienced an extended period away from their home culture. Thus,returnees having difficulty readjusting to life at home are often told to "get over it", as if their feelings of alienation, disorientation, or frustration are invalid or can be easily controlled. Unlike experiencing cultures hock while abroad, where fellow students, host families, or local staff may be sympathetic and supportive,that may not be the case upon re-entry where the pressure to conform and "pick up where you left off" maybe intense.
This information is based off the work of Oberg (1960), and Gallahorn & Gallahorn (1963).
Re-Entry Challenges
Making Sense of your Return
It's important to be aware of the varied emotions that you might experience in the weeks (or months) after you return home – elation may quickly turn to cynicism, disorientation, and frustration. Recognizing that the re-entry process can be difficult, and understanding the sort of challenges you may encounter, will help you to develop strategies to address those issues and more effectively benefit from your international experience.
In a series of interviews with returned study abroad students, Dr. Bruce La Brack of the University of the Pacific identified some of the most common re-entry challenges:
Boredom – After the excitement of being abroad, returning to the familiar (family, friends, old routines) can be comforting – but can soon become dull by comparison.
"No One Wants to Hear" – It's not that your friends and family are trying to minimize your experiences or accomplishments, but few people will be as interested in hearing all of your stories as you will be in sharing them. Be realistic in your expectations of what people will want to hear and stick to the highlights.
You Can't Explain – Study abroad students have many interesting stories to share, but it can be very difficult to articulate the depth and meaning of all that you experienced. You may feel as though no one really "gets it," but recognize that it is difficult for those who have not had a similar experience to fully relate.
Reverse "Homesickness" – Home is supposed to be familiar and comfortable, but coming home may not be as easy as you expect after spending time abroad. It is natural to miss the people, places, and lifestyle you grew accustomed to in your host country.
Relationships Have Changed – After a period of separation, people often need to adjust to being together again. Just as you have altered some of your attitudes and perspectives while abroad, people at home are likely to have experienced some of their own changes. Flexibility and openness are key to developing "new"relationships with family and friends.
People Disapprove or Misunderstand – You may notice that some people are critical of your behavior or views, especially if they think you've changed. While you know you've experienced a great deal of personal growth while abroad, it may be very disappointing if friends and family don't seem to appreciate or understand that.
Feelings of Alienation – Sometimes the image you had of "home" while you were away may not be the reality you experience upon your return. When such a disconnect occurs, you may experience a sense of alienation and find faults in society you didn't notice before. Be patient until you regain your cultural balance and perspective.
Inability to Apply New Knowledge and Skills – You may find it difficult to immediately use all of the new skills you developed abroad when you return home. The social, linguistic, and life skills may not seem practical or useful, but they will be. Draw on the cross-cultural adjustment skills that you utilized abroad to help adapt to the new reality of being home.
Loss/Compartmentalization of Experience – Once you are back home you may begin to feel as though you are losing touch with your experience and the things you achieved while abroad. As time passes, it may seem like your study abroad journey is becoming a distant memory. But there is no reason for you to let this happen, as we explain below.
Re-Entry Strategies
Although the re-entry process can pose challenges, there are many things you can do to help ease the transition. What's more, there are tremendous opportunities available to you to build upon your international experience and continue your journey to becoming an even more globally-minded citizen.Remember: the benefits and fulfillment that come from study abroad do not have to end once you leave your host country if you take advantage of opportunities to remain connected and to share your experiences with others.
Work with the HWS Center for Global Education

as a Programming Assistant, Global Ambassador, or Global Buddy.
Participate in activities and events on campus with a global focus.

In addition to those organized by the CGE(Global Café, HWS
abroad Photo Contest, Away Café Open Mic Night), many other opportunities are sponsored by the Office of Intercultural Affairs, student organizations, and academic departments and programs.
Stay in contact with people you met abroad

– this is a great way to keep up on events in your host country and to work on language skills you may have developed.
Document your experience.

If you maintained a blog or kept a journal abroad, keep at it – write about the things you experienced and learned, the people you met, and what it has been like returning home. For those with a lot of photos, take time to go through them and curate a display in one of our Global Visions Galleries. You can also create your own Digital Story in a Digital Storytelling Workshop or as part of our "Continuing the Journey" re-entry Reader's College.
Submit your photos, artwork, and various types of writing

(stories, poems, blog or journal entries) for publication in our study abroad journal

The Aleph: a journal of global perspectives.
Incorporate "abroad" into your life back home.

Did you discover new foods, new music, and new TV shows while abroad? Did you develop a new hobby or take up a new activity? Were there aspects of the culture and lifestyle in your host country that you particularly liked family meals, a more "relaxed" sense of time, riding a bike or using public transportation to get around? Find ways to add these things into your new routine and explore opportunities to build upon the skills you developed abroad – take a language course, join a new student club, get involved with the international community on campus or in your area.
Study abroad can be a life-changing experience, but that doesn't just happen – it requires effort on your part. Give yourself time and space after you return to process, reflect on, and appreciate your experiences and accomplishments. Take advantage of this unique opportunity to learn more about yourself and the world around you and to inform the way you lead your life moving forward.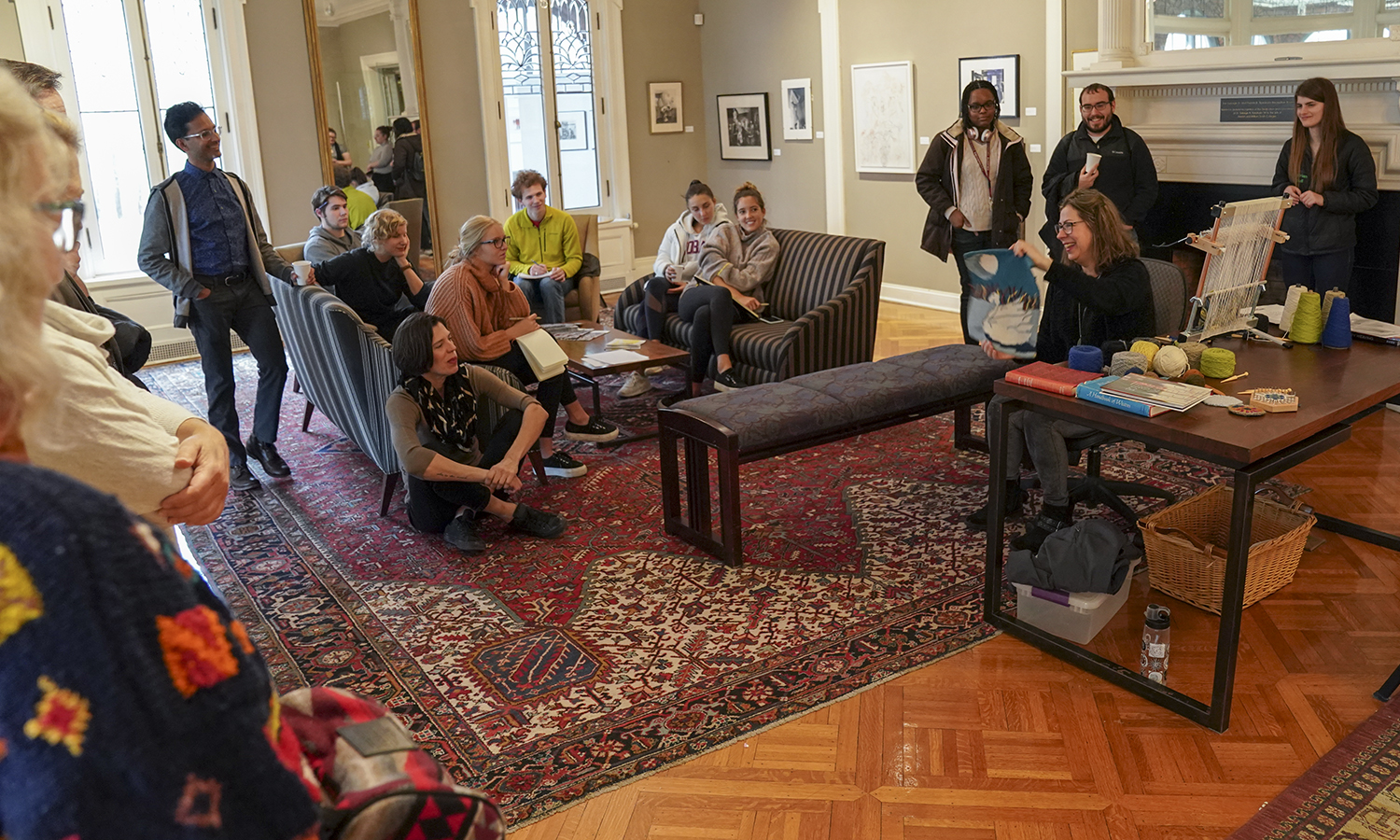 To A Life Of Global Engagement
Re-Entry Course

Continuing the Journey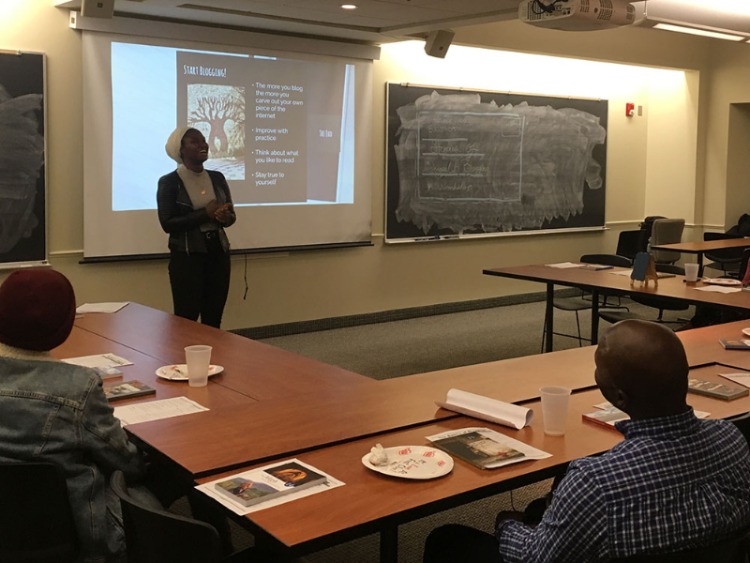 Course description:
You've just returned from an exciting semester abroad – now what? The re-entry process can be challenging, but it also presents unique opportunities for you to build upon and remain engaged with your international experiences. This ½ credit Reader's College course will help those who have just returned from studying abroad to better understand and communicate their experience to a variety of audiences. Students will participate in activities through which they will reflect back upon their time abroad, develop the skills needed to articulate their stories in oral, written, and digital forms, and learn to market their experience when applying for jobs or admission to graduate/professional school. In addition, students will share their experiences in various ways with the campus and/or local communities.
The course content will be organized along three prominent themes:
Reflect: What did study abroad mean for you?
Articulate: How do you communicate the experience to others?
Act: How can you connect your experience to the classroom, the community, and to your future?
A key component of the course will be a module on Digital Storytelling, in which students will learn how to create a short (about 3 minutes) film focusing on some aspect of their study abroad experience.
Additional Re-Entry Resources