Counseling Center
Resources for Faculty and Staff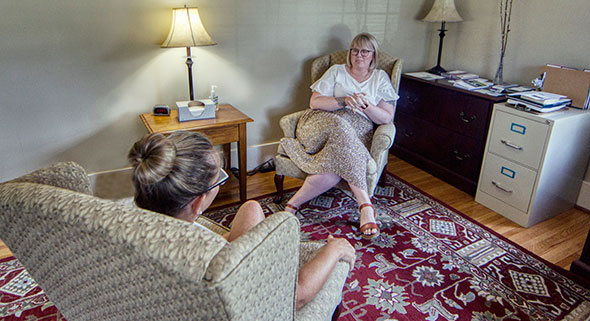 RESOURCES FOR FACULTY AND STAFF
Faculty or staff members may be one of the first to become aware of personal difficulties affecting a student. There are warning signs to look for. You can find this information from the Counseling Center brochure. You may contact someone at the Counseling Center for hard copies of this brochure or click here to download.
Managing Emotional Discussions
Sometimes troubling events from outside the classroom have a way of intruding on classroom and one-on-one discussions with students. After all, students often look to faculty for guidance in understanding the world around them, and course topics often focus or touch on troubling world events. What follows are some general guidelines that may prove helpful in managing emotionally-laden classroom and one-on-one discussions.
Crisis Situations
Students in crisis will be seen as soon as possible. If you are confronted with a student in crisis and wish to refer him or her on an emergency basis, if possible, please call our office prior to the student's arrival to provide us with some background information. We can consult with you about how to make the referral and discuss whether immediate intervention is necessary. Whenever possible, please inform the student in crisis that you are sharing information with us. In crisis situations, you may wish to walk the student over to our office personally. When calling, be sure to tell the office manager that you are calling about a student emergency and need to consult with the on call counselor or refer the student over as soon as possible.
Employee Assistance Program
HWS Employees and their family members can arrange counseling through the Employee Assistance Program. Participants' right to privacy is fully protected by law and the Colleges' EAP policy. Employees may contact the EAP at (315) 789-2613, toll free 1-877-789-2613, visit their website www.fcsfl.org or contact Human Resources for related literature.
Listen Actively
The goal of active listening is to understand and be able to reflect the unique experiences of your students. This is critical to any helping relationship because components of active listening include:
Undivided attention
Restating and clarifying students' comments,
Labeling and validating feelings,
Open ended questioning,
Expression of genuine concern.
Resilience
Resilience is the process of adjusting and/or facing trauma, tragedy or a significant outlet of stress. For additional resources please click the links below: