Counseling Center
Emergency Services
EMERGENCY SERVICES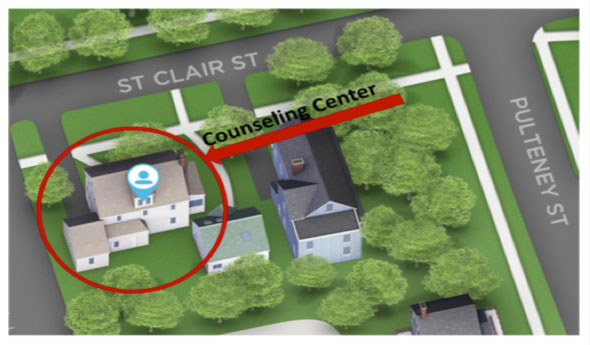 If you are a student, faculty, staff, or family member or an HWS student and you would like to consult with one of our professional therapists regarding a mental health concern please call our office at 315-781-3388 during regular business hours. After hours please call our office number and select option 1 to reach our crisis hotline.
EMERGENCIES
Any reference to suicide should be taken very seriously, and a referral to the Counseling Center is strongly advised. If the reference includes any mention of details of a suicide plan, immediate response is critical.
How to Respond to an Emergency
If possible, offer a quiet place for the individual to talk.
Listen to the person, while maintaining a straight forward considerate, and helpful attitude.
Do not leave the individual alone, unless you feel concerned for your own safety.
Secure help as soon as possible by calling Campus Safety at 315-781-3333.
Who to Call in an Emergency?
When faced with a mental health emergency, please contact the Counseling Center by dialing the center directly at 315-781-3388 and selecting option 1 for our crisis hotline, dial 911 or go directing to the emergency room. You can also call the Department of Campus Safety at 315-781-3333 if you are concerned about imminent danger to student or others. Ask the dispatcher to send a security officer right away. Be prepared to provide as much information as possible, including:
Your name and department, and the name of the student in question.
Description of the situation and necessary assistance
Exact location and description of the person in need of help
Trusted Resources