Baccalaureate 2007
"What We've Found Here," by Jamie Agnello '07
May 12, 2007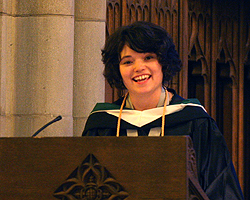 beginning
we arrive--flushed-faced with new hands.
we long to hold things close, find their trembling cores.
water
underneath that surface, your face glimmers.
caught in sun, in stripes of shade, your hands fan out—
wrap light around dim places between fingers.
surface
we emerge.
sing
we gather in gardens.
our song hums in the roots below our feet.
air
let us be soft as birds.
earth
if I knew where to start, I'd touch every inch.
sound
this architecture, stands like wide trees,
gives us places to climb towards.
weather
there is calm before our heart-storms.
light
what we've found here is light budding into new stars.