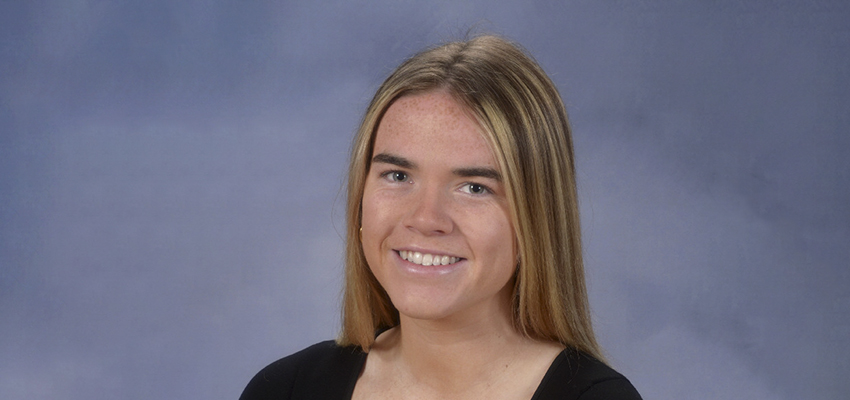 HWS News
18 July 2022 • Athletics Worth '22 Headed to Bloomberg
Heron Kelsie Worth '22 has accepted a position as a financial products analyst at Bloomberg.
Kelsie Worth '22, who graduated cum laude in international relations and was a member of the Heron Lacrosse team, will work for Bloomberg as a financial products analyst in the Financial Products Sales and Analytics Department in New York City. The international relations major says she was drawn to the role because of its collaborative and client-facing nature. "I will start out in a comprehensive training program and then will then move on to working day-to-day with clients, supporting and helping them," she says.
Worth says she secured the position with the help of the Salisbury Center for Career, Professional and Experiential Education, who guided her throughout the networking and application processes. She connected with Hobart alums at Bloomberg such as Matt Fox '19, an account manager, Nick Henkin '12 in new business sales, and Joe Gibbons '14, a sales team leader for Hedge Funds.
"After connecting with Matt Fox, Nick Henkin and Joe Gibbons, I was able to gain more insight into what it was actually like to work at Bloomberg, which helped me immensely in the interview process," she says. Additionally, Worth completed several internships throughout her undergraduate experience at Billion Dollar Boy, Intercontinental Capital Group, MyCTOFriend and Brightr Travel (made through HWS Trustee Scott Mason '81, P'13 and his son Matt Mason).
On campus, Worth says Professor of International Relations Kevin Dunn was pivotal in guiding her undergraduate career, helping her to select key courses and teaching her broadly on economic, international and political issues.
"I first had Professor Dunn in Intro to International Relations, which is one of my favorite classes I have taken here. Being an International Relations major prepared me for my role at Bloomberg because not only did I gain knowledge in economics, but I also learned how countries around the world interact on a business level and so much more," Worth says. "I have had to collaborate and think critically in many of the classes I took. In addition, my professors encouraged me to stay involved with what was going on around the world and how it affected the stock market."
As a Heron on the William Smith lacrosse team, Worth says she "learned time management skills, how to work as a team and be a leader, and how to quickly adapt to different situations."
A defender, Worth played in 40 career games. She started in all 20 games during her senior campaign, recording a career-high 37 ground balls and 28 caused turnovers, leading William Smith's backline that is ranked 15th in the nation in scoring defense, allowing a mere 7.45 goals per game. Worth was named to the IWLCA Academic Honor roll as a junior. She helped the Herons win three Liberty League tournament titles and make three trips to the NCAA tournament.